Who Did Steve Burton Play On The Young And The Restless?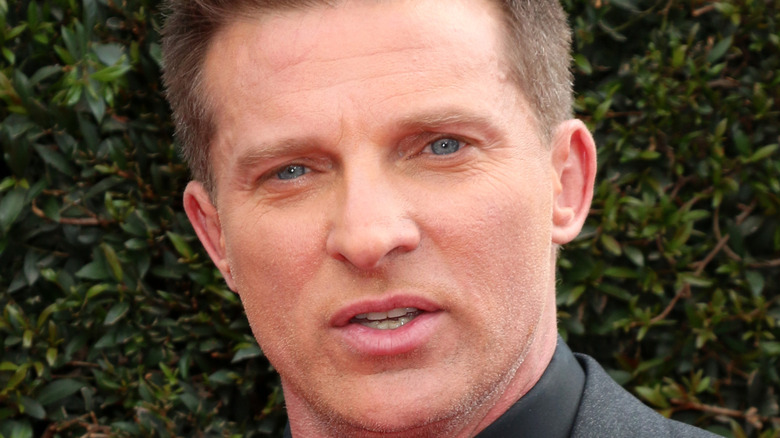 Kathy Hutchins/Shutterstock
Soap star Steve Burton is best known for the decades he spent playing Jason Morgan on "General Hospital." 
In 2021, the actor made headlines everywhere when the soap let him go when he refused to get vaccinated against COVID-19, despite Disney, which owns ABC and hence "General Hospital," having a vaccine mandate. Burton confirmed the reason for his departure on Instagram. 
That's when Jason Morgan was presumed dead once again. A tunnel caved in on him, and his loved ones believed he perished in the rubble (via Soaps In Depth).
This was not the first time Jason was presumed dead. In 2012, the character was shot, and his body was kicked into the river. That's when Burton opted to leave "General Hospital" of his own volition after making his debut two decades earlier, in 1992. 
However, just because Burton left "General Hospital" behind didn't mean he wanted to leave soaps behind altogether, and he was soon hired to play a new role on "The Young and the Restless," according to TV Line.
Steve Burton brought Dylan McAvoy to life on The Young and the Restless
In 2013, "The Young and the Restless" found itself with a casting coup when it hired mega-popular former "General Hospital" star Steve Burton to play a new character named Dylan McAvoy (via TV Line). 
When Dylan first arrived in Genoa City, he ran into old flame Avery Clark (Jessica Collins), who believed he had died in Afghanistan. After later having a fling with Chelsea Lawson and believing her baby was his, he eventually learned that Adam Newman was the father and was heartbroken.
Dylan was further shocked when Nikki Newman told him she was his biological mother and that she had given him up for adoption when she was a teen. His father was none other than Genoa City Police Chief Paul Williams.
Dylan began to accept who his parents were, eventually became a police officer working with Paul, and fell in love with Sharon Collins. When she became pregnant with his child, they married (via Soaps In Depth).
Dylan's life fell apart and he left town
After Sharon miscarried, she didn't bother telling Dylan, figuring she would get pregnant again soon and he'd never know. 
She then knew something was off in her mind. Being bipolar and wanting to take care of herself, she checked into a mental health facility, where a vengeful doctor pumped her full of drugs, stole Sage and Nick Newman's baby, gave him to Sharon, and told her she had given birth.
Sharon brought home a baby, and Dylan was thrilled. Sadly, the truth was eventually revealed, Sage was killed, and Sharon and Dylan were forced to give baby Sully, whose real name was Christian, back to Nick (via Soaps In Depth). Between that heartbreak and a police case that found him needing witness protection, Dylan left town, never to be heard from again. 
That's when Steve Burton opted to quit "The Young and the Restless" and announce it via tweet before eventually returning to "General Hospital" (per Daytime Confidential).