More Than 35% Of People Think That This Wedding Dress Silhouette Needs To Be Retired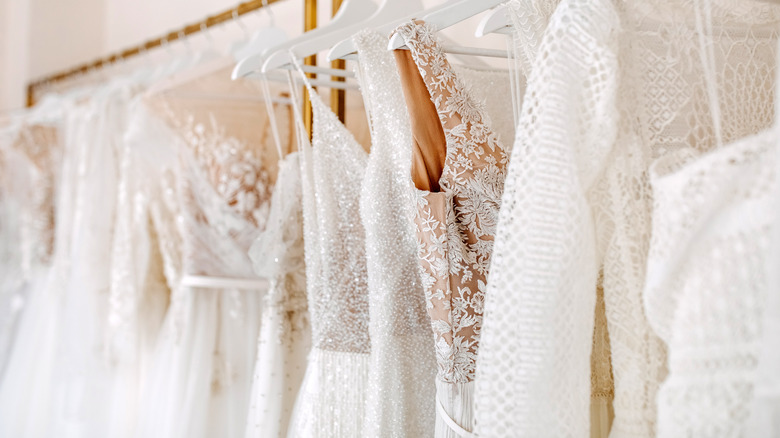 Natalia Bostan/Shutterstock
Shopping for a wedding dress is a deeply personal and oftentimes, emotional, process. Some brides have been dreaming about a Cinderella-style ball gown since they first saw the movie when they were a child. Some knew the classic cut of an A-line dress was always for them. Some brides scroll Instagram for stunning wedding dress inspiration, and some have no idea what they want or where to even begin.
According to Vogue U.K., the tradition that has evolved into what we know today as the wedding dress began with none other than Queen Victoria. She was the woman who put white-toned wedding attire on the map. Since her nuptials to Prince Albert back in 1840, there have likely been as many iterations of the wedding dress as days that have passed between then and now. In recent years we've seen certain silhouettes become trendier than others, according to Wedding Wire. Some may even say a few of these silhouettes are overdone, but overdone is a subjective term. We polled the audience and discovered that many think that one particular design should be retired at this point. 
There's one style of wedding dress that people think should be put to bed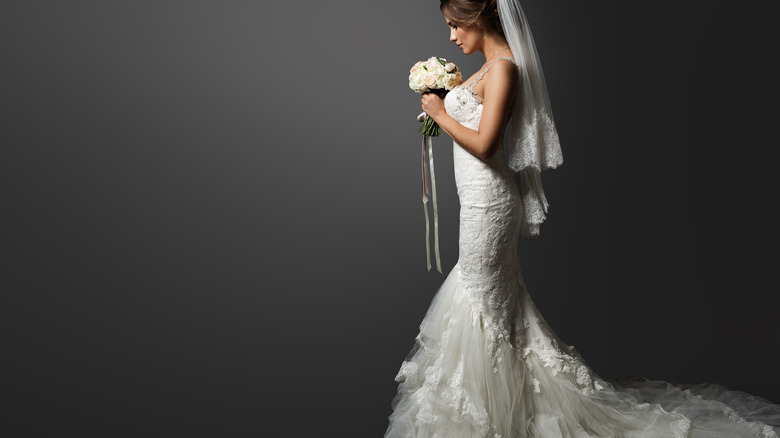 Inara Prusakova/Shutterstock
According to a survey, more than 35% of pollsters believe that the mermaid wedding gown silhouette has to be retired. Ariel would be crushed! The mermaid silhouette can be identified as, "a slim, tapered, curve-hugging skirt that follows the line of the hips and thighs and flares out from the knee or below the knee," according to Cocomelody.
It also happens to be one of the most popular wedding dress types, according to Misora Bridal. The mermaid dress has been the object of bridal affections for quite some time. According to Today's Bride, the fit and flare mermaid dress was first created by French designer Marcel Rochas in the 1930s. Mermaid-style dresses won (lost?) by a close margin of victory, though. Coming in second with 33.3% of the vote were ball gowns, the motif that first showcased the white wedding dress trend back in 1840 when Queen Victoria kicked things off with her marriage to Prince Albert (per Vogue U.K.).
Then there is a steep drop off between dresses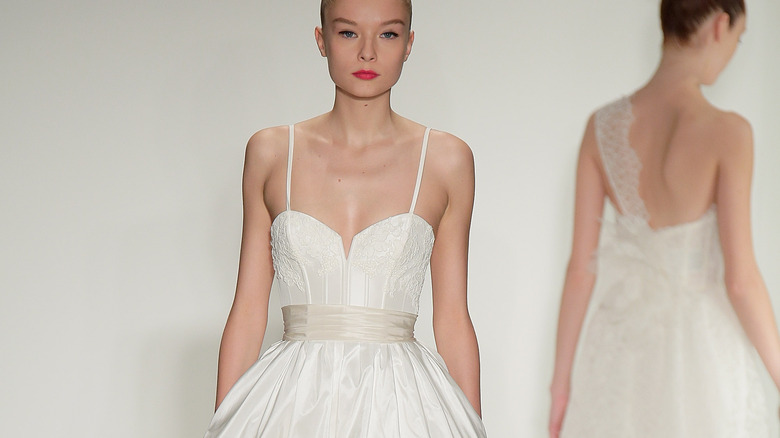 Randy Brooke/Getty Images
The next closest on the polling list was the Empire-waist gown, tied with the Trumpet style gown, with an acceptable 8.73% of the vote. Clearly, these beautiful classic cuts are still beloved by many brides looking for their perfect dress. Per InStyle, we have the hit TV show, "Bridgerton" to thank for the classic and elegant Empire-waist dress scoring so low (high?) on this poll. The article points to Pinterest data that apparently shows growth in recent searches for "soft royal aesthetic." Empire-waist dresses are a favorite silhouette of "Bridgerton" costume designers Ellen Mirojnick and Sophie Canale, per Stylight.
In addition to period drama costume designers favoring the empire-waist style, it's also popping up in all sorts of style trends for spring and fall 2022. Empire waists are not just found on floor-length dresses. Per Lady Refines, try pairing an empire-waisted top with your favorite denim for an instant " simple yet stylish" look.
A-line dresses round out the list, capturing just 6.11% of the vote, making them the least objectionable style among those polled.