Jill Duggar Dillard Reveals The Sweet Meaning Behind Her New Baby's Name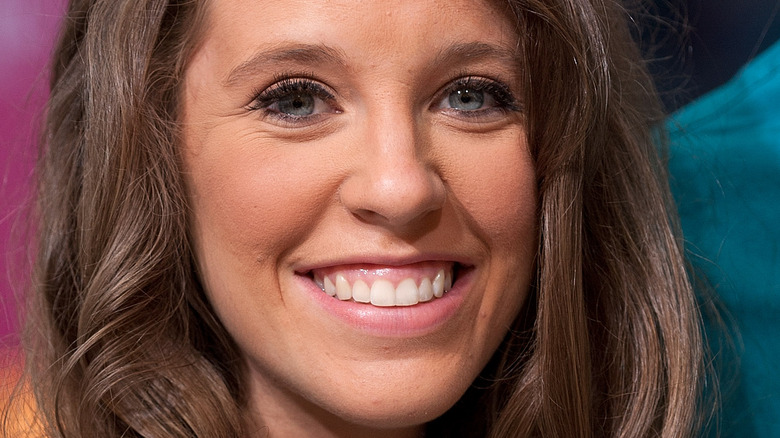 D Dipasupil/Getty Images
Naming children is no easy feat. Despite having nine months to mull over options, there are a lot of possibilities to choose from. The decision gets exponentially harder when you're working on your third boy name, as Jill Duggar Dillard found when expecting her third son. In April, a then-pregnant Jill revealed on Instagram that she and her husband were struggling to pick out a name for their baby, writing, "It's just taking us longer to decide this time." 
Per Page Six, Jill had her third baby boy on July 7. For those of you who need to be caught up on the count, Jill and Derick Dillard have two other boys: Israel, 7, and Samuel, 5. Jill also had a miscarriage last year. The couple wrote about the loss on their blog, revealing they named their baby River Bliss — a gender-neutral name chosen as "it was too early to tell the baby's gender." The couple put a lot of thought into the meaning of the name, writing that they "picked a name that we feel encompasses our baby's significance and the life we will always remember."
Now, they've pulled out all the stops for their new baby's name. 
Jill Duggar Dillard named her baby Frederick Michael
Jill Duggar Dillard revealed in a blog post that her new baby's name is Frederick Michael Dillard. "'Frederick' means 'Peaceful Ruler' and Michael means 'Gift from God,'" the "Counting On" star wrote in the post, which was published four days after baby Frederick was born. 
Frederick is far from a trendy pick. While it saw steady use in the late 19th and early 20th centuries, as of this writing it ranks at #832 on the list of most popular baby boy names on Baby Center. The baby's middle name is more in vogue, though. Per Behind the Name, Michael has consistently ranked in the top 20 names for boys for decades and came in at #17 in 2021. Per the Social Security Administration, it's one of the most popular names of the last century, ranking at the top of the list 44 times between 1922 and 2021. 
The definition of Frederick Michael is already quite powerful, but there's even more meaning behind the newborn's name.
The name is also a nod to her husband
While Jill Duggar Dillard gave a breakdown of the definition of her baby boy's name on the family blog, the name also has a personal meaning for the family. According to the blog post, the couple named their baby Frederick as a nod to Jill's husband, Derick. "The name Frederick also holds special meaning for us since it's Derick's name with 'Fre' added to the front, to make 'Fre-derick," she wrote.
While the Duggars are known for their plethora of J names, giving all her kids names that start with the same letter isn't a tradition Jill followed. She is following a Dillard family tradition, though. As explained in the blog post, "Similarly, Derick's name is a variation of his late dad's name, Rick, that his parents created by adding 'de' to the front of Rick to spell, 'de'-'rick,' literally meaning son 'of' (de) Rick. We were excited to settle on the name Frederick and incorporate both Derick's and his dad's name, by just adding 'Fre' to the beginning of Derick's name."
That's one of the most unique ways to carry on a family name that we've heard in a while.