The Breaking Bad Actor Who Was Once A Contestant On The Price Is Right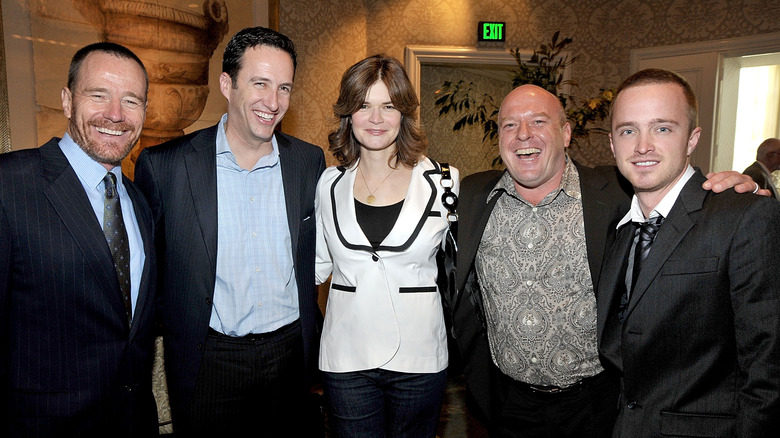 Frazer Harrison/Getty Images
The wildly popular game show "The Price is Right" — where you can win everything from a new car to luggage to cash — first aired in 1956 and ran until 1965, but it came back in 1972 with host Bob Barker, who stayed on until 2007, per PBS. Barker, who won 19 Daytime Emmys as host, gave new host, Drew Carey, some advice when he came on, telling him to "just make it your own show," via People. While Carey has made it his own, he did keep Barker's signature sign off: "Please don't forget to spay or neuter your pets," per NPR.
This year, the show is celebrating 50 continuous years on air and Carey told PBS what he feels is secret to the show's longevity, which is to "within a framework, evolve." And he compared it to being akin to a home renovation. "There's a lot of old houses where you remodeled the kitchen and remodeled the living room, and it's still the same house," he shared. People also are drawn to the excitement of the show itself, particularly those in the audience. Carey explained how people are "filled with joy and happiness" when they're at the show.
And while not filled with joy and happiness, "Breaking Bad" is another beloved TV show for many and one of its stars wasn't just in the audience for "The Price is Right," but was a contestant.
Aaron Paul made it to the Showcase Showdown
Aaron Paul joins the ranks of other celebrities — like Vanna White — who had a "The Price is Right" appearance. Paul was called to "come on down" not as Aaron Paul, but rather as Aaron Sturtevant. His middle name is Paul, per TV Guide. In his game show appearance, Paul was an incredibly — some might say overly — enthusiastic contestant, and he made it all the way to the Showcase Showdown (via YouTube). He talked about his strategy for getting on the show with Yahoo!, saying he showed up at 4:30 a.m. to wait in line to be in the studio audience wearing a red shirt with a CBS logo on the back. He stayed amped up with a "Big Gulp-sized cup" filled with "six cans of Red Bull." That is what he believes helped keep him so hyper at the show. "I look like I'm on drugs. I cannot sit still," he joked. Paul said it was "one of [his] finest performances."
Upon getting called, Paul called Barker his "idol," and he got on stage after winning a desk. The show ended with Paul in the Showcase Showdown, where he could have potentially won a car. He bid $26,500 for his showcase, but he was over the actual price, which was $26,368. So close!
Aaron Paul remembers being depressed after his loss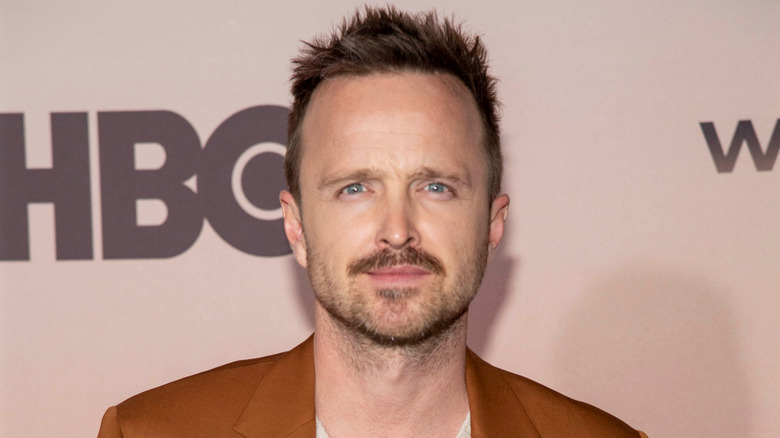 Eugene Powers/Shutterstock
Aaron Paul talked about his time on "The Price is Right" with Jay Leno, saying that after the loss he "was depressed for many, many months," per The Hollywood Reporter. However, Paul did sort of get a win from the show when one of his friends ended up winning the Showcase Showdown in another episode filmed the same day as Paul's loss. That friend took Paul along with him on a trip that he won.
In 2017, Aaron Paul went on CBS' "The Late Late Show With James Corden" to get "redemption" for his $132 loss. The two pretended to break into "The Price is Right" studio and had Paul reenact his time on the show. While it doesn't seem like Red Bull was involved this second time around, Paul was equally as enthusiastic. Sadly, in the late night bit, he ended up losing the Showcase Showdown again. However, no need to be depressed this time. Paul's doing pretty well for himself these days.
After his breakthrough role in "Breaking Bad," Paul's latest big project is starring in HBO's "Westworld." And he, along with Bryan Cranston, guest stars in an episode of the final season of "Better Call Saul," the "Breaking Bad" spin-off following lawyer Saul Goodman, per Variety. The two have stayed close over the years with Paul naming Cranston as his baby's godfather.