More That 32% Of People Say This Is Their Favorite Summer Cocktail, And It's Not What You Think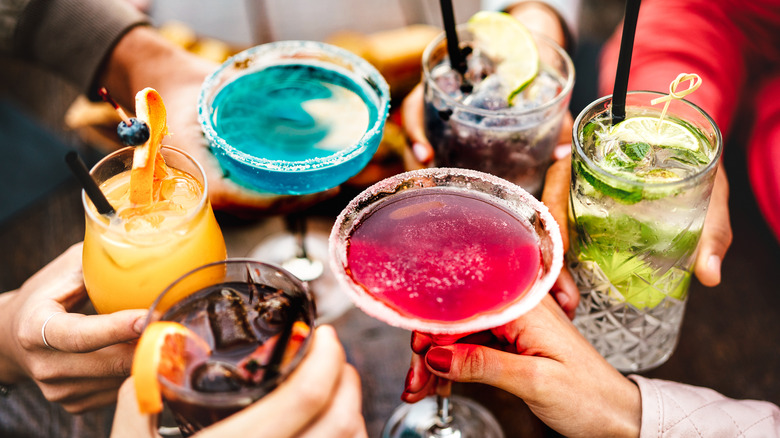 View Apart/Shutterstock
It's the most playful, warm time of the year: summer! We're ready to shed our winter coats and our work-from-home PJ sets and trade them for bikinis and sundresses. From sunny picnics in the park to cool nights snuggled around a bonfire, we're adding all the summer activities and excursions to our calendar this year. One of our favorite summer staples is grabbing a drink with a friend — something sweet and refreshing to sip on while we dance to our 2022 summer anthem, "Music For a Sushi Restaurant" (thanks, Harry Styles!) and try to forget that we have work in the morning. But what drink could possibly match our carefree summertime vibes?
With hot girl summer in full force, we need the perfect drink in our hand as we lounge by the pool and plan our next getaway. A survey conducted by The List asked 573 people, "Which is the best summer cocktail?" and the responses we received were surprising.
If you like tequila, you're in luck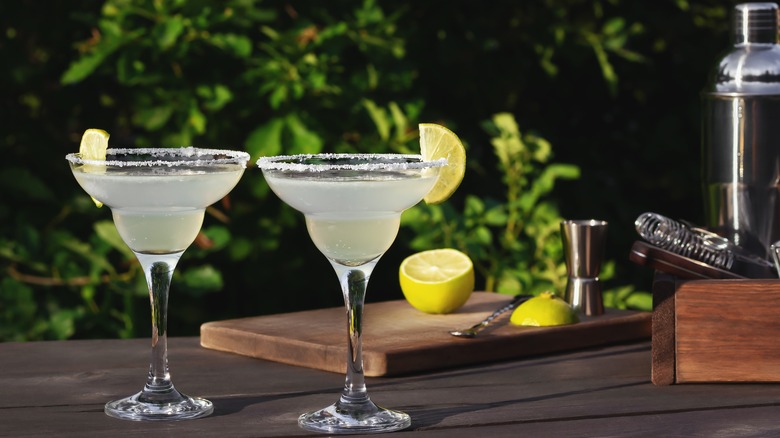 galsand/Shutterstock
The List survey found that the summer's go-to drink is a long-time classic: the margarita! A margarita is a simple and refreshing blend of tequila, cointreau, and lime juice with a salted rim (via Serious Eats). The top choice with 32.46% of the vote beat out the mojito, the daiquiri, and the Long Island iced tea. Team margarita even beat the ever popular Aperol spritz, a trendy Italian drink made with prosecco, Aperol, and soda water that took Instagram by storm in recent summers, per Metro.
The survey's runner up with 22.16% was a piña colada, a drink so popular it has its own day! According to the National Day Calendar, National Piña Colada day is July 10, so mark your calendar (even if it's for next year) and enjoy the perfect blend of coconut, pineapple, and rum. While all these drinks are fun, fruity, and will definitely get you tipsy if you're sipping on them all summer long, the margarita remains a top tier staple of summertime bliss.
The many faces and flavors of the margarita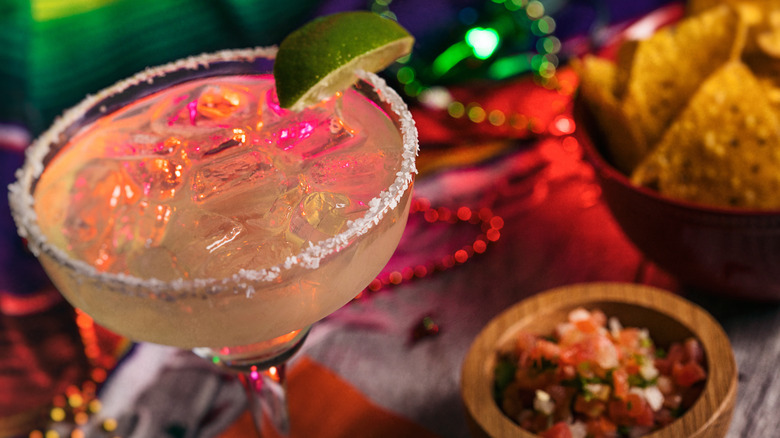 Sean Locke Photography/Shutterstock
With tons of flavor combinations and varieties, margaritas remain the superior cocktail of our summertime vacation dreams. You can enjoy your marg blended or on the rocks, rimmed with salt or sugar, or take a chance on a sweet and spicy flavor addition. Taste of Home shared tons of easy recipes to elevate your margarita game, from a frozen strawberry basil margarita to a blue curaçao marg on the rocks, we can't decide which one is our favorite (which means we might just have to try them all...).
Thanks to TikTok, we've discovered the margarita's full potential with these wild flavor mix-ins: the viral watermelon margarita recipe by Salty Cocina had us craving the fruity concoction while we scrolled our FYP. For those with a more adventurous palette, chef and creator Allyssa in the Kitchen shared how she perfectly blended sweet and spicy with her spicy jalapeño margarita recipe. No matter how you order your margarita, the best place to enjoy the go-to summer cocktail is somewhere sunny while you relax and soak up some much needed vitamin D. In the words of Jimmy Buffet, we're "wasting away again in Margaritaville." Now that's self-care.