American Carnage's Bella Ortiz Talks Eric Dane, Chicago Med, And More - Exclusive Interview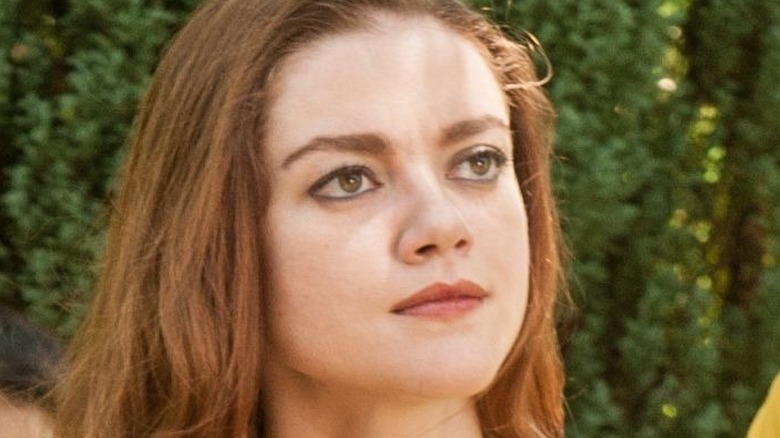 American Carnage/KWPR
When we reflect on some of Hollywood's most impactful stories and cinematic moments, films that bring a certain level of societal commentary to the screen often leave audiences enlightened, inspired, and wanting to serve their own communities. Think of "Don't Look Up" — while the Netflix film had a level of fiction brought to it, its focus on environmental issues and the way in which we treat the world around us struck at a core issue on the hearts and minds of many. 
That film is being joined by Diego Hallivis' "American Carnage," set to drop in theaters and digital platforms on July 15. The dynamic story follows the terrifying — and very real — consequences of immigration, as a state governor orders all children of undocumented immigrants to be arrested. Giving the entrapped young people a possible way out of such a fate, the teens are allowed to stay only if they volunteer to care for the elderly people of their community. This sparks a dynamic, horrifying, and thrilling film following the assured destruction of immigrant communities and elders, all in service of an America that feels eerily similar to the one we face today.
Bella Ortiz, a Chilean-American actress who brings character Micah to life on screen, has faced similarly challenging hurdles as she's pursued life in the United States and a career in front of the camera. Joining us for an exclusive interview, the young star discussed her own immigration experiences, her costars (including "Euphoria" star Eric Dane), and so much more.
Bella felt a 'responsibility' to tell her character's story authentically
First and foremost, the film comes out on Friday. How do you feel?
I'm really excited. I've been talking to some people and they're asking me about how I felt when I saw the movie. I was like, "I'm waiting along with everybody else to see it." I haven't seen it yet, and I'm really excited for all of us to support this type of project. It's very important to support projects done by our community.
That's a huge element of this that I want to talk to you about because the film gets to such a core issue that is in the vernacular that we're talking about, immigration. It's such an umbrella term, but for such a personal journey. You're a Chilean American [and] moved here when you were really young. With that said, in what ways did you source from your own experience while preparing for this role?
I actually became a citizen when I was 17. From four years old to stepping onto this soil, which was where I grew up and my home, the process of becoming a citizen is a very long, expensive, daunting one. That's something that people don't necessarily realize. In terms of my character, at first, when I was reading her trajectory and her description, I thought, "Wow, I couldn't be more different than this so far.
I was able to connect with the character of Micah, noticing that we have the same starting point where we're both white Latinx women. It was really a cool experience to be able to tap into that same starting point or inception and imagine how my life could turn out differently because of the way that I present physically. I can take up spaces that other people can't — other people being my own mother, my own family that is all still in Chile.
Regardless of how I felt about the character's end goal or how she turns out, I felt like it was a responsibility to be able to take up that space and play that character, knowing what my life and my intentions represent.
Bella recalls life as an undocumented immigrant and the sacrifices her family made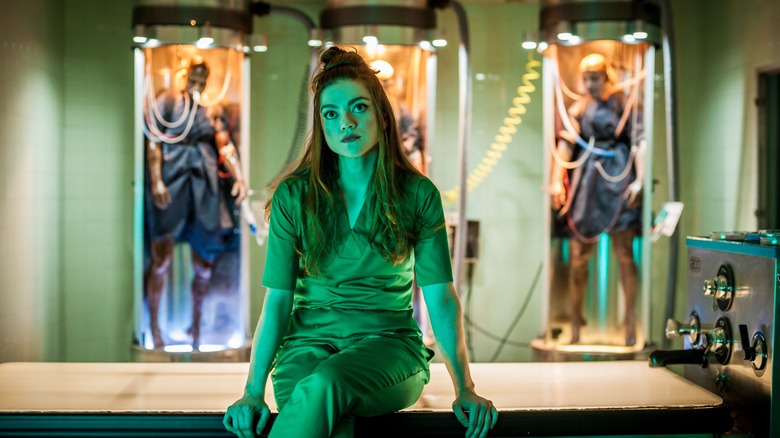 American Carnage/KWPR
I was talking to your co-star, Allen Maldonado, earlier this morning, and we were chatting about how such a key part of this film is the immigration process and the fear that is really intertwined with it. It makes so much sense for this very horror, thriller kind of film, but oftentimes, the story of the individual person gets lost in the conversation. What are your thoughts on that as this film is rolling out?
I agree with that, [and it's] one of the big reasons why I wanted to be a part of this project. When my mom and I came here and because we were undocumented for so long, my mom left everything behind in Chile. [She was] the youngest of 10, and left her family.
It was really tough, and she had to make a lot of sacrifices  for that selfless dream of wanting something better for me. That's really important to highlight — immigrants, when people come to this country for that American dream, it's not necessarily even for them. It's for them to hope that their children have better lives. I know it was tough for my mom and for myself, but I was much younger. She couldn't even visit her dad when he was sick from cancer.
When he died, my mom couldn't even attend his funeral. That's the man who she valued above all in that relationship. I'm tearing up about it right now because it's a lot of sacrifices that people make, coming here with the best intentions, and [they are] such incredible, amazing, hard working people. They're sometimes pushed to the wayside and treated so terribly. That's something really important about this film and I hope that people can take that away in terms of starting a conversation about that.
Bella reflects on co-star Eric Dane and the diverse ensemble cast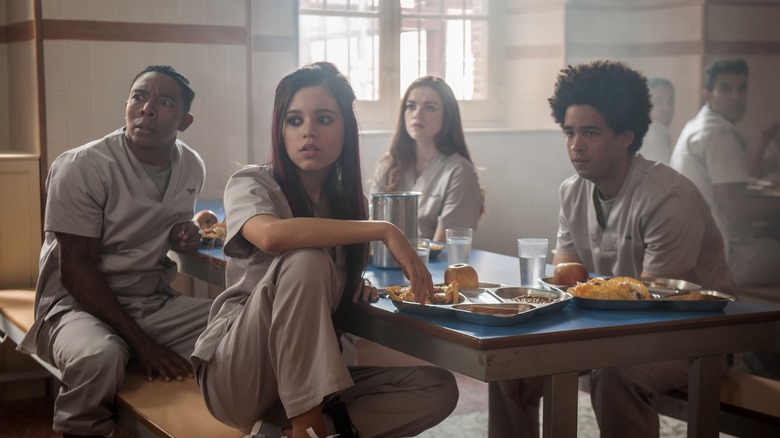 American Carnage/KWPR
This is in the horror/thriller genre, which doesn't always ... When you first hear it, immigration, this topic with horror, how is that going to work? It meshed so beautifully. You have an interesting path. You started out in the medical space and now you're pursuing acting. Now you're working alongside the likes of Eric Dane. What's that been like?
It was incredible. Going into this project, I'm like, "I'm a little... I'm not as well seasoned as everyone else," but it was great because it really set a precedent to want to do the best of my abilities every day on set to learn, [having] that opportunity to learn from really great talented actors that have been working in this industry for a really long time. I love that my career gives me that unique opportunity to meet the likes of everyone from different paths.
When I spoke to Allen earlier, we talked about this, the young vitality that was in the ensemble cast with Jorge [Lendeborg] and Jenna [Ortega] and Allen, and then you get a "Grey's Anatomy" icon, like Eric Dane. That's a really unique dynamic. Tell me a little bit about that onset experience.
Essentially, when we showed up, it was an unspoken thing that we had this common ground of knowing how important it was to be a part of something like this and to tell stories like this.
Because of that common goal, everything was seamless from there. It's not like you're coming necessarily onto a project that's, ... based in a fantasy world, not necessarily with a political or social commentary. Maybe there's a little bit to find out about the people that you're working with.
Once I stepped on set and I saw everyone who was there, it was an unspoken thing. It is awesome that we're doing a project that speaks to this commentary on where the world is. Everyone was amazing. I'm super grateful that I had the opportunity to work with them all.
The actress dishes about her time on Chicago Med and scene co-star Torrey DeVitto
I briefly want to talk to you about the path and the stepping stones that you took to get to this point. I'd love to know about your time on "Chicago Med" and what it was like working alongside actors like Nick [Gehlfuss] and Torrey DeVitto and Yaya DaCosta. That must have been an amazing experience.
I went to college in Chicago. I took that role off of a self tape out of LA at the end of 2020. That whole cast — it was great to go back to Chicago. It felt like home, it felt comforting, and everyone there was super supportive. It's incredible how giving people can be, because that role that I had on that show, it's like [being] a guest star. It's not necessarily the main storyline that's going on, but everybody on that set was very welcoming because they know that's their home and anyone that steps on that set is a guest. They treated me really well.
I know Torrey — the role that I was playing was an emotional one. [My character] finds out that she has cancer, and at one point when I was getting emotional and choking up over the tears, I blanked out and didn't know the first word that I had to [say], even though I had just done it in the scene before. [Torrey] was very generous in terms of her being the one saying, "Hey, can we reset?" instead of me feeling like I messed up and I had to admit to that. She took charge and guided me through that, and I'll never forget that for sure.
"American Carnage" will premiere in select theaters on July 15th. It will also be available for rental and purchase digitally and on demand.
This interview has been edited for clarity.