Cristy Lee Of Steal This House On Why She Wants To Collaborate With Bargain Block - Exclusive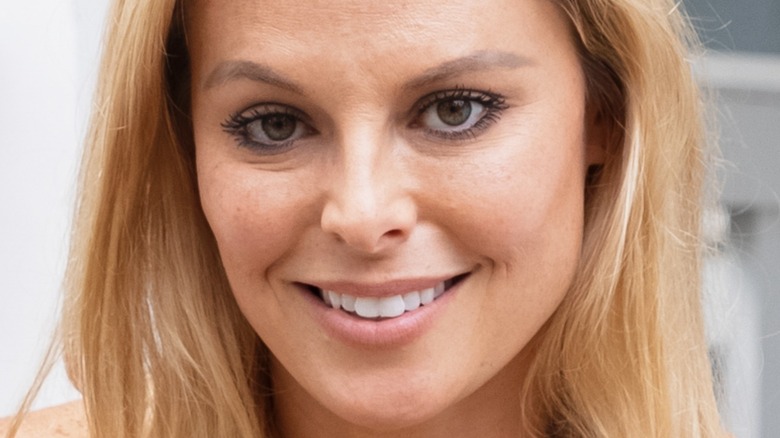 HGTV
Cristy Lee is HGTV's newest star, and she's proving to potential homebuyers that you might not find your dream home if you only look at options near the top of your budget. Sometimes, it's dramatically better to invest in a fixer-upper that doesn't break the bank. Then you can set about turning a diamond in the rough into a home that's customized to your every want and need. That's the concept of her new show "Steal This House."
In the first episode, she takes Melissa and Tim on a tour of properties that are well within their $500,000 budget in the greater Detroit area. After they settle on an option that needs a bit of tender love and care, Lee helps them transform it into something that is more to their tastes. The end result features an open and airy kitchen and a statement piece of a double-sided fireplace that speaks to their modern mountain design aesthetic. 
"Steal This House" is a welcome addition to the HGTV lineup, and Lee's talents will make her a fan favorite on a stacked network. HGTV stars each have their own shows, but sometimes they work together on series like "Battle on the Beach," which features Ty Pennington, Alison Victoria, and Taniya Nayak. In an exclusive interview with The List, Lee opened up about the HGTV design team that she would most like to work with; it turns out she could make a collaboration happen without leaving Detroit.
Lee would love to work with Keith Bynum and Evan Thomas of Bargain Block
Cristy Lee hyped HGTV's "diverse group of designers." However, she'd most like to work with designer Keith Bynum and carpenter Evan Thomas of "Bargain Block," as they already have something in common. "They are here in Detroit, and that's really cool," she told The List. "I would want to collab with them because they're also renovating homes and restoring homes in Detroit. We're in the same neighborhood."
"I love the projects that they work on [during] the show. I love what they're doing in the city of Detroit, and it's exciting. They would probably be like one of the first designers that I would want to work with because, hey, we've got to represent Detroit." While a collab isn't guaranteed, Lee revealed that she reached out to the hosts and was hoping to set up a coffee date to meet in person. 
Like Lee, Bynum and Thomas seem to see nothing but potential in their city. The "Steal This House" star hyped up Detroit as a fantastic place to live that's overflowing with cool spots and exciting adventures.
Cristy Lee senses 'a big wave of positivity' in Detroit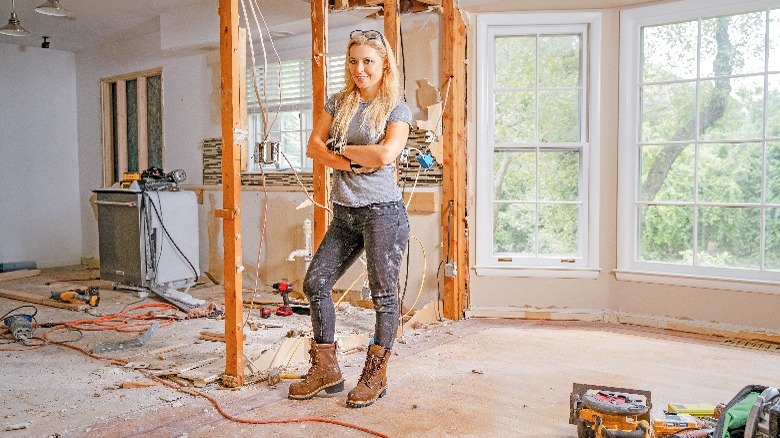 HGTV
While Cristy Lee said that "Detroit has notoriously had a bad reputation," she knows the city better than outsiders. The licensed realtor moved to Detroit in 2005 and has taken part in its revival. "There's a lot of homes in Detroit and there's a lot of homes that are available and in dire need of restoration, renovation, repair," she said. "I truly believe that the city of Detroit needs clean, affordable, ready to move in housing. That can really change the city."
As it is, Lee already sees a downtown area that is taking off. "There's so many amazing restaurants and shops and new offices that are being built, and it's exciting to see people coming back into the downtown area and thriving again." She urged people to give the city a chance, but she had a word of warning for outsiders: Watch out for the winters. "If you want to come in February, bring your snow boots," she joked.
"Steal This House" airs new episodes Saturdays at 9:00 p.m. EST/PST. You can watch on HGTV and HGTV GO.