Cristy Lee On Steal This House And The Wonders Of Detroit - Exclusive Interview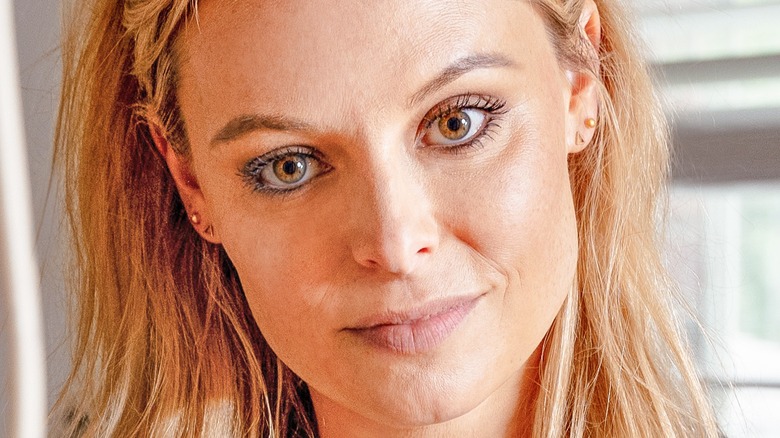 HGTV
Cristy Lee is no stranger to TV. She made a career hosting shows like "All Girls Garage" on MotorTrend TV where her affinity for cars paid off in spades. However, she's breaking new ground with her latest project. Lee teamed up with HGTV to focus on her other passions — real estate and home design. Her new show "Steal This House" promises to help perspective homebuyers in the greater Detroit area find their elusive dream home, but she does so by looking at fixer uppers that are well below budget. 
In the first of six episodes, she helps former renters Melissa and Tim. Exasperated by the limitations of living in a rental, the duo spent three and a half years searching for the right place. Despite a budget topping out at $500,000, they had no luck until Lee stepped in. HGTV shows are undeniably bingeworthy, but the licensed realtor provides more than just a fancy facelift. She helps people use their budget and innovation to make the most of a tough real estate market. Homeowners dislike shows that deliver an unrealistic fantasy, but this is firmly grounded in reality and all the better for it.
Below, Lee exclusively speaks to The List about how she came up with the idea for "Steal This House." She also spills some tea on what other HGTV designers she'd like to collaborate with. Spoiler alert: The answers to that question also reside in Detroit. We even talk about the sort of advice that any potential homebuyer will want to keep in mind and the unspoken wonders of her city.
Steal This House isn't about 'finding the cheapest house on the market'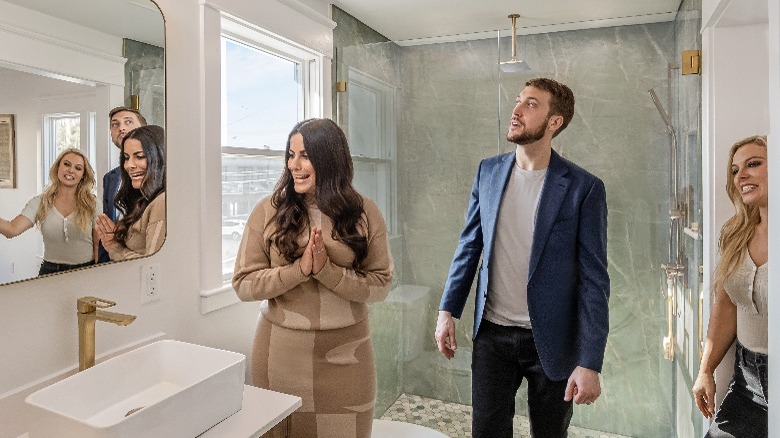 HGTV
How did you come up with the idea for the show?
Making a home purchase, for a lot of homebuyers and potential homebuyers, it's a big purchase. In your lifetime, it's probably one of the biggest, if not most major purchases you'll ever make — buying a home. That can be a really intimidating process. Adding to that, if you're considering renovating the home, whether it be a big or small project, can be even more intimidating and even scarier for a lot of homebuyers. What this show is really about is homebuyers that are struggling to find the perfect house. They have very specific wants and needs for this new house that they're looking for, which is basically what everybody [who] goes into buying a home is looking for. Tthey're not finding what they want. They're looking at the top of their price range.
I'm helping guide them to look at properties in a different way. [It's] not about necessarily finding the cheapest house on the market. It's about finding a house that's a steal, and it's a steal because a lot of other people overlooked it. There might be a lot of different reasons why it was overlooked. It could be the existing decor, it could be the type of flooring, it could be the layout, it could be the location. 
I'm helping guide them through the process of finding the right home that's a steal, and instead of applying their maximum budget to this house, this one house that doesn't meet all their wants and needs, I'm helping them change their perspective on finding a house at a lower price point and using some of that money towards renovating to get the exact house that they want.
[It's about] not settling for a house at the top of their budget, but finding a steal at a different price point and using some of that money to renovate the house. That is the theme behind the show ... me helping guide them through the process using my experience in real estate and renovation and getting the house that they really want, their dream home. Allowing viewers to see that style of show will hopefully entice them and also excite them about looking at the real estate market differently.
Cristy Lee customized features in every home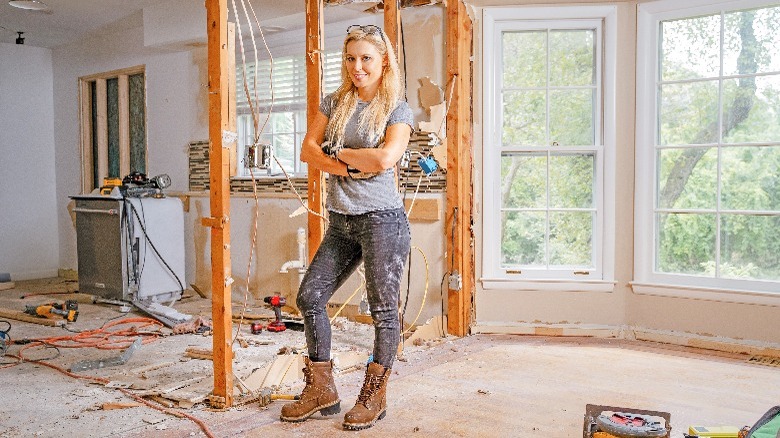 HGTV
This shows people that there is some beauty in investing in a fixer-upper and then making it your own.
Absolutely. A lot of the properties that we'll see on the show... There's a lot of diversity in the projects that we work on. There's a lot of diversity in the houses that we look at and consider as a potential purchase house, as a potential project house. I always try to look at it like... when this house went on the market, when it went up for sale, someone lived in that house beforehand. I don't want to necessarily knock the house too much because someone may have really loved that house. It may or may not be the style or decor or look that a lot of other people also really like. Bearing that in mind, there are definitely some homes that we look at where the vast majority will agree, this house needs to be renovated. Something needs to be done here.
That's what's fun about the show — we are definitely looking at some properties that a lot of people pass by, and that's what makes these houses a steal. That's what's exciting for the viewers is to follow that process. I'm not the one buying the house. I'm not the one living in the house. I'm working with the homebuyers to help them get the right house to meet their wants and needs. It's a fun process for the viewers to follow along with and see the thought process of the homeowners and where they stand with some of the houses that we look at.
Speaking about the renovation process on this show, do you have the favorite design feature that you installed this season?
Oh my goodness. We did so many different types of projects. I definitely tried to do a very specific project that was more of a personal project for each of these homes that I felt the homeowner would truly love — so something that was really specific to them. Those projects vary. I've got a lot of experience in automotive and motorcycles and the Motorsports industry, and I've started working more in welding and fabrication. 
I'm really excited to be able to bring some of my experience and skill sets in metal work into the show, and I did take on some really fun metal projects ... Everything from building an all-steel fireplace surround to different metal shelving. We do this really awesome, large-scale wood topography map for one of the homeowners. It's really cool. We did a fully custom metal staircase as well. I ended up doing this really awesome charred wood aesthetic type of fireplace mantle — some fun projects along the way that catered to the homeowners.
Her new show allows Cristy Lee to showcase different passions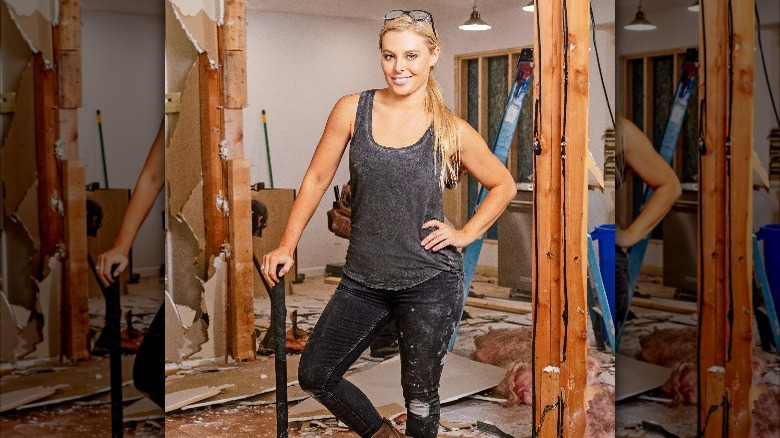 HGTV
How does it feel to have a show on HGTV? That's so cool to think about!
It's surreal, to be honest. I have been working in television for what feels like a lot of years, but working in TV is such a unique thing because it doesn't feel like work. I have somehow managed to make an entire professional career out of just being me. I don't know how I've managed to accomplish that, but here I am. I've been doing television in automotive and Motorsports for years, and that happened to be a huge passion and hobby of mine. 
I've been riding motorcycles since I was 18. My dad was a shop owner; I've been around cars my entire life. I grew up in Daytona Beach around motor sports and racing. I've somehow found a way to turn those loves, those passions, those interests, those hobbies into a television career, and now I'm getting to do that with real estate, which is even more amazing because I moved from Daytona to Detroit back in 2005 to buy homes, to buy real estate in the city of Detroit.
My roots in real estate run very deep. Although the automotive, motorcycle side of my life has been more public with the television shows that I have hosted, I'm so excited that the real estate side of my life — although it's been more behind the scenes for so many years — I'm so excited that [real estate] also gets to come to the front and center with my automotive career. I get to showcase my passion and interest and experience in real estate on that same center stage. I couldn't be more excited to be a featured host on HGTV. It's a network that I've loved and followed for many years. I absolutely love real estate. I love architecture. I love homes. I'm super pumped to be part of the HGTV family.
In terms of advice, Cristy Lee encouraged homebuyers to do their homework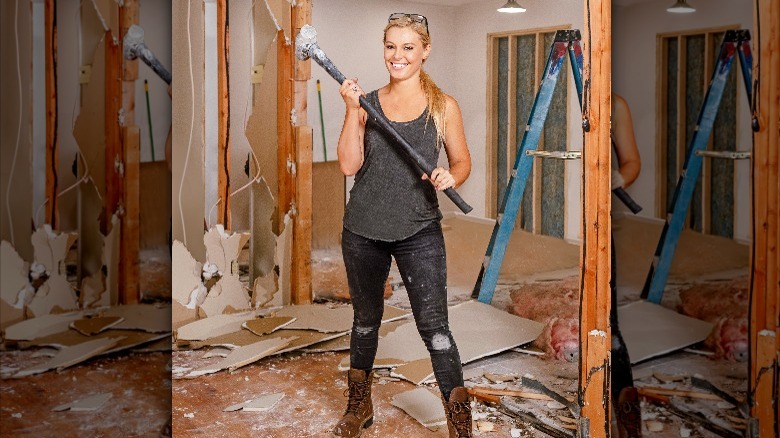 HGTV
HGTV's incredible. I've watched it for so many years, and it's so fun to see all of the different shows that they've had and how it's evolved over time.
Yeah, and with real estate and the market changing, it's really important that they're staying on top of how and what types of shows that they're putting out as well and adapting to the changes in the market — which also makes this show very exciting because budget is a really big thing right now [with] the scarcity of homes in a crazy market. We're touching on that on this show as well. I'm excited that viewers get to see this show so soon — it's almost here!
It's so exciting for you, and it's exciting for the viewers because you're right, just based on the market right now. I'm wondering, speaking about viewers and people who will be watching the show and looking to buy a house, what's the best advice you have for homeowners who are looking to follow your example?
With homeowners going into purchasing a home right now, and then also considering a potential renovation, whether it be big or small, my best advice is to always do your due diligence and make sure that you've got the right people working with you. Don't be afraid to ask for help, knowledgeable experienced help. By that, I mean that if you're looking at going into buying a home right now, the market is intense. Houses are being listed and selling within days, within hours, and multiple offers are being accepted. Escalation clauses are being included. Backup offers — it's intense. If you're going to consider buying a home right now, as a licensed realtor, I recommend that you work with a real estate agent.
That would be my best advice based on the market right now, if you're considering buying. If you're considering buying and then a major renovation, I would highly recommend finding the right contractor to work with. Whether you work with a general contractor that takes on the entire project as a whole or you work with individual contractors based on the specific projects that you're looking for, you do your due diligence. There're amazing contractors out there. There're companies and contractors that have done great things. Do your research and find the best that you can possibly find, unless you're considering doing the renovation yourself. I'm a do-it-yourselfer, so that's awesome, too.
Cristy Lee hopes to meet up with some local HGTV hosts for coffee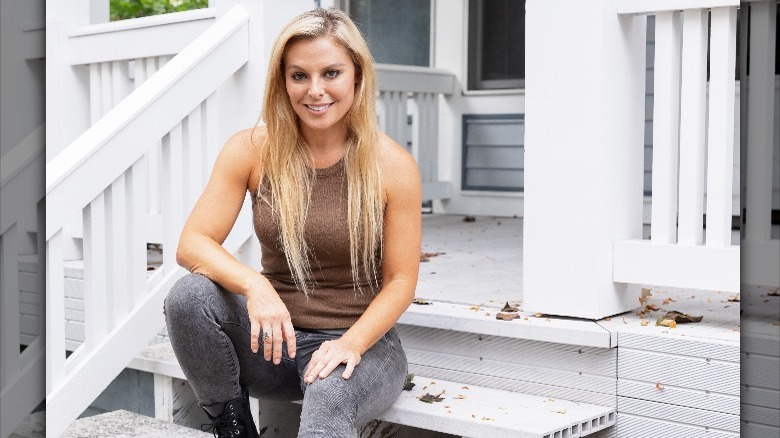 HGTV
If you could collaborate with any designer from HGTV, who would it be and why?
They have such a diverse group of designers — not only their personalities, but the types of designs and projects that they work on. If I had to circle in and pick any particular designer to work with, I would probably want to work with Keith [Bynum] and Evan [Thomas] from "Bargain Block" because they are here in Detroit, and that's really cool. I actually touched base with them recently; we're going to try and catch up for coffee, which I find very exciting — side note. 
I would want to collab with them because they're also renovating homes and restoring homes in Detroit. We're in the same neighborhood, and that's really cool. I love the projects that they work on [during] the show. I love what they're doing in the city of Detroit, and it's exciting. They would probably be like one of the first designers that I would want to work with because, hey, we've got to represent Detroit.
The licensed realtor urged people to give Detroit a chance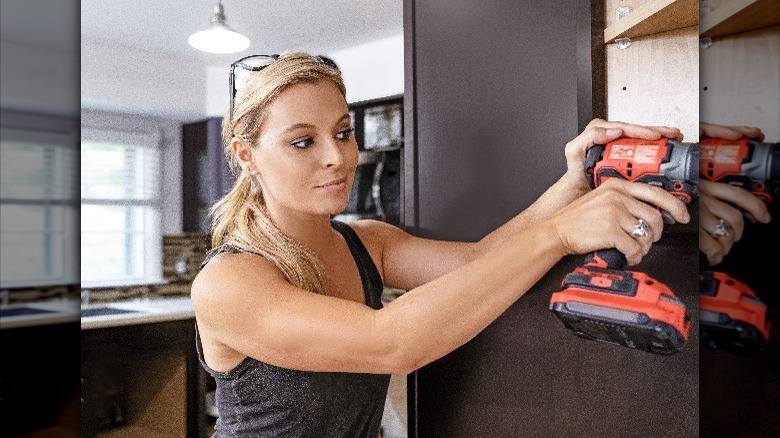 HGTV
Speaking of Detroit, what do you wish people knew about the real estate market there now?
Detroit, specifically Metro Detroit ... to me, those are two very different things. The city of Detroit has so much potential to be so amazing, and there is a big wave of positivity in the city right now. That does excite me. I was part of that wave way when I first moved to Detroit in 2005, and there's a lot of homes in Detroit and there's a lot of homes that are available and in dire need of restoration, renovation, repair. I truly believe that the city of Detroit needs clean, affordable, ready to move in housing. That can really change the city. 
Also, the downtown area is really up and coming. There's so many amazing restaurants and shops and new offices that are being built, and it's exciting to see people coming back into the downtown area and thriving again.
Every city goes through changes, and the people that live in Michigan, the people that live in Detroit really know the state, really know the city. Detroit has notoriously had a bad reputation, and if we live here, the people who live here, we know different. We see Detroit differently. For anybody on the outside looking in on the city of Detroit or any major city, sometimes it's not what you think, so maybe give Detroit a little more credit.
That's good advice. I have not been to Detroit before, but I've been to Michigan, and it's a beautiful state. I'm going to have to add Detroit to my visit list.
Absolutely. There you go. The food scene in downtown Detroit is amazing now. There are lots of entertainment venues, sports venues. It's a really fun and exciting place. If you're going to visit Michigan and you're going to visit Detroit, my advice to you would be come in the summer. The summer is absolutely amazing here. If you want to come in February, bring your snow boots.
"Steal This House" premieres on HGTV and HGTV GO July 9 at 9 PM EST/PST. 
This interview has been edited for clarity.