Here's What Eric Trump Had To Say While Leaving His Late Mother Ivana Trump's Home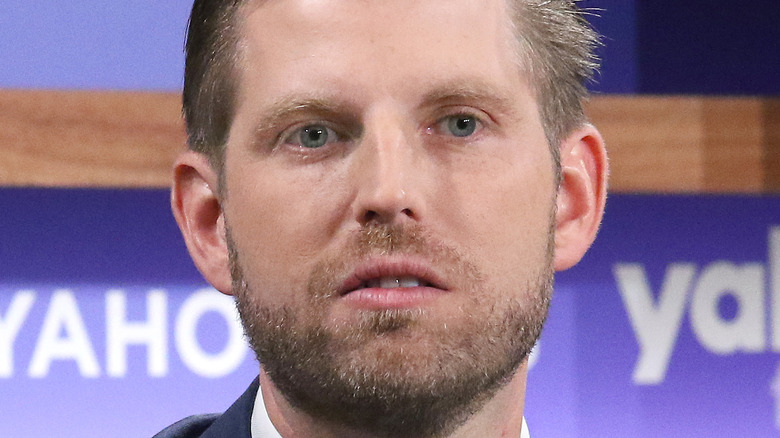 Jim Spellman/Getty Images
Ivana Trump, the first wife of former President Donald Trump, passed away in her Manhattan home at the age of 73 (via the New York Post). The staff at her luxurious apartment building discovered her body and placed a call to 911, but she was pronounced dead on the scene. While her official cause of death is currently unknown, first responders believe she likely passed away from cardiac arrest.
Donald, whom Ivana helped build the stack of businesses he would become best known for, took to his social media platform Truth Social to share the information with his followers.
"I am very saddened to inform all of those that loved her, of which there are many, that Ivana Trump has passed away at her home in New York City," Donald wrote. "She was a wonderful, beautiful, and amazing woman, who led a great and inspirational life. Her pride and joy were her three children, Donald Jr., Ivanka, and Eric. She was so proud of them, as we were all so proud of her. Rest In Peace, Ivana!" (per NBC News).
Her children haven't taken their mother's passing easily. Recently, her son Eric Trump, who posted a heartbreaking tribute to his mother on Instagram, shared how he was feeling as he left his mother's home.
Ivana's son Eric shared sad words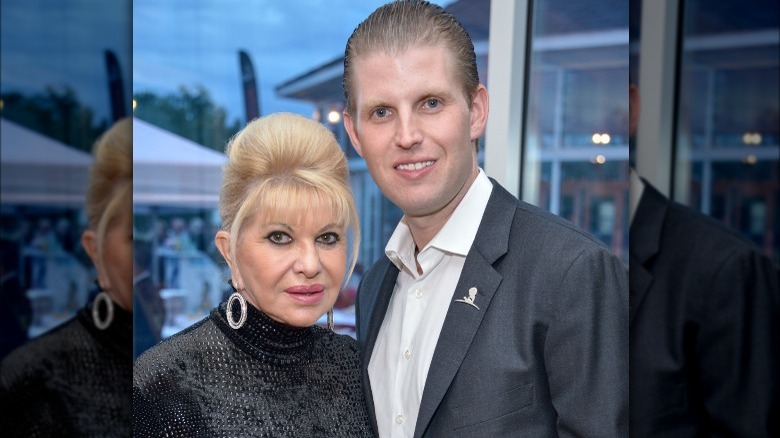 Grant Lamos Iv/Getty Images
Ivana Trump lived a luxurious life, but her top priority was her children (via the Daily Mail). She shared how proud she was of her kids in her memoir "Raising Trump," according to Time. "By all rights, as children of divorce, surrounded by wealth and forced into fame, Don Jr., Ivanka, and Eric could have become the most damaged, druggie, poor little rich kids on the planet," she wrote. Instead, she noted that she was proud of her sons for becoming husbands and fathers and how wonderful of a mother Ivanka Trump was.
Eric Trump was the first of the Trump children to take to social media to write about the passing of his mother. "It is with deep sadness that we announce the passing of our beloved mother, Ivana Trump," he wrote. "Our mother was an incredible woman — a force in business, a world-class athlete, a radiant beauty, and caring mother and friend."
Following the passing of his mother, Eric was spotted by the media leaving her home. When asked for a statement, he said, "It's a very sad day" as he got into a car (via Twitter).