The Sad Truth Behind Katherine Chancellor's Death On The Young And The Restless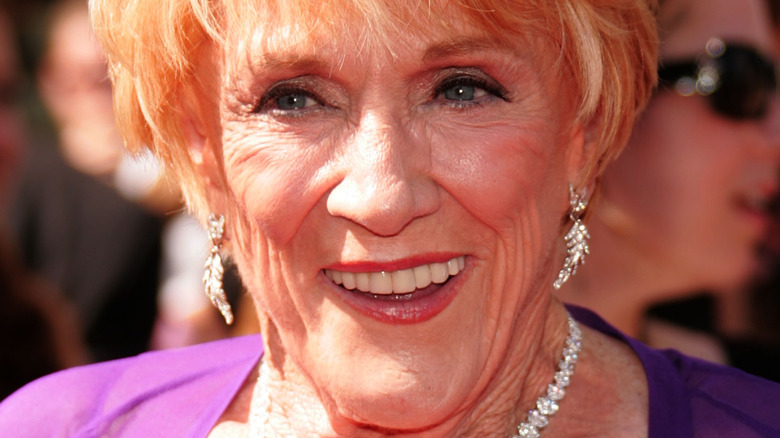 Frazer Harrison/Getty Images
Katherine "Kay" Chancellor was one of the most iconic characters from one of the most prominent families on daytime television for four decades, played by the equally legendary actress Jeanne Cooper. Having begun her career in Hollywood in the 1950s, Cooper went on to star in a plethora of films and TV shows before joining the cast of "The Young and the Restless" in 1973. During her time as Kay Chancellor, Cooper was nominated for 10 Daytime Emmys for her work, winning once. She also received a star on the Hollywood Walk of Fame in 1993 and a Lifetime Achievement Award in 2004.
During Kay's 40-year reign on "Y&R" the savvy billionaire was at the center of several iconic storylines, including a decades-long feud with Jill Abbott, being the first person to undergo a facelift on-screen, dealing with long-term alcoholism, and an infinite number of family and business-related coups (via Soap Central). When Kay was eventually written off the show in 2013, said to have died peacefully in her sleep after a bucket-list trip around the world, much of the grief portrayed by the other characters was real. Many of Cooper's co-stars had worked alongside her for years, if not decades, and just as they celebrated Kay's life on-screen, they were also experiencing the loss of their real-life friend as well.
Art imitates life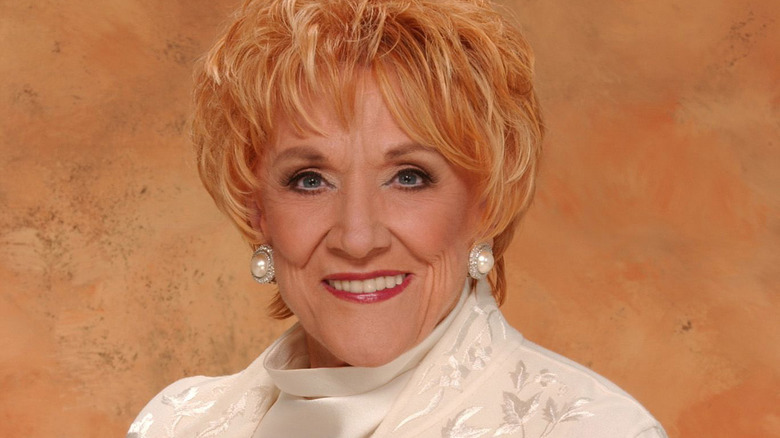 Tony Esparza/CBS
Unfortunately, "The Young and the Restless" was forced to write Kay Chancellor's death into the narrative because Jeanne Cooper herself had passed away. In May 2013, Cooper's son Corbin Bernsen, a popular actor himself, announced that his mother had died peacefully in her sleep at the age of 84 (via The Washington Post). Over the years when asked if she would ever retire from her role on "Y&R," Cooper would often reply, "What would I do? I'm no good at crocheting. My fingers would bleed." Just as she predicted, Cooper continued to play Kay Chancellor up until her death.
According to The Wrap, the soap created a multi-episode story arc in which Kay's loved ones were gathered together at the Chancellor mansion after receiving postcards from her travels around the world. "Y&R" executive producer Jill Farren Phelps said, "Katherine's memory will be honored in several very special ways that allow us to pay tribute to Jeanne in the remarkable manner she deserves. It is an extraordinary story that will bring the residents of Genoa City together to remember this woman they all loved." It was arguably Kay's grandson Devon Hamilton (Bryton James) who was most affected by her death when he was left with her $2.5 billion fortune — a plot point which influenced the narrative for years afterward.
An icon is remembered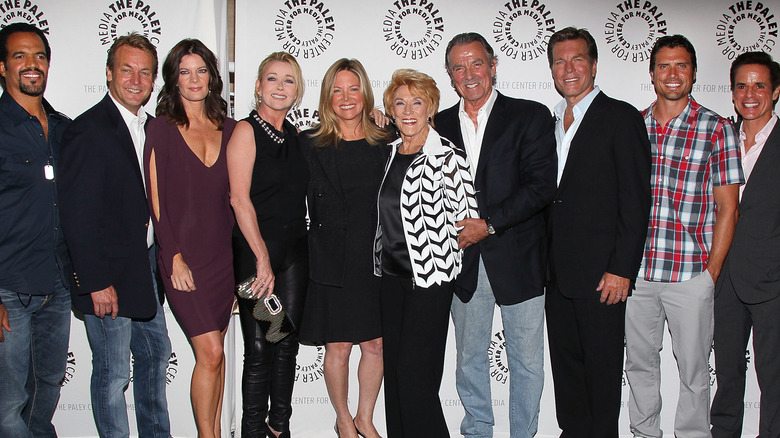 David Livingston/Getty Images
In a heartwarming moment, Cooper's son Corbin Bernsen reprised his role of Father Todd, in order to officiate Kay's memorial service on the soap (via Today). The show also took the opportunity to bring back several characters that had been absent for some time, including Danny Romalotti (Michael Damian) who performed a song, and Brock Reynolds (Beau Kazer) who paid tribute to his dear friend on and off the screen. 
Many of Cooper's co-stars pay tribute to the esteemed actress on social media, to this day. One of those people is Kate Linder, who played Kay's longtime maid and friend Esther Valentine for many years. She told Soaps in 2021, "I miss her everyday. I half-expect to see her coming down the hall, or walking onto the set, and when I remember ... well, it hits me all over again." In fact, Linder's most revered memory on the show was the very moment Kay first called her a friend, just as she had become in real life. Regardless of how many years pass, neither Katherine Chancellor or Jeanne Cooper will soon be forgotten by fans of "The Young and the Restless" or the acting community as a whole.