Here's What's In The Viral Jennifer Aniston Salad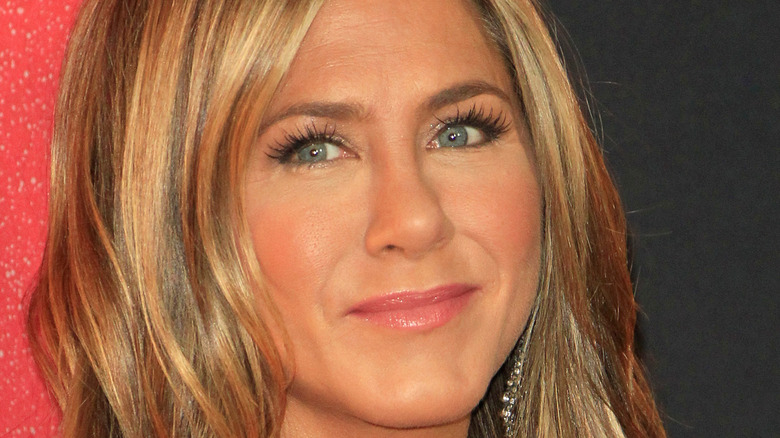 Kathy Hutchins/Shutterstock
Nowadays, every celeb is sharing what they eat in a day or their meals on social media. And normally, we'll just scroll along, but when the G.O.A.T., Jennifer Aniston, shares her favorite salad that she's been eating for years — we take note.
Aniston originally shared the salad on Instagram in 2015 when she took over the Instagram account of her beauty company, Living Proof, for a day. However, she didn't share any measurements or a full list of ingredients (via People). However, leave it to the internet sleuths on TikTok and Instagram to come through with a perfect recreation of Jen's signature salad so you can make it at home.
But before we get into the recipe, "Friends" fans will love to know the legend behind the infamous Jennifer Aniston salad. According to a 2010 Los Angeles Times article, Aniston ate a version of this same salad on set for 10 years straight, and it was so delicious that costars, Courteney Cox and Lisa Kudrow, joined in on the ritual. In the interview, Cox revealed, "It was a Cobb salad that Jennifer doctored up with turkey bacon and garbanzo beans and I don't know what," she explained. "She just has a way with food, which really helps. Because if you're going to eat the same salad every day for 10 years, it'd better be a good salad, right?"
Okay, apparently, the real Rachel can serve up more than just coffee. Here's what's in the viral Jennifer Aniston Salad.
How to make the Jennifer Aniston Salad
The Jennifer Aniston Salad is refreshing, healthy, and filled with protein and fiber. The recipe below is from @ihartnutrition on Instagram, which is the closest version we could find to Aniston's original post on Living Proof's page back in 2015. She captioned the ingredients of her "perfect salad" as "bulgur, cucumbers, parsley, mint, red onion, garbanzo beans, feta cheese, and pistachios," per Taste of Home. But in case winging it in the kitchen isn't your thing, here are all the handy measurements and instructions:
3.5 cups cooked bulgur wheat (1 cup uncooked)
2-3 chopped mini cucumbers
1/2 cup chopped parsley
1/2 cup chopped mint
1/3 cup chopped red onion
1/2 cup chopped pistachios
2 cups canned chickpeas rinsed
Juice of 1 lemon
1/4 cup extra virgin olive oil
Salt & pepper
1/2 cup crumbled feta
To assemble, all you'll need to do is combine the ingredients in a big bowl and toss them together. Enjoy this satisfying and nutritious salad at room temperature or chilled in the fridge. It's the perfect dish to make ahead and eat throughout a busy week.
Tips to enhance your Jennifer Aniston Salad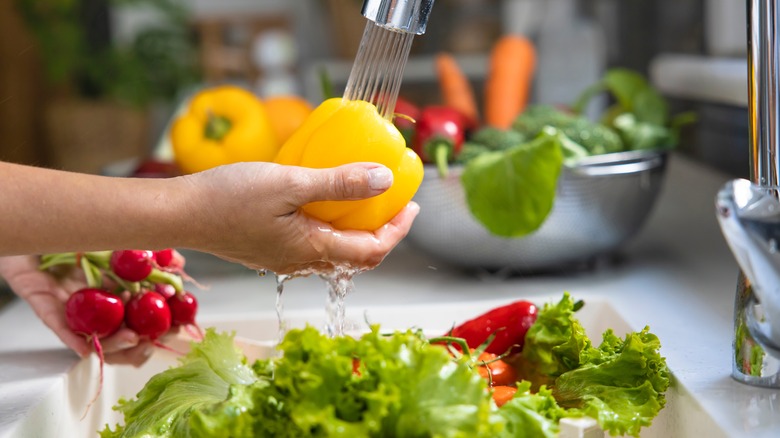 Ahmet Misirligul/Shutterstock
The Jennifer Aniston Salad is absolutely delicious — no wonder the women of "Friends" ate this meal for nearly a decade! However, you can always adjust the recipe to accommodate seasonal ingredients or produce you have on hand. Some ideas to add to the mix are juicy cherry tomatoes or roasted red peppers. Basil or cilantro can also be substituted for the parsley or mint, but make sure you don't skip the fresh herbs because they truly make this dish spectacular. All in all, Aniston's salad is a great base recipe to edit or enhance based on your personal and dietary preferences.
For a bit more protein, add some crispy turkey bacon like this Taste of Home recipe, or grilled chicken. Baked salmon or sliced steak are even more ways to add healthy protein to this salad. And for all of our gluten-free friends, there's no need to worry. You can always sub out the bulgur wheat for quinoa or rice. Both options would be equally tasty, and you won't miss out on the viral Jennifer Aniston Salad.