Below Deck Med's Mzi Dempers Reacts To Lexi Wilson Blocking Him On Social Media - Exclusive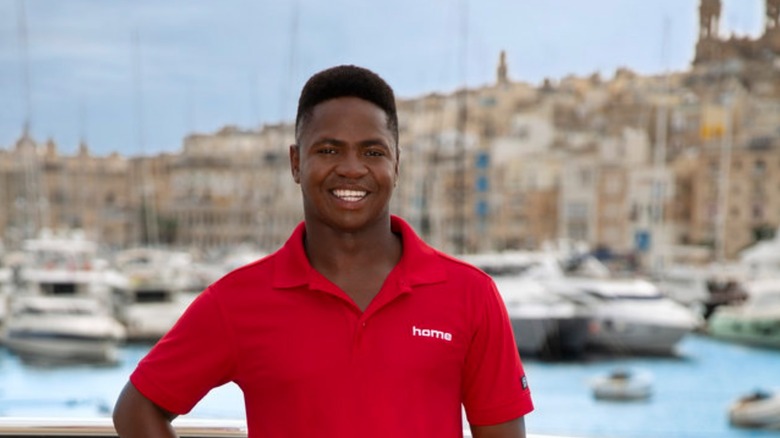 Lauren Basset / Bravo
"Below Deck Mediterranean" is finally back for its seventh season, and Mzi "Zee" Dempers has returned for another charter season with Captain Sandy. Mzi is the only returning member of last season's crew after the deckhand made quite the impact on Captain Sandy and viewers alike. While Mzi made a lot of strong friendships during his inaugural "Below Deck Mediterranean" season, it wasn't all smooth sailing. If there's one person that Mzi probably isn't missing, it's Lexi Wilson, who caused a lot of drama throughout Season 6.
Fans of the show likely remember Lexi's "Below Deck Med" tenure as pretty fraught, with the stew seemingly making a lot of enemies aboard mega-yacht Lady Michelle. While Lexi previously represented the Bahamas in the Miss Universe pageant in 2013, she most definitely didn't have a skill for teamwork, which she proved on more than one occasion — and it would seem that her former crewmates aren't in a rush to reconnect.
The List sat down with Mzi "Zee" Dempers to find out whether he still talks to Lexi Wilson and how he felt when she blocked him on social media.
Lexi Wilson is 'the one who should not be spoken about'
Mzi "Zee" Dempers has remained on good terms with the majority of his crew mates from "Below Deck Mediterranean" Season 6. However, it seems that most cast members haven't had much contact with fired stew Lexi Wilson. When asked if he's spoken to Lexi, Mzi told The List, "Never, ever." As for whether he plans to make contact with her anytime soon, Mzi said, "It's going to be one of those 'Never Have I Ever' games. Never have I ever spoken to Lexi. I'll not be drinking. Thank you." He also revealed, "She actually blocked us all on social media, so there's no way to contact her."
Despite not being on speaking terms with Lexi, Mzi enjoyed filming Season 6 of the show and had only good things to say about the rest of the crew. "Our season last year [Season 6], it was relatively wholesome, besides the one who should not be spoken about," he said. "It was really wholesome, and we had an amazing team dynamic." 
In fact, the rest of the former crewmates regularly keep in contact with one another, with Mzi explaining, "Our WhatsApp group from last season is still very alive; we still all chat on that WhatsApp group all the time." He continued, "Myself and Courts [Courtney Veale] have remained very close. She came to visit me here in South Africa ... Katie [Flood] was here too, but I haven't had a chance to actually see anybody else in real life. We still are all close."
"Below Deck Mediterranean" airs Mondays at 8:00 p.m. ET/PT on Bravo. New episodes are available for streaming one week early on Peacock.