The One Thing Ivanka Trump And Jackie O Have In Common
Ovidiu Hrubaru/Shutterstock
Jackie Kennedy Onassis was married to a Democratic president. Ivanka Trump is the daughter of a former Republican president. By some accounts, the fashionable first lady wasn't super involved in JFK's political decisions (via The Washington Post). Trump was a full-time adviser to the commander in chief during his time in office (via CNN). Jackie O was widely admired by people on both sides of the aisle, while the Florida-based mom of three is undoubtedly controversial given her ties to Donald Trump.
Needless to say, the two women don't have a ton in common. To be fair, they are both considered to be fashion icons, although universal devotion to Jackie O's sense of style has lived on for decades following her death (via SCMP and W Magazine). And, the ladies are both moms and accomplished in business, with the twice widowed Queen of Camelot having enjoyed a successful career as a book editor (via Vanity Fair).
But there is another thing Trump has in common with Onassis that many people are likely unaware of and it has to do with the women's early lives.
Jackie O and Ivanka Trump both created a stir at the same school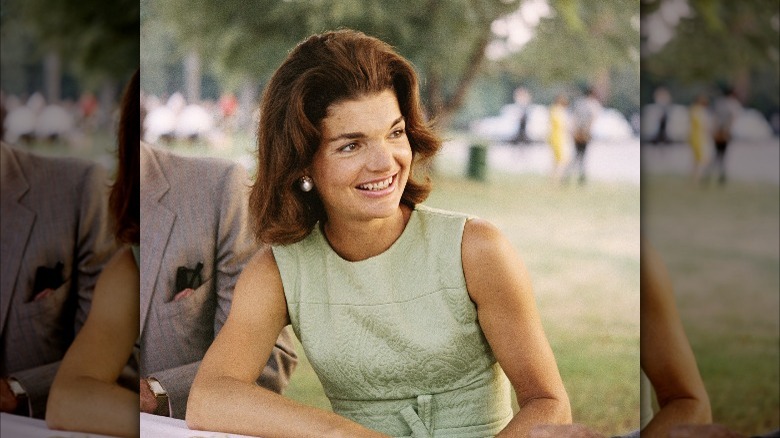 Michael Ochs Archives/Getty Images
Both Jackie Kennedy Onassis and Ivanka Trump grew up with wealthy parents. According to the JFK Library, the eventual first lady's father was a stockbroker. She would attend the prestigious Miss Chapin's School in Manhattan, New York, with a teacher, Miss Platt, recalling her as "a darling child, the prettiest little girl, very clever, very artistic, and full of the devil." Indeed, on that last point, headmistress, Miss Ethel Stringfellow, gave Onassis a D on her report card due to the one-day epitome of grace being a distraction in class.
As funny as this fact is to consider, Jackie O did go on to attend well-respected universities including Vassar College and George Washington University (via Britannica).
Would you believe that Trump followed in her footsteps in more ways than one? Indeed, the oldest daughter of Donald Trump also went to Chapin, where she too got into a bit of trouble at one point, just like Jackie O (via Insider). 
Trump would go on to graduate from a distinguished college in Washington just like her predecessor, but in the case of the former reality star, her diploma came from Georgetown University.
Many other famous women attended Chapin
Kathy Hutchins/Shutterstock
Jackie O and Ivanka Trump are not the only distinguished individuals to graduate from Chapin in New York. In fact, many famous businesswomen got their start at the well-to-do Upper East Side school.
According to Ranker, in addition to a former first lady and the daughter of a president, designer Vera Wang also counts Chapin as her alma mater — and she isn't the only world-renowned name in fashion who walked the halls of the Manhattan school. Lily Pulitzer went to Chapin as well, with Hollywood star Lake Bell having also attended the same institution of learning as Onassis and Trump.
So who else may emerge from Chapin one day and join the list of accomplished women who once took classes in the same rooms as two of the most well-known ladies in political history? 
Only time will tell!