The Major Award Civil Rights Leader Dr. Myrlie Evers-Williams Received In The 1990s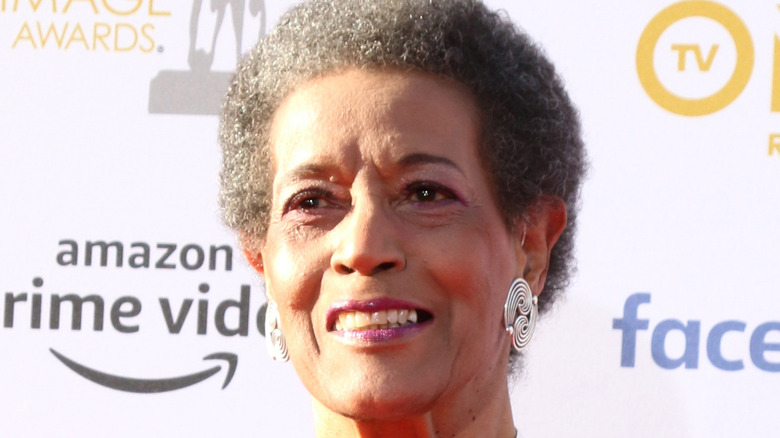 Kathy Hutchins/Shutterstock
The Glamour Woman of the Year award is an extreme honor bestowed upon the women who made a decision to be the change they wanted to see in the world (via Glamour). The bold actions and selflessness of these fearless activists have altered the course of history and inspired millions around the globe. While acts like these often go without much pomp and circumstance, many of these individuals deserve to have the spotlight shone on them. Since 1990, Glamour has honored trailblazing women in politics, entertainment, science, and more. 
In 1995, famous civil rights activist Dr. Myrlie Evers-Williams added another accomplishment to her long list when she was honored by the magazine. This brave woman and her actions have actually contributed to much of the positive change we see in the civil rights of Americans to this day, which is even more reason to familiarize yourself with her impressive work. 
Dr. Myrlie Evers-Williams has had a hard journey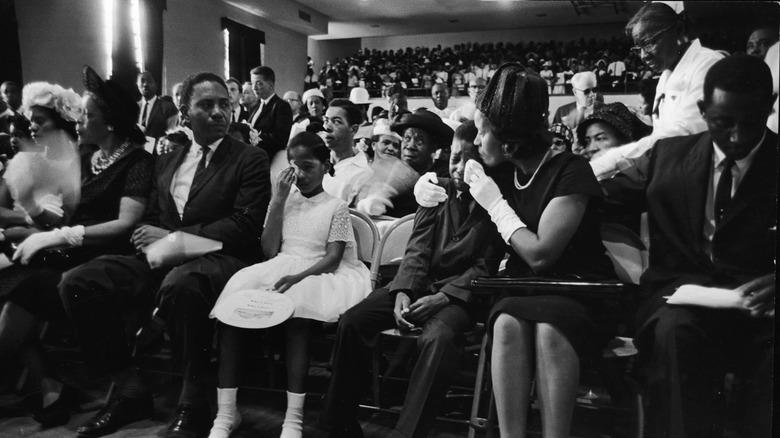 Express Newspapers/Getty Images
Myrlie Evers-Williams is what we like to call a real-life superhero. This civil rights leader has been fighting for freedom and human rights before many of us were even born, and her story is nothing short of inspiring. Her journey to becoming a civil rights activist began with a tragic event that would forever change her life. Her first husband, Medgar Evers, was a civil rights activist himself. He and his wife opened and managed the first NAACP office in Mississippi and regularly attended meetings with the organization (via NAACP). They both staunchly believed in the equal rights of all Americans and often organized boycotts.
In 1963, her husband was assassinated for daring to hold these beliefs and fight for change. Although the FBI stated that the evidence was stacked against Evers' assassin, the shooter was able to walk away free. This did not sit well with Medgar's wife, Myrlie. She knew that the ruling was an injustice. She fought long and hard to have her late husband's case brought up again, and it wasn't until 30 years later that her battle was won. Eventually, her husband's killer was convicted and sentenced to life in prison for his heinous crime.
Her accolades include being the chair for the NAACP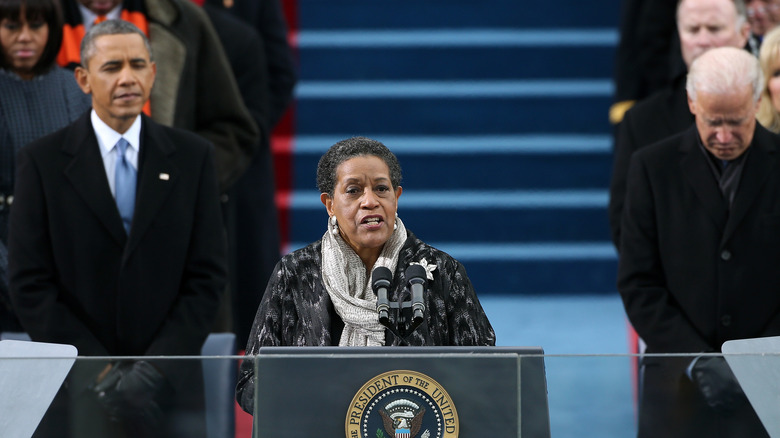 Justin Sullivan/Getty Images
Myrlie Evers-Williams is known for her strides in civil rights which have shaped how we live today. Her early passion for the NAACP — which honored special guest Meghan Markle earlier this year — led to her becoming the chair of the board of the NAACP from 1995 to 1998 (via NAACP). According to the Civil Rights Digital Library, Evers-Williams broke another barrier by being the first woman to hold the position. The tireless activist went on to establish the Medgar and Myrlie Evers Institute as well. 
Evers-Williams' other accolades include being the published author of numerous books, including her memoir "Watch Me Fly: What I Learned on the Way to Becoming the Woman I Was Meant to Be" (per Goodreads). In 2013, she became the first woman to give the invocation for a U.S. president, according to The University of Mississippi Medical Center. During the 1995 Women Of The Year awards ceremony, she told Glamour, "Ultimately, it is up to us to clear the path. To [build] an America where we make the fullest use of the great gifts God gave us." Truly words to live by.