Actress Gail Bean Talks All Things P-Valley And Snowfall - Exclusive Interview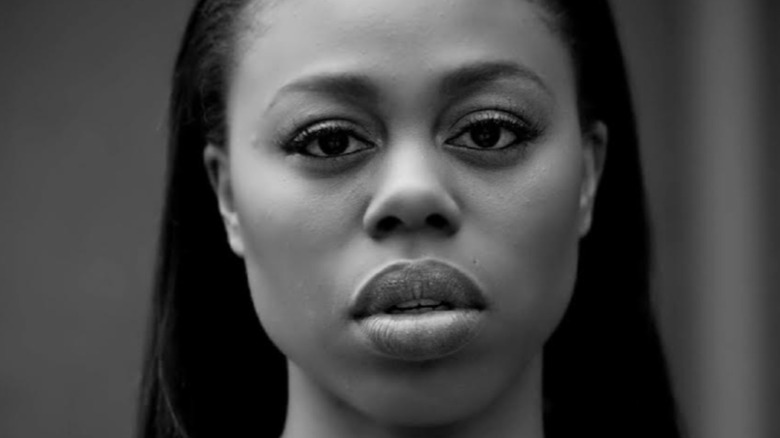 Gail Bean is an actress fans have seen in a number of their favorite television universes, from "Atlanta" to "Grey's Anatomy" to her memorable role in Issa Rae's breakout hit "Insecure." Since 2017, she has starred as Wanda in "Snowfall," a drama from FX set in the 1980s. Another major career landmark for Bean was landing the role of Roulette in "P-Valley" on Starz, and the busy actress even had to film both shows simultaneously.
In an exclusive interview with The List, Gail Bean shared the scheduling and logistical hoops she jumped through, all while portraying two complex and powerful characters. "It was definitely a challenge to shoot two shows in two different cities, two different states, two different time zones, two completely different characters at the same time during COVID," Bean shared, reflecting on her split shooting schedule in Atlanta and Los Angeles.
Joining the cast of "P-Valley" was especially meaningful for Gail Bean since she was already a fan of the show's first season before signing on for Season 2. "This is the second time having something like this happen to me, from when I joined 'Atlanta,'" She told us. "It was mind-blowing, and I honestly could not believe it."
The actress is booked and busy, but she still remembers to appreciate the forces at work in the universe. "It's like you ask for things, and the ancestors give them to you, and you're like, 'Oh, wow. You were really listening.'"
P-Valley required some major physical training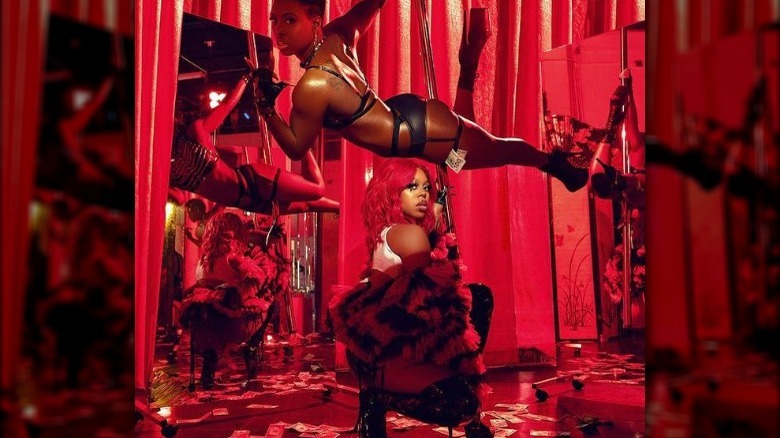 How does "P-Valley" stand out in terms of the work that you've done or the roles that you've played before?
It's a different look for me as far as owning my sensuality and my sexuality and showing a side of seduction that I've never tapped into. I felt like "P-Valley" would mature me as an actress and as a person in ways that no other role has.
Did you have any pole dancing experience before shooting "P-Valley," or was it difficult to adjust to such a physically demanding role?
I started training about four months prior to shooting. But before booking the role, I had no pole experience. It's definitely different, dancing and acting, especially dancing in front of people. It's a little nervous, but after a while, you get over it, but it's still that tactic of being a safety issue. That never goes away, but I guess that's with anything dealing with athletes. You're still very hype and happy about it, but you're also very mindful. During dance days, I needed everything to be the same. I did not want any change. I needed my makeup artist to come with his earrings on ... I did not like change, and I could not have any change on dance days.
I have a stunt double. I had three, actually, for safety reasons. You don't want to accidentally fall off and get hurt, or you don't want to overtire the actor from doing too many takes. There were definitely moments where I was very grateful to sub in with a stunt double to pull off the full Roulette experience, because even in a regular strip club ... Well, even in any strip club, no dancer is on the stage the entire time. When we shoot, it's so many takes. Sometimes, you may not even be fully in focus, but they need you up there on the pole because you're in the background, or we feel you, or we may catch a glimpse of you. You need a stunt double just like you need a stand-in for purposes like that. When it comes to trying to focus, when it comes to fixing lighting, or any of those things, don't tire out the actor who's actually willing to do the stunts by those.
Then there's some moves that are safety issues or technical issues, where you need a stunt double. You have some where maybe [it's] a flexibility thing. I'm really good at pole. I've learned a lot. Like I said, I did four months' training prior to [filming], and then I did ongoing training while filming, but I don't have a split.
[In] different episodes, we may use different [stunt doubles], because it's tiring. If I shoot today and they use me and the stunt double, when it comes tomorrow, they don't want to tire out the stunt double. I'll still go back, but they'll probably already have gotten all my close-ups or gotten already certain shots of me to where now they may use this stunt double for a wide shot.
One scene from Season 2 hit home for the actress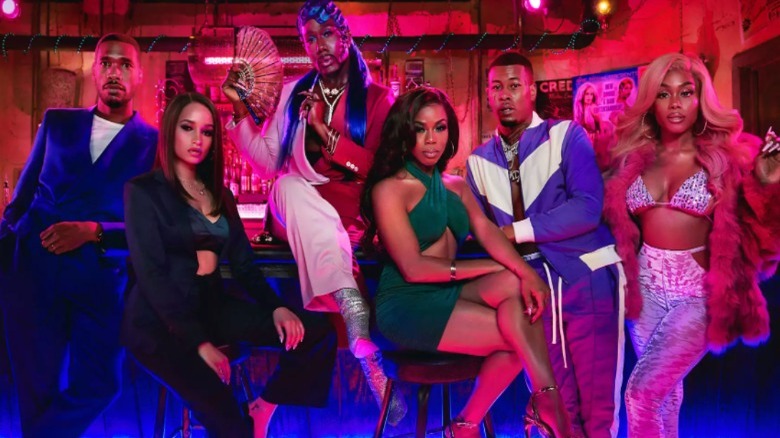 How does your preparation change between more limited roles, like your appearance on "Atlanta," or "Insecure," or "Grey's Anatomy"? How does that differ from when you're a recurring character or more regular on a series?
To be honest, [I prepare] the same exact way I would if it was a role that's ongoing. I do an extensive amount of research so I can truly get the culture and the mindset of the character. I don't judge it. I show up fully [and] on time. For every character, I give a piece of me to the character. That helps me come back to Gail from the character [and] not get stuck in the character. 
You have "Atlanta," which was a one-off episode, or "Grey's Anatomy," or "Chicago P.D.," versus a show like "Insecure," or "Snowfall," or "P-Valley," which is multiple episodes. I watch the show, first and foremost, most importantly. Even though "Insecure" wasn't already on, I watched "Misadventures of Awkward Black Girl."
I look up the creators behind it — the writers, the producers, who's going to direct it. I look up the casting directors to see what's the tone of the shows that they cast. I give every project, no matter if it's one episode or seven episodes in a series, the same energy. Because even if it's just one episode, this character deserves the development and the background information from me to fully make it well-rounded and genuine whenever I'm on the screen.

Do you see similarities between your characters or find that they hold the same core values?
They're all true to who they are, unapologetically. They're so different in so many ways, but every single character I've ever played has all been very rich and full. I am grateful to play well-fleshed-out, rounded characters. But as far as core values, what they share is that they're unapologetically who they are.
Do you feel closest to any of the characters that you've played, or is there someone who's taught you the most about yourself through playing them?
I probably feel closest to Roulette, because there's so much of Roulette that I gave from myself. Roulette is probably my alter ego when I was 18. I'm a Sagittarius, so ... it's a lot of fire. It's a lot of fire inside of me, but a whole lot of love and rare moments of vulnerability. I love every single character I play and I've had a great relationship with them all, but I would honestly say Roulette is a big piece of me. 
I have several tattoos. I say what's on my mind. I'm very candid. My fear is little-to-none. I'm going to do it, and I do what I want when I want. Her love for her brother is unmatched. I have five older brothers, and they're my heart. They're literally my heart. Even playing the scene where she's in the Mercedes room and she loses her brother — she talks about the loss of her brother Michie, Demetrius. That scene hurt so bad because it was really a hole. If I was to lose any one of my brothers, a piece of me would be gone forever.
Gail Bean has a thorough preparation process for new roles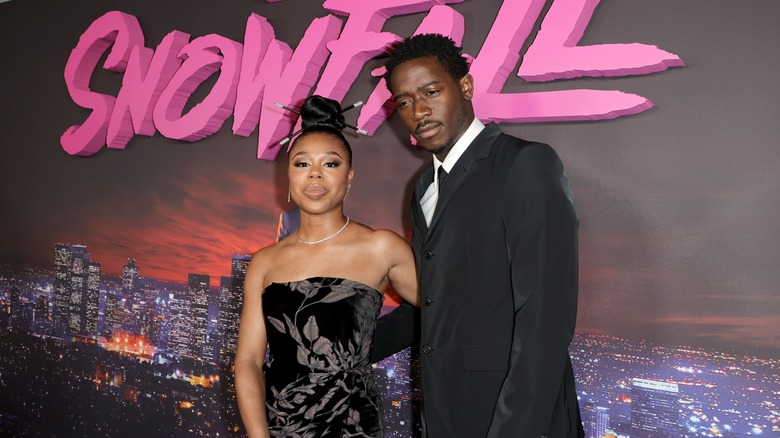 Kevin Winter/Getty Images
"Snowfall" is set in the '80s and deals with the rising drug use crisis and complicated political landscape. How is your preparation for Wanda different from preparing to play Roulette, who's living in the modern era with COVID?
With Wanda, my biggest thing was honoring the time period. With any piece that's not "Atlanta," [it's] honoring the people from there, the locals. [That's] making sure that the accent was on-point, making sure I didn't modernize Wanda and play her like a current-date Los Angelian, and giving her the proper due from that period so people could have that nostalgia. It was much different, because now, with Wanda, I actually seek out people. I had to actually seek out people from that time period and ask some of the locals there, or some friends' aunts, or the hair and the department head on set, about that time period.
Now my research is different — because yes, it's personal, one-on-one — but then it's also going back and looking up the music of that time, and looking up the styles, and maybe watching some of the movies and figuring out who the president and stuff was at the time or some of the current events that were going on during the '80s. It's definitely different on account of having to go a little deeper to make sure I accurately portray not just Wanda, but also the time period. When you do a period piece, the period is also a character within the character.
In terms of having COVID as part of its world-building, do you see that continuing to evolve throughout the series? Or is it less of a character than the historic background of "Snowfall"?
COVID was a silent character moreso. With the period in "Snowfall," the time period in "Snowfall" is a series regular. COVID in "P-Valley" is more like a guest star. No, I would say it's recurring, because we felt it both on set — in real life — and in The Pynk, so it's more like recurring. You'll see it mentioned in different spurts and sprinkles throughout the show.
She has predictions for the last season of Snowfall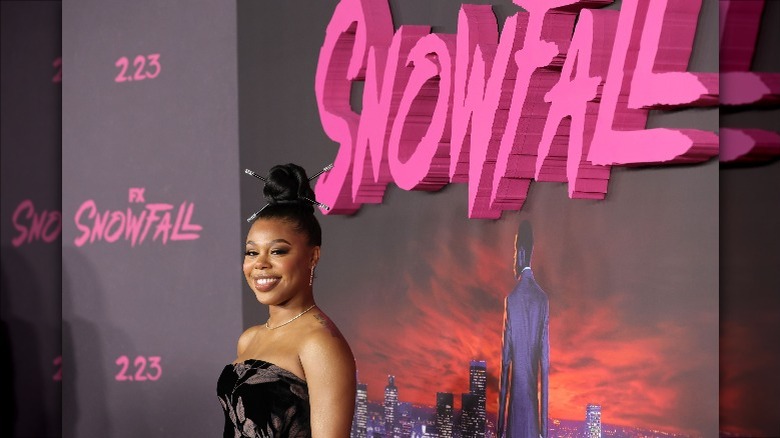 Amy Sussman/Getty Images
The sixth and final season of "Snowfall" is probably going to come out sometime next year. What do you anticipate it's going to feel like to wrap up the stories that that show's been telling since 2017?
Listen, I have been trying to wrap my head around it, and I can't. I cannot see how this is going to end. Everybody says, "When you live that life, you either end up dead or in jail." So much has transpired since Season 1, and the story has gone in places that makes sense but you also didn't see coming, so I cannot even imagine. 
I think Damson is going to die. The person that's going to live, it's going to be ... I feel like so many people are going to die, and the person that's going to live is going to have no meaning of life, and it's going to be very hard to continue on. We're all going to be heartbroken, but it will be a very harsh reality of truth. I definitely feel there will be no repercussions for the government. For them, it'll be another sweep under the rug — not even a bump in the road, but just move on to the next demise of a generation, to the next demise of a race.
I have no idea. We don't get scripts, especially not in advance. Our writers' room hasn't even came back yet, I don't think. I have no idea what's going to happen. But if you look at current [events], they say history repeats itself. I would assume that what's happening now, the reflection of the times, is going to be what came before.
How early do you usually get clued into what's going on for your character?
Probably the day before we begin shooting that episode ... We have the table read, and then we start shooting it the very next day. I may get the scripts ... It varies from project to project. Some projects, I may get the scripts four days before we shoot. Other projects, I may get it the day before we shoot. It also varies, depending on whether you're recurring or a guest star or a series regular, how early you get them.
P-Valley Season 2 sheds new light on its characters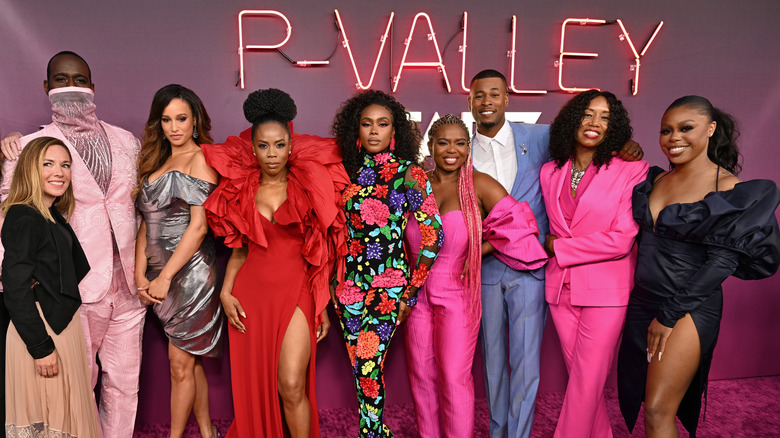 Michael Kovac/Getty Images
Without giving anything away, what can fans look forward to in the rest of this season for "P-Valley"?
I had just tweeted about that. It gets better every episode, each episode. It's crazy to say because you would think, "Okay, if it's getting better, y'all must be doing something outlandish." But no, it's the reality. It gets better. Every episode is deeper. 
Watching Season 1, you visited The Pynk. You rolled through Chucalissa. With Season 2, you're staying for a whole summer. You're starting to see the city in all its hours of the day. You're really starting to see The Pynk. Andre, who's played by Parker [Sawyers], he was first observing the area to see about buying up the properties for the casino. He went back at night to take pictures of The Pynk and see it, and then he also went back in the morning, when it was light.
In Season 1, we saw Chucalissa at night, and now we're seeing Chucalissa and "P-Valley" in the morning, where you could really see everything. We're actually seeing it during all hours of the day to where you see everything. We've pulled back the covers. You get to know the characters a little deeper. You get to know their past, their present, how they got to [here], and where they possibly could be going with Roulette. 
We haven't even scratched the surface of where she's going. We get to see more of her, and how — to be honest — she's on a ride right now. She's really on a ride, to be young. Someone said she was battling her demons, and I said, "It's more like she's embracing them." There's no battle. At this point, nothing is controlling her. She's just young and free. When you're young and free, you have nothing to lose, and that's when you're the most dangerous.
Gail Bean teased what might be next for her character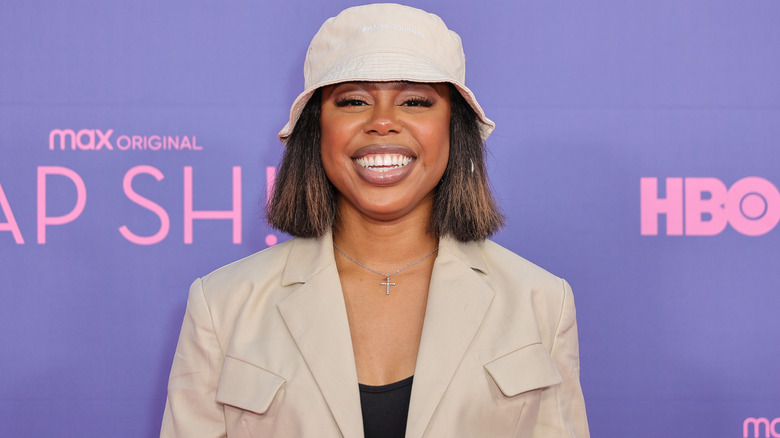 Momodu Mansaray/Getty Images
Do you see her returning to a place of safety in her decisions or continuing on the path she's on?
I don't see her coming back around any time soon. She likes where she's going. This is the thing — she doesn't know where she's going, but she's very sporadic, spur-of-the-moment, "do what I want when I want," no plans, just coasting, and she likes it. She likes it. In order for that to come back around ... With Wanda, she had to have something drastic happen to change the path that she was on — not just losing a tooth, but getting shot and having someone in her life that cared enough to help her, because she couldn't do it alone.
With Roulette, she's on a path of spinning the wheel and being happy with whatever it lands on. When we're young and we're 18 [or] 19, you haven't matured yet. She's matured in so many ways and she's seen a lot, but mentally [and] emotionally, she's not ready. I definitely don't see it coming back around anytime soon. She's going to continue to go on the path, and then who knows? Maybe when she hits rock bottom, she'll start to shoot up. But sometimes, for some of us, there is no bottom. We just continue to go.
Is there anything else you want viewers to know going into these shows?
I want viewers to be open, to receive and understand. I want viewers to be open, to be honest. I want them to be open and remove all judgment and watch with an understanding that it's art.
"P-Valley" Season 2 premiered on Starz on June 3 and will air new episodes until August 7.
This interview has been edited for clarity.