What Prince Harry's Friends Reportedly Called Him When They Found Out He Was Dating Meghan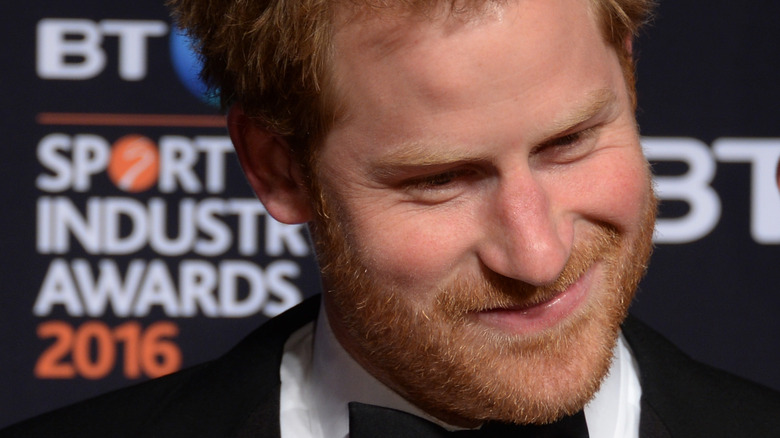 Anthony Harvey/Getty Images
It may seem like a long time ago, but in early 2016, Prince Harry was considered a very eligible bachelor. The younger son of Princess Diana and Prince Charles had seemingly enjoyed his single lifestyle for many years, having dated several women including Chelsy Davy and Cressida Bonas.
But then, everything changed when a mutual friend set Harry up with an American actress. The Duke of Sussex met his would-be wife Meghan Markle in July of 2016 while she was in London (via Good to Know). "I'd never watched 'Suits,' I'd never heard of Meghan before, and I was beautifully surprised when I walked into that room and saw her [for the first time]," the royal said in 2018 upon announcing their engagement (via ET Online). "I was like, 'Wow, OK. I'm going to have to up my game here.'"
But before everyone on planet Earth knew that Harry and Meghan were an item, they reportedly quietly dated away from the prying eyes and ears of tabloids. It was about 16 months later that the couple announced they planned to wed. And while most of us were in awe of their chemistry, it turns out not everyone in Harry's life was supportive of the two getting together in the first place.
A meeting of Prince Harry's friends and Meghan Markle didn't go off without a hitch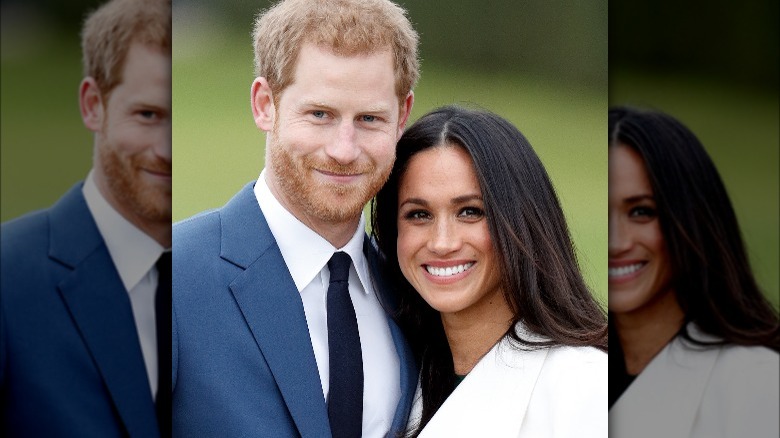 Max Mumby/indigo
It may surprise royal fans who are familiar with all the drama that has ensued since Megxit to know that the Queen supported Prince Harry and Meghan Markle dating early on (via Harper's Bazaar). It was reported that the monarch approved of the match given how happy her grandson seemed in his "loving" relationship.
Interestingly, it was the Duke of Sussex's friends who weren't impressed with Meghan, or at least this is what journalist Tom Bower is claiming in his new book, "Revenge: Meghan, Harry and the war between the Windsors" (via Daily Mail and The Times UK). A big gathering of the prince's school crew proved to be an eye-opening experience given how uptight the Duchess of Sussex acted, according to Bower's book, which also exposes an unlikely source within the royal family who was in favor of Meghan reconciling with her estranged father.
He writes that the guys first met Meghan on a shooting weekend early on in her relationship with Harry. "[He] was looking forward to endless banter, jokes — and a lot of drinking," the author claimed. "He had not anticipated Meghan's reaction."
Apparently the group's unfiltered jokes did not sit well with her, and the future royal wasn't afraid to say so.
Prince Harry's friends were not impressed with Meghan Markle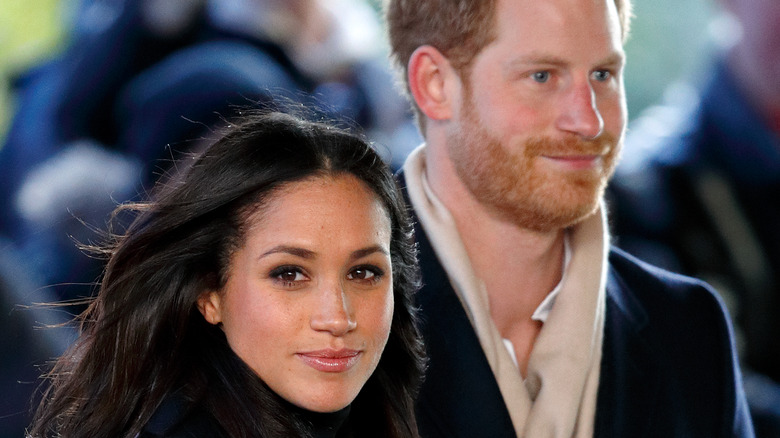 Max Mumby/indigo/Getty Images
As Tom Bower writes in "Revenge: Meghan, Harry and the war between the Windsors," the shooting weekend that saw Meghan Markle being introduced to Prince Harry's school friends didn't go exactly as planned. "Their jokes, involving sexism, feminism and transgender people, ricocheted around the living-rooms and dining-rooms," Bower claims in his book. "Without hesitation, Meghan challenged every guest whose conversation contravened her values."
The takeaway from the prince's friends was that his girlfriend had no sense of humor.
And reportedly, after the weekend was over, the guys texted one another saying that Harry must be "nuts" to date the star who would become his wife in 2018 (via Daily Mail and The Times UK).
In the book, the author also writes that Meghan seemed similarly uptight during a destination wedding of Harry's friends to Jamaica in 2017.
No matter what the friends thought of the couple, clearly it ultimately didn't matter, since they are still married and share two children.