The Queen Proves Her Adoration For Kate Middleton Once Again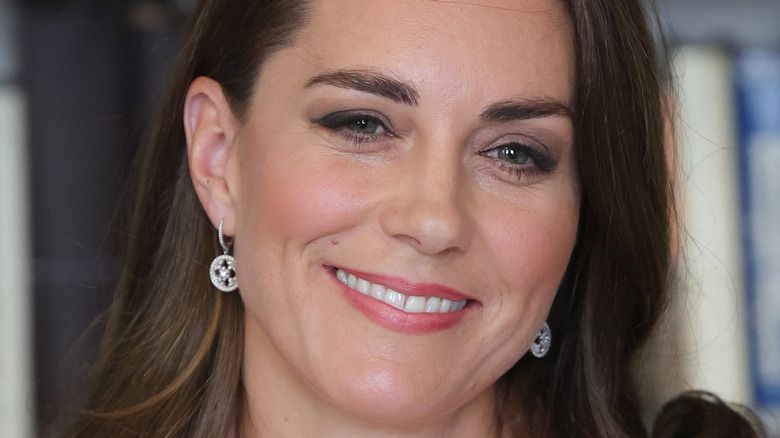 Chris Jackson/Getty Images
Since she married Prince William in 2011, Kate Middleton, the Duchess of Cambridge, has formed a special relationship with Queen Elizabeth. In fact, the monarch has given Kate — who will one day be queen consort when her husband ascends to the throne — special privileges, including a direct line to speak with Elizabeth at any time, per The Observer. The queen has also been helping to prepare the younger woman for her future role. "She's really taken Kate under her wing," a source told US Weekly. "The two of them will often spend hours discussing royal life and the future of the monarchy."
Kate is clearly listening. The mother of three — who is known for her amazing fashion choices — has even taken some inspiration from Queen Elizabeth, who is known for her colorful ensembles so that she stands out in a crowd. With that in mind, Kate has been adding brighter colors to her wardrobe. And due to her mobility issues, Queen Elizabeth has been relying on Kate more than ever, with the Duchess increasing her number of royal appearances.
"The queen very much regards Catherine as ... a safe pair of hands," Joe Little, editor of Majesty Magazine, told US Weekly. "I think given that all that's going on in the past few years in the royal family in terms of the fallouts. ... The queen has great trust in Kate."
So it shouldn't come as a surprise that Queen Elizabeth has bestowed Kate with a special honor.
Kate Middleton has been honored with the Royal Family Order
Chris Jackson/Getty Images
Queen Elizabeth has bestowed Kate Middleton, Duchess of Cambridge, with a special honor called the Royal Family Order, which is given to select female members of the royal family. As Joe Little, editor at Majesty magazine, revealed (via Express), it shows that the queen has "great trust" in both Kate Middleton, and her husband, Prince William. "And, you know, the forces of time hopefully all going well, they will be King William V and Queen Catherine," he said.
The news comes as Kate and William — along with their three children — are preparing to move into Adelaide Cottage this summer in order to be closer to Queen Elizabeth, who is living full-time at Windsor Castle.  "The whole family are extremely excited to be moving to Windsor," a source told US Weekly. "Not just because it will bring them closer to the Queen but it's a perfect happy medium that brings them closer to London than if they chose to settle full-time in Berkshire or Amner Hall."
And of course, the Cambridges will also be able to "soak up as much knowledge as they can for the future" each time they visit with the queen.