Meghan Markle Stuns In A Little Black Dress During Her NYC Arrival With Prince Harry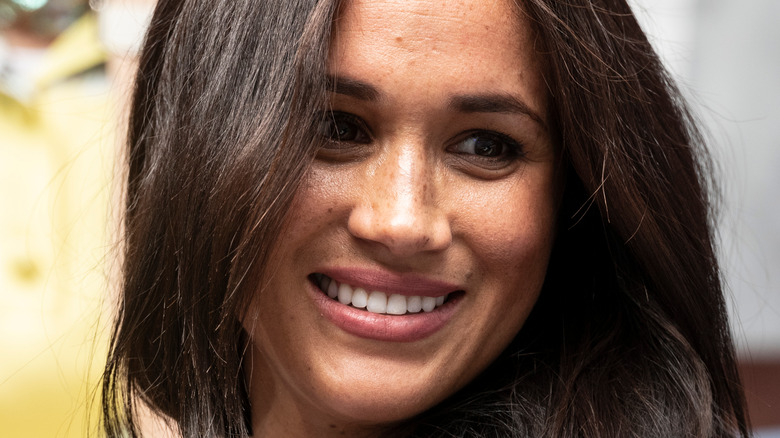 lev radin/Shutterstock
The Duke and Duchess of Sussex have been keeping a pretty steady profile since their separation with the royal family, letting fans into their lives while also maintaining their privacy. Back in 2020, Meghan Markle and Prince Harry announced they would be stepping back from their roles as senior members in the royal family and would be moving to the United States, where Meghan is originally from. This decision sparked a ton of controversy, and was nicknamed "Megxit" by British media, according to The Washington Post.
Meghan and Harry are currently living in Montecito, California with their children, Archie and Lilibet. Page Six reports that neighbors have nicknamed Meghan "The Duchess of Montecito," probably inspired by her gorgeous $11 million mansion in the hills of Santa Barbara, complete with a spa, tennis court, and a private playground (via Hello!). While they are clearly enjoying their new status as Californians, the couple recently made an appearance in New York City, looking stunning, as per usual.
The duke and duchess traded their California sunnies for NYC formals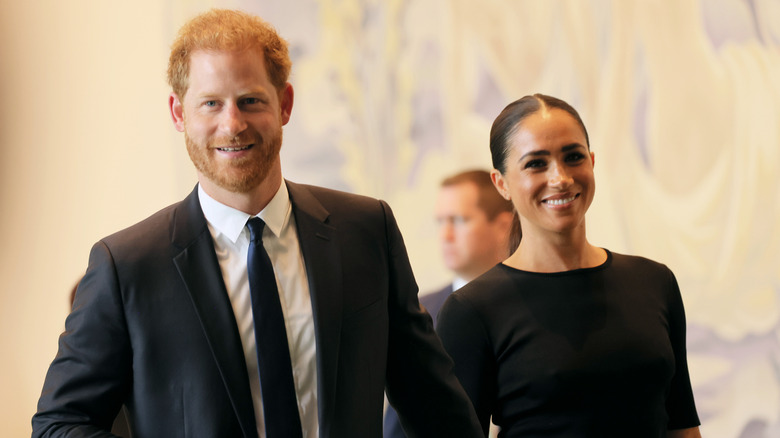 Michael M. Santiago/Getty Images
Meghan Markle arrived at the United Nations headquarters in New York City wearing a tasteful black dress with matching heels and a Mulberry bag, her hair parted in the middle and tied in a low ponytail, as noted by ELLE. Prince Harry, looking sharp in a navy suit and tie, addressed the United Nations with a keynote speech in celebration of Nelson Mandela Day. The United Nations defines Mandela Day as "an occasion for all to take action and inspire change," as a way to honor the late human rights lawyer and humanitarian, Nelson Mandela. Harry reflected on Mandela's humanitarian efforts, concluding his speech with a thoughtful message: "What he taught us, again and again, is that it was never his walk alone... It is all of ours... the work of each generation is tied to those that came before, and those who will come after us," per CBS News.
While the Duke and Duchess of Sussex are no longer senior royal family members, they continue their humanitarian efforts by giving back to the community whenever they can. The two started a non-profit organization called Archewell, that was founded to "uplift and unite communities — local and global, online and offline — one act of compassion at a time," per the organization's website. Harper's Bazaar reports that the Duke and Duchess of Sussex have donated money and raised awareness towards gender equality efforts, mental health startups, and injured military members and veterans.