How Much Money Do Retail Salespeople Make?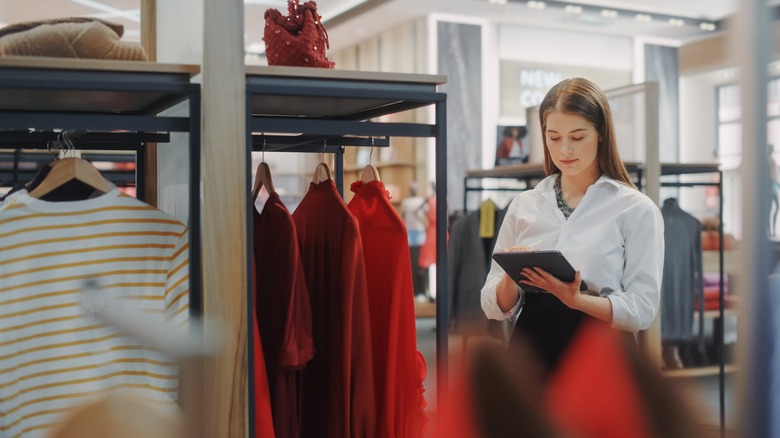 Gorodenkoff/Shutterstock
Do you love keeping things neat and tidy? Does the thought of interacting with customers all day make you smile? Then you would most likely thrive in the position of a retail salesperson. Your workdays are usually short yet fulfilling, and no workday is ever the same.
So many people hate being stagnant on the job. Standing or sitting around with nothing to do can be, let's face it, boring. In fact, some studies suggest that desk jobs are particularly challenging on a person's body (via Science Daily). The fun thing about retail is that you're never without something to do. Whether it's helping customers get something down from a particularly high shelf, explaining what awesome sales are happening in-store or online today, or simply finding a beautiful display for the window, every day in retail work brings something new and challenging.
If you're interested in starting your career in retail, you'll definitely want to know how much money you can expect to make as a salesperson.
What are the responsibilities of a retail salesperson?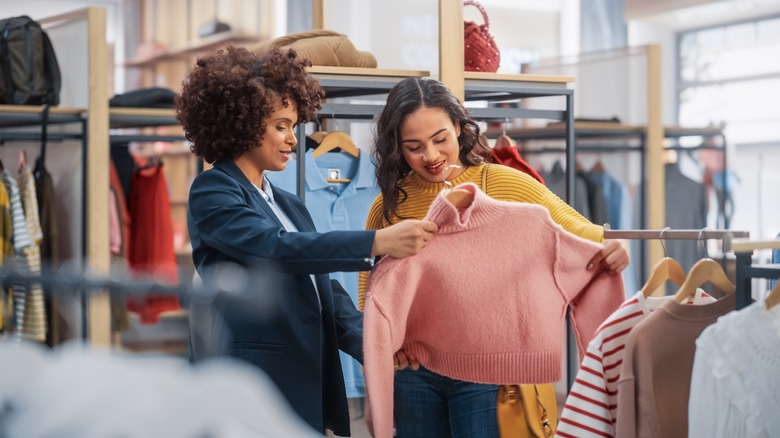 Gorodenkoff/Shutterstock
Before we jump into the nitty-gritty of numbers and cash, let's discuss what you're expected to do as a salesperson. First and foremost, as the name implies, a retail salesperson's main job is to sell a service or product to customers. Some retail jobs even offer commission pay which is when you get paid a bit extra based on how many sales you make throughout your shift. While not every retail job requires this, it can be an added bonus for those born with the gift of gab.
Remember, you're not just selling a product — you're also selling an experience. Every retail establishment wants its customers to have a great time shopping at their store. One of the ways to get this done is to greet and guide customers to their desired product. Saying "hi" is a simple but effective way of making someone feel acknowledged. It's how you build rapport with your customers; after all, no one wants to feel like they're going into a place that only sees them as another number. That's how you quickly become a store known for poor customer service and see poor sales.
So what's the pay and job outlook?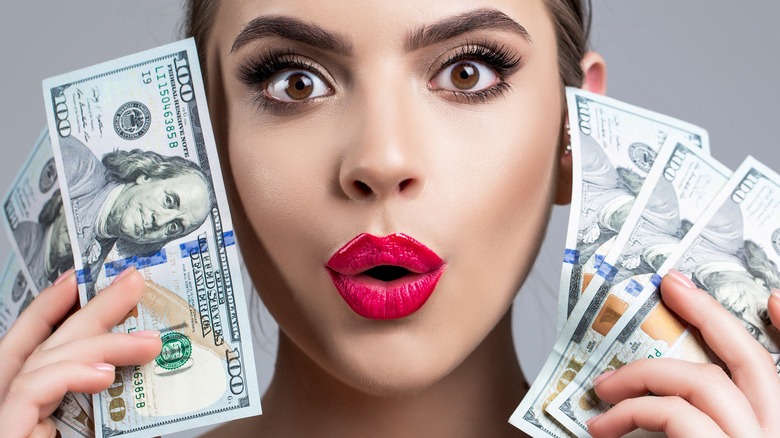 Body Stock/Shutterstock
Still think you're ready to rock it in retail? Then let's talk numbers. While the pay varies depending on the kind of store and position you're in, the median hourly rate for a retail salesperson rang up to about $16.47 in 2021 (via U.S. Bureau of Labor Statistics). The lowest percentile earned about $11.03 an hour while the highest percentile raked in a hefty $27.97. We imagine that those just starting out in retail can expect to earn around the lowest percentile. But moving up at any job is easy enough with hard work and dedication, so the highest percentile is most certainly within your reach.
The U.S. Bureau of Labor Statistics projects there to be little to no change in the number of retail jobs available in the United States. So while the market isn't exactly booming, the amount of jobs isn't going down. Seriously, there will always be people in need of retail therapy or a Christmas list to check off.
Now that you have all the info you need, nothing's holding you back from starting your career in retail. Go for it!