Vegas Wedding Expert Explains Why So Many Celebs Are Tying The Knot In Sin City - Exclusive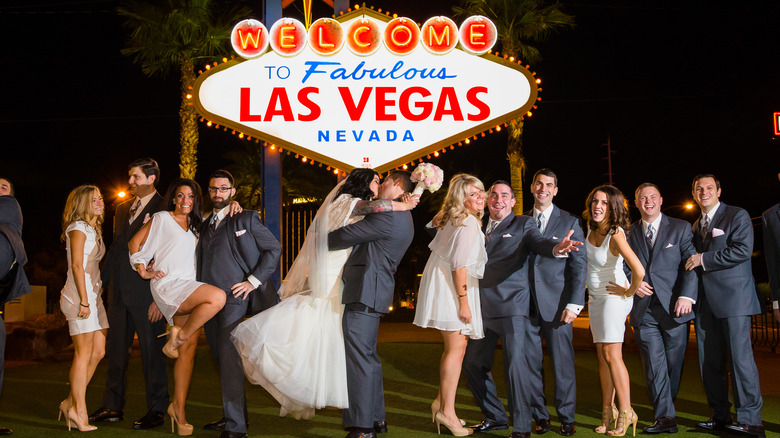 Joshua Rainey Photography/Shutterstock
Jennifer Lopez and Ben Affleck shocked fans when they wed in a small ceremony at A Little White Wedding Chapel in Las Vegas. "We read our own vows in the little chapel and gave one another the rings we'll wear for the rest of our lives," Lopez wrote in her newsletter, "On the JLo," per CNN. "In the end it was the best possible wedding we could have imagined."
The move was surprising given that the wedding they had planned back in 2003 was a more lavish affair, with a star-studded guest list that would have included Matt Damon, Bruce Willis, Colin Farrell, and Alec Baldwin, per Us Weekly. For their Vegas vows, the only other person in attendance was Lopez's hair stylist — and the entire ceremony most likely cost $400.
Affleck and Lopez are not the only celebrities who got married in Sin City. According to People, Travis Barker and Kourtney Kardashian wed in Vegas in April 2022 ahead of their wedding in Italy, while Joe Jonas and Sophie Turner were married by an Elvis impersonator in 2019 before their larger ceremony in France. 
David Harbour and Lily Allen, Kelly Ripa and Mark Consuelos, Frank Sinatra and Mia Farrow, and Jon Bon Jovi and Dorothea Hurley are just a few of the notable names who also said "I do" in Vegas.
So why do so many celebrities decide to get married in the wedding capital of the world? 
Celebrities getting married in Las Vegas want something 'quick' and 'fun,' says expert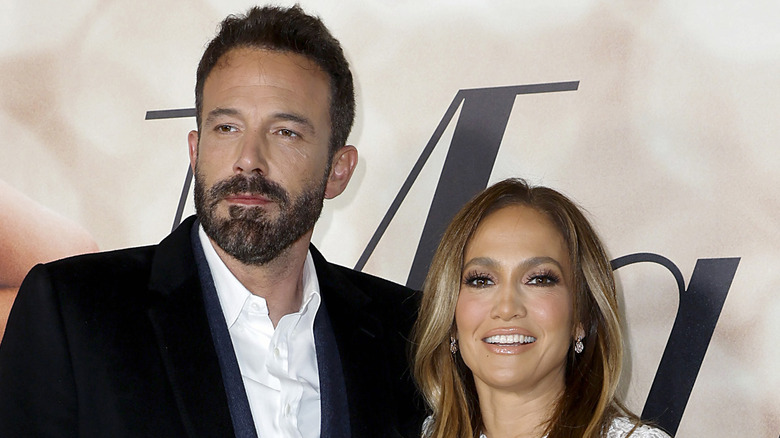 Frazer Harrison/Getty Images
McKenzi Taylor, owner of the wedding brands Cactus Collective Weddings and Electric Sugar Elopements, believes that so many celebrities get married in Las Vegas because of the convenience. "I think the most important element is that it's quick, it's easy, and it's really a lot of fun," Taylor told The List. "Vegas has so much to offer those looking to get married in terms of all the things to do and places to see."
In addition, couples are able to have any type of wedding they desire. "They can be campy, they can be downtown Vegas in a chapel, and they can be full-scale luxury," Taylor adds. "They can be scenic, in the beautiful desert. Las Vegas weddings can truly be anything you'd ever want a wedding to be."
For Jennifer Lopez and Ben Affleck, a smaller ceremony was the right move. "Jen and Ben have talked about eloping for months now and it felt right for them," a source told Us Weekly. "Jen and Ben have both already had big weddings beforehand, so the pageantry isn't as important to them as it once was."
They are reportedly also planning a larger party at a later date so they can celebrate with friends and family.