Selling Sunset's Christine Quinn & Husband Christian Dumontet On RealOpen - Exclusive Interview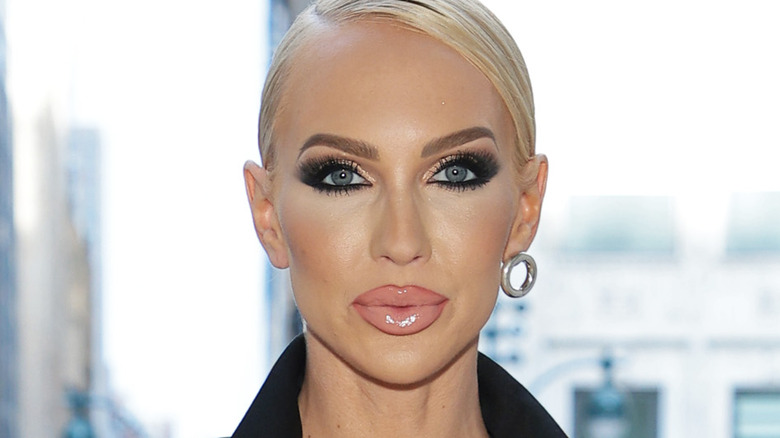 Dimitrios Kambouris/Getty Images
Throughout five seasons of Netflix's "Selling Sunset," Christine Quinn became known for her incredible fashion sense, her propensity for the finer things in life, and her unforgettable one-liners. In fact, Quinn's sense of humor and onscreen persona has gotten her in trouble with more than one of her co-stars. However, viewers quickly fell in love with everything about Quinn, who's since launched everything from makeup collaborations with Ciaté London to footwear collections with ShoeDazzle to an incredible book about her life, "How to Be a Boss B*tch," which is filled with advice, inspiration, and hilarious anecdotes. As if Quinn wasn't busy enough, she recently launched a new cryptocurrency-based real estate business with her husband, Christian Dumontet.
Quinn and Dumontet's new venture, RealOpen, is disrupting the real estate market by bridging the gap between digital assets and physical goods. Quinn and Dumontet realized there needed to be a way to purchase property with cryptocurrency, without having to undergo a lengthy cashing out process. The future, the couple says, is about embracing digital assets, and allowing for smoother purchases, be it in real estate, fashion, or food delivery.
The List caught up with Christine Quinn and Christian Dumontet to talk RealOpen, embracing cryptocurrency in the real estate market, "Selling Sunset," and Quinn's dramatic entrance at Paris Fashion Week.
Bringing together cryptocurrency and real estate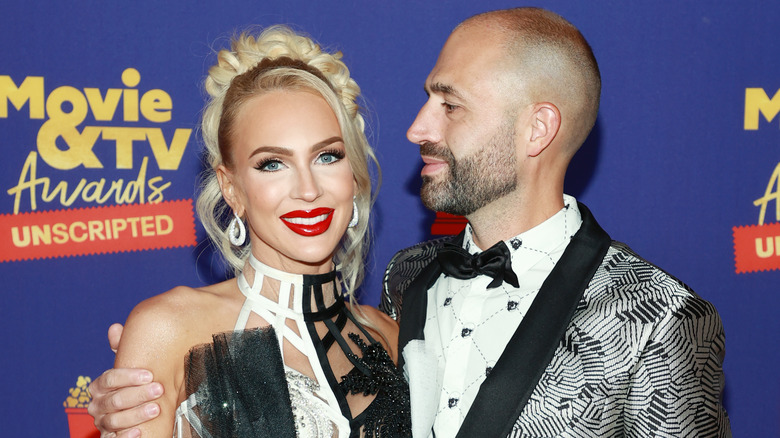 Matt Winkelmeyer/2021 Mtv Movie And Tv Awards/Getty Images
You recently launched RealOpen. How is it going?
Christian Dumontet: Fantastic.
Christine Quinn: It's going great.
Dumontet: Yeah, we have over $250 million worth of listings.
Quinn: We're super excited, morale is high, the team is growing. We love it ... We have quite a few engineers [and] a lot of real estate agents.
Dumontet: It scales through alignment with agents and brokers who, in turn, go through their network of buyers and sellers.
Was starting a business together a no-brainer? It feels like it brings together both of your different skill sets perfectly.
Dumontet: It's a great convergence of our interests and skills. I've been involved in cryptocurrency since 2013. The concept of cryptography in general is fascinating, not just with monetary systems. [With] Christine, being one of the premier experts in real estate, it came together well.
Quinn: It's funny because I never thought that we would've worked together on a company. I know that we're both very like-minded individuals when it comes to anything of intellect or business. I knew we had the potential to work really well together, but it wasn't until this idea came together that we're like, "Oh my gosh, we are the perfect two on planet Earth to do this, if anyone is going to do this." It worked out great.
On taking RealOpen global
It's quite impressive that you're a married couple and you've managed to scale this huge business together. What are your goals for the business?
Dumontet: We're starting with high-end real estate and then the next step will be a long tail in terms of the buyer distributions. That means that we'll get into all price points. Beyond that, we see it being a marketplace for bridging digital and physical assets.
We were just chatting with somebody, and my opinion is that within 10 years, the cryptocurrency economy will evolve into not just a store value, which it's typically thought of as today, but lending products, derivatives. It becomes a full blown world economy with all that goes with that. I could talk for the next two hours, but if you look at cross border commerce with the currency issues that [comes with that kind of commerce], it's incredible to me that we, as a world, have to deal with various currencies and hedging at that risk. If you've got a long term contract with a manufacturer in one part of the world, a value added reseller in another part of the world, there's currency fluctuations that need to be considered in that contract. In talent pools, there are brilliant people throughout the world that have difficulty matching up with an employer because of friction.
Quinn: We're headed into [what I foresee as] a universal currency. I was just in London and I had my pounds, and I went to France and then I had my dollars.
Dumontet: Oh, you actually had American dollars.
Quinn: And it's all I had. They're like, "Oh no, we don't take that." It's one of those things that [demonstrate why] we need a universal currency, and that's where we see this going. Being the number one provider of physical goods with digital assets, whether it be cars, yachts, diamonds, or clothing, these are all transactions that we're capable of doing.
Dumontet: Yeah, and day-to-day things, dinners out, and all sorts of things.
The business is already taking you all over the world?
Dumontet: We have an agreement in place that we haven't formally announced yet, but we can talk about it. We have a developer in the UK that has this series of properties that we're about to post. We already have listings in Africa, Australia, Germany.
We have a listing in South Africa. It's called Casablanca, and it's not in Morocco. That's the name of the property — they came to us pretty early and they're working together actively to get that sold.
Becoming reality TV icons on Selling Sunset
We've seen you together on "Selling Sunset," but what are you really like when the cameras aren't there?
Quinn: We're hilarious, Amy.
Dumontet: We laugh a lot.
Quinn: We're really funny. I don't think we saw enough Christian on "Selling Sunset."
Dumontet: I'm a little private.
Quinn: We're both really funny, really silly goofballs. We don't take ourselves too seriously, but we're both really invested in our business and business brand.
Dumontet: We don't take much time off, despite what ... I don't check social media, but my guess is it looks like we're gallivanting around. That's not true at all. Yes, we travel, but we work all day and all night, and we love it. We do it because we love it.
Christian, you mentioned that you are quite private. What was it like joining a reality show and putting yourself out there?
Dumontet: It was an adjustment. I never sought this out, but I embraced it and it's quite a lot of fun.
Quinn: When I met him, I was like, "Yeah, I'm on  this little TV show." He didn't really get it. It's cute.
Dumontet: No idea what I was signing up for, but it's been great.
I'm sure you can't say much Christine, but I have to ask, will we ever see you on "Selling Sunset" again? I don't know if I want to watch it if you are not on it.
Quinn: Never say never. I really don't know. The ball's pretty much in their court. I gave them the opportunity last season to talk about me opening my brokerage, and that wasn't an interesting enough storyline, so they had to make up fake ones. I really want to focus on my company and if I'm able to talk about that in the process, sure. I really want to stay true to what I'm actually doing in my life and not have to script things anymore.
Hitting the runway at Fashion Week
Christine, I was hoping I could quickly ask you about Fashion Week because your appearance was jaw dropping. What was that experience like?
Quinn: Demna [the creative director of Balenciaga] hand-selected me, gosh, probably ... I don't want to give a timeframe because I'm probably going to get it wrong. I'm horrible with time. Months and months ago, he told me that he wanted me to walk in his couture show and I didn't think it was real. I thought it was an audition, and it was  absolutely surreal. I've been a fan of the brand for so many years — incredible vision. I was so honored. It was fittings after fittings after rehearsals after rehearsals. It was the most incredible moment of my career and my life. Fashion has always been a focal point of my being, what makes me happy, and it's so nice to finally have that talent recognized. It's been great.
And you got to walk alongside some amazing people in that show like Nicole Kidman and Kim Kardashian. What was it like being in that lineup?
Quinn: It was surreal because I was actually a lighting stand-in for Nicole Kidman about seven years ago ... Like I said, I'm horrible [with] time. Don't quote me on [the exact time]. I was a lighting stand-in for her. A friend of mine was a producer for commercials, and Nicole Kidman was in Los Angeles shooting a commercial and she told me, "Hey, I'm doing this commercial. It's with Nicole Kidman, and you're just her height." I think she's 5'9, I'm 5'9. She's like, "Would you like to do it?" [I said,] "Absolutely." It didn't pay, [but] I didn't care. Sign me up. I worked for free for years and years and I didn't care. I wanted the experience, and it was so great that I got to walk alongside her. I told her the story. I said, "This is crazy to think about, but I'm walking a show with you, and I used to be your lighting stand-in." She told me I looked like a young Britney Spears, and I thought that was so sweet.
Making friends at Fashion Week with Bella Hadid
Quinn: I remember her being extremely kind because she had her own trailer, but she chose to have lunch with me because she knew I didn't have any friends, she knew I didn't know anyone. That was so kind. She went out of the way to make me feel welcome and comfortable and accepted on a set where I didn't know anyone. That was really surreal.
Bella Hadid and I have become really good friends. I ran into her, I believe, at one other rehearsal. We had dinner, and then I saw her later after the show, quite a few times. I was shocked how genuine and sweet and kind she was. It was another thing — she knew all the models and she'd been around them for years. I didn't know anyone. She made me feel right at home, and it was really great. It was the pinnacle of my career.

Are you going to be doing more fashion stuff now?
Quinn: Definitely. Fashion has always been my love and my passion and I go every year to the Fashion Weeks. I always go to New York, so I'll be going there in September. For the first time ever, I want to go to Milan for Fashion Week. I have yet to do that. Hopefully, this time, in addition to attending some shows, I would also love to walk as well. That's my absolute dream.
... It's so great because, at the brokerage, I never felt comfortable. I never felt like that was the right fit for me. [It's] so great that we started this new company and we've been able to really watch it blossom and create it, start to finish.
Expanding RealOpen
What's next for your company, RealOpen, and for the two of you?
Quinn: That's a great question.
Dumontet: Back to what we were saying, broadening to all price points of a marketplace. Think of an Amazon for bridging physical and digital assets. Next for us as a couple...
Quinn: I've had quite a few agents who have reached out to me and I really admire the hustle because that's how I started out in business. You call it stalking, I call it persistence. I admire people who are really persistent, and I've had quite a few agents reach out to me and I've really been their business advocate and I've helped them get listings with us and helped them throughout the process of working with their buyers, whatever it may be.
Christian's working on the tech side of things and on the backend, and I'm really at the forefront of getting all this great talent, all these great agents together, rounding them up and taking advantage of the talent that they have. [I'm] helping them out with any tips in the real estate industry, so that we can all work together with RealOpen because so many people have [said] for so long, "I would love to work for you." I say, "No, you're not going to work for me. You're going to work with me." It's great that I'm able to do that now.
How do you find time for yourselves as a couple and for your family?
Quinn: It's because we work together.
Dumontet: Yeah, it's enjoyable.
Quinn: That's part of our time together. Even when we're working, that's enjoyable for us.
Dumontet: It's a bonding experience.
Before we wrap up, is there anything else you want people to know about RealOpen?
Quinn: We are always hiring agents and I encourage people to sign up and reach out to us, even if they don't have any listings or if they have a hundred listings. I really encourage growth. That's important for us in our company. We prioritize growth over anything. I would encourage people to reach out and work with and also know that we work with any price point, it's not just high end luxury homes.
Dumontet: Yeah, that was the natural introduction to the market and that's broadening rapidly to all price points.
Find out more about Christine Quinn and Christian Dumontet's new venture, RealOpen.
This interview has been edited for clarity.