Ivana Trump's Funeral Will Have An Unexpected Person In Attendance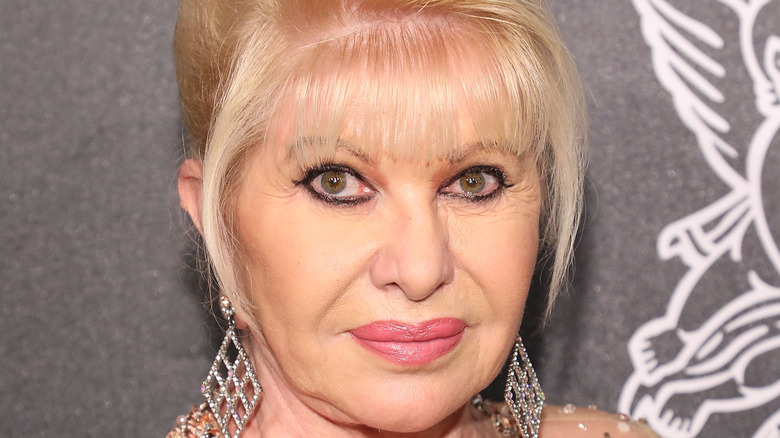 Taylor Hill/Getty Images
The world was shocked when the heartbreaking death of Ivana Trump was made public. The ex-wife of Donald Trump passed away at the age of 73, with the official cause of death being blunt force trauma sustained during a fall, per TMZ.
"She was a wonderful, beautiful, and amazing woman, who led a great and inspirational life," the former president wrote about his first wife, according to a screenshot of the post that was shared on Twitter. "Her pride and joy were her three children, Donald Jr., Ivanka, and Eric. She was so proud of them, as we were all so proud of her. Rest In Peace, Ivana!"
Donald and Ivana were married in 1977 and called it quits in 1992 after his affair with Marla Maples was exposed. While the divorce was acrimonious, the exes were eventually able to get on friendly terms. In fact, Ivana even referred to herself as the "real first lady" during a 2017 interview with "Good Morning America." Of course, the comments didn't sit well with Donald's third — and current — wife, Melania Trump. "There is clearly no substance to this statement from an ex. Unfortunately only attention seeking and self-serving noise," a statement from a spokesperson for Melania said at the time.
Sources said there was definitely no love lost between the two women, so will Melania be in attendance at Ivana's funeral?
Melania Trump will be at Ivana's funeral to support her stepchildren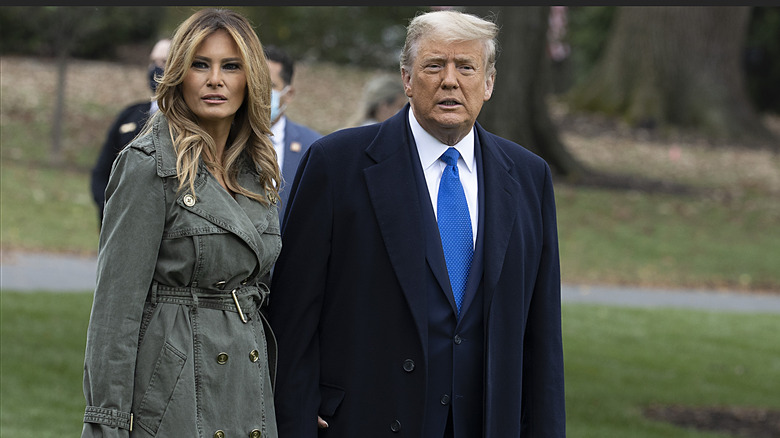 Tasos Katopodis/Getty Images
Despite their less than friendly relationship, Melania Trump will be attending Ivana Trump's funeral at St. Vincent de Ferrer Catholic Church in New York (per Showbiz 411) to show her support for her three stepchildren: Donald Trump Jr., Ivanka, and Eric, per Radar. Ivana's first husband, Donald Trump, will also pay his respects at the services.
However, sources revealed that Marla Maples and her daughter, Tiffany Trump, were not invited to the funeral. It is not surprising given that Ivana blamed Maples for the demise of her marriage to Donald, referring to his second wife as "that showgirl."
"She broke my marriage and destroyed my family. And now she's nobody," Ivana said, per Page Six, in 2017. "Last year, during the presidential campaign, they asked me to do 'Dancing With the Stars.' I could not do it because it would have been disrespectful to Donald. I was not going to be on the dance floor with my boobs hanging out, and my butt hanging out. But guess what? Marla Maples took it. She lasted one week. And when she lost I said, 'Hey, hey, hey, hey!' I was never happier in my life."
Things got especially tense when Ivana became involved in Donald's presidential campaign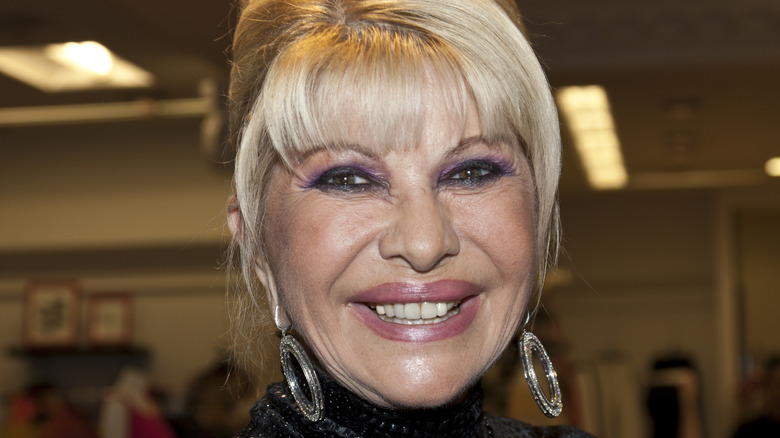 lev radin/Shutterstock
Donald and Melania Trump tied the knot in 2005, and while they've been a staple on the political and cultural scenes, tensions remained high between them and Donald's first wife, Ivana Trump. As Donald entered the presidential race and eventually won the White House, Ivana made sure that her presence was known, despite Melania's place as his wife. 
According to Page Six, Ivana was convinced that he ex-husband would win the 2016 election, saying, "Donald is very optimistic, and I think he will be a great president, and not because I'm his ex-wife. He will run this country as a business, and we need someone who will be able to make a decision. If he doesn't win, he'll go build another skyscraper. He has nothing to lose." 
As a result of her unwavering, Ivana was a constant figure throughout Donald's presidency, which seemed to bother Melania. She even claimed to be a sounding board for her ex-husband during his time in office, helping him decide what to post on Twitter and offering her thoughts on Ivanka Trump's political influence. But by the time her ex-husband's time in office was coming to a close, Ivana was vocal about her desire to see his presidency come to an end. 
"I just want this whole thing to be over with, one way or the other," Ivana told People. "I really don't care. He's not a good loser," she continued. "He doesn't like to lose, so he's going to fight and fight and fight." Of her children, Ivana made it clear that she wanted them to have their "normal lives" back, rather than the scrutiny of Washington, D.C. follow their every move. 
Though Melania and Ivana were often at odds, especially when Donald became president, she will still be attending her funeral service in support of Ivana's three children.