The Hilarious Truth About Renovation Island's Bryan Baeumler's Proposal To Wife Sarah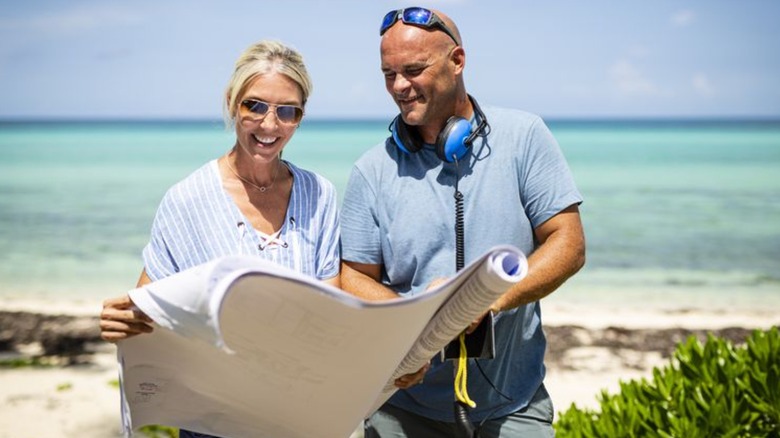 HGTV
Fans became enamored of Bryan and Sarah Baeumler of "Renovation Island" and their adorable children thanks to the hit HGTV show, which sees the Baeumler family living in an island paradise while creating a swoon-worthy holiday destination we'd all love to visit. Showbiz CheatSheet points out that Bryan was already a reality star in the couple's native Canada, thanks to popular shows "Disaster DIY," which premiered in 2007, "House of Bryan," "Leave It to Bryan," "Bryan Inc.," and finally "Island of Bryan."
The show was repurposed as "Renovation Island" in the US, making the Baeumlers stars south of the border, too. Per Country Living, after completing their Bahamian resort, Caerula Mar, and successfully opening for business once COVID restrictions were lifted, the lovable couple turned their attention to their own Florida home, which forms the basis of Season 4 of "Renovation Island." 
Fans can expect to see lots more of Bryan and Sarah as their show continues, but his proposal-gone-wrong may not make it to air.
The HGTV star wanted the right setting for his big moment
Bryan and Sarah Baeumler go way back. In fact, as Sarah told Streets of Toronto, they originally met in high school. It would be another decade before their paths crossed again, however, thanks to an email on which both parties were copied by a mutual friend. 
Their first date was in 2001. The couple took in a production of "The Lion King" before heading out for sushi. As the HGTV star acknowledged, "He definitely pulled out all the stops, and it was a very exciting first date." Unfortunately, despite his best intentions, Bryan's proposal didn't go as well.
The couple was visiting family in Nova Scotia at the time, and Bryan envisioned popping the question "while we were on this beautiful scenic hike beside the ocean." Sarah explained, "The views and scenery are usually breath-taking. However, on this particular day it was so foggy you could hardly see 20 feet in front of you." They had to head back and even "got a flat tire" en route. 
"It wasn't the romantic journey Bryan was expecting, so he waited until later that night to pop the question," she said. They got married in a small but stunning ceremony in September 2004, just three short years after that impressive first date, as Sarah detailed in a sweet post for HGTV Canada. She also revealed that they'd planned on a longer engagement, but, as Bryan can surely attest, our best-laid plans frequently "go awry."
This is how the Baeumlers keep their marriage strong
Although they've known each other for a long time, working together and being married can take its toll — particularly with four kids to juggle on top of everything else. "Renovation Island" doesn't shy away from showing the longtime couple bickering, particularly in frustrating situations.
But, in the end, the Baeumlers are always firmly in each other's corners. As Sarah explained to Vancouver Mom, it's important that they make time for each other whenever possible. "Bryan and I have always been adamant about teaching our children that Mommy and Daddy need time to be adults and friends to one another," she asserted.
The "Renovation Island" star admitted that it's especially tough when you have children not to lose sight of your relationship because you're so focused on them. "But we have always told our children that we need to put time and love into our own friendship," she said. This includes nights away and traveling together. 
"We are not big on 'date night' — possibly because we can never find a sitter for our brood! So we try to take advantage of the day to day moments we have together," she said. 
As for their advice for other couples who may be struggling to juggle their busy personal and professional lives, the Baeumlers told Toronto Home Shows: "Don't sweat the small stuff."