Here's What Hilary Duff Looks Like Going Makeup Free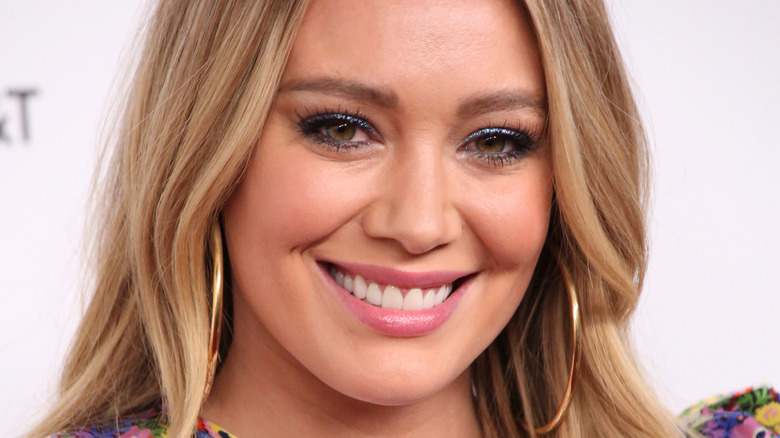 lev radin/Shutterstock
Unlike some stars, Hilary Duff isn't new to the acting world. The Houston-native has been donning red carpet looks ever since she was a child star on the Disney Channel. In an interview with The Los Angles Times, the "How I Met Your Father" star revealed exactly how she kick-started her career. One of the things you might not know about Duff is the actress and singer was a mere first grader living in San Antonio, Texas when she fell in love with acting. "I loved it all — the makeup and the costumes and being up on stage," Duff shared. When the singer was just 14 years old, she landed her big break when she was cast in the iconic Disney Channel series, "Lizzie McGuire," according to IMDb, and has been a household name ever since.
Being a part of the Hollywood scene from such a young age has given Duff plenty of time to perfect her make-up look over the years. When she's getting all glammed up, the mother-of-three has certain signature looks that she likes to return to again and again. According to Who What Wear, the talented starlet loves a good smoky eye, bold brow, and some color to brighten up her cheeks. Every so often, Duff will even rock a striking red lip (via Style Caster). While Duff undoubtedly looks incredible when she's all dolled up, the actress also turns heads when she's au natural.
Hilary Duff Comes Clean in a nude photo shoot with Women's Health
Whether she's going through a McDonald's drive-thru (via Women's Health) or on a shopping spree with a pal (via Us Weekly), Hilary Duff frequently embraces a bare-faced look. In a recent nude photo shoot with Women's Health, the actress showed that she's also not afraid to strip down in other ways. Not only was the actress nude in the Women's Health shoot, but she was also wearing what The Zoe Report refers to as a "no-makeup makeup look."
In an interview with Women's Health, Duff opened up about how growing up in the spotlight greatly impacted her self-image. "Because of my career path, I can't help but be like, 'I am on camera and actresses are skinny,'" she shared. Pressure from her career led to Duff grappling with a "horrifying" eating disorder at the age of 17.
The "Raise Your Voice" star has come a long way since her days as a Disney Channel starlet. Not only has Duff gone through a style evolution, but she's also grown to be comfortable in her own skin. "I'm proud of my body. I'm proud that it's produced three children for me," the actress shared with Women's Health. However, Duff also wants to add a disclaimer to anyone who's seen the nude shoot. "A makeup artist was there putting glow all over my body and someone put me in the most flattering position," Duff revealed.
The Younger actress exfoliates three times a week to achieve bright and dewy skin
One of the reasons that Hilary Duff can pull off the natural look so well? The "Younger" actress is very mindful of her skincare routine. Duff has many secrets to achieving dewy and glowing skin. For one, the talented star is a big believer in frequent exfoliating. "I exfoliate three times a week with Dr. Lancer The Method Polish," Duff shared with Shape. "It's this super aggressive, abrasive, sandy exfoliant, and I do it dry, so with no water." Duff credits this exfoliator as the product that's kept her from needing a facial in three years.
To keep her skin looking clear and bright, Duff is also a big proponent of layering oils and moisturizers on her face in the morning. "I really love oils. If your skin can handle it, it's quite a treat," Duff revealed in a skincare and makeup tutorial with Vogue. In the tutorial, Duff layers on a few different Glycelene products, a vegan skincare brand. The "So Yesterday" singer is also a long-time fan of La Mer's high-quality moisturizer, as revealed by Women's Health. Not getting what you want out of your facial lotion? Here's how to tell you're using the wrong moisturizer.