What Not To Say To Someone Who Just Got Engaged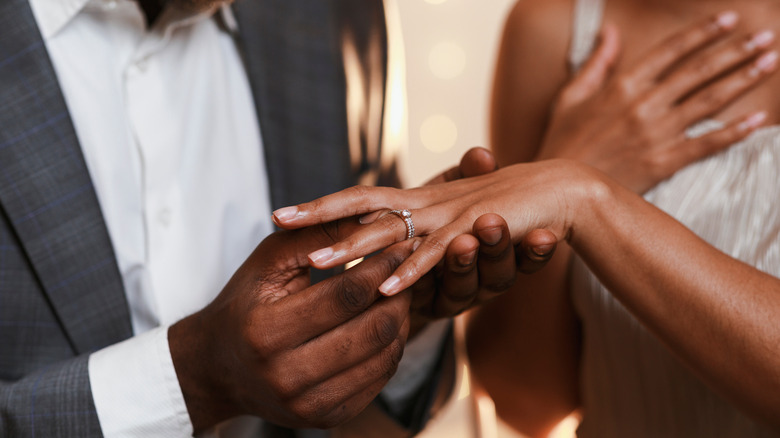 Prostock-studio/Shutterstock
Whether you've been dating for years or just met recently, getting engaged is a wonderful time that should be filled with good memories. 
Though popping the big question used to be exclusively reserved for the couple, in recent years, it's become more common for family and friends to be invited to help surprise the person being asked. Sometimes, they will help decorate, get the person to the secret destination, or even be part of a flash mob to make the day more memorable (via Martha Stewart).
It's also still customary in certain circles for the person proposing to ask their partner's mom, dad, or both for their hand in marriage (via WeddingWire). It's an old-school way of joining a family and is more about offering a respectful gesture to the parents who have raised your partner, rather than asking for permission.
This sets the scene for multiple family members and close friends to be around on the special day, which can be a double-edged sword since some people blurt out inappropriate words, knowingly or not.
If you know someone who just got engaged, here's what not to say to the happy couple.
No intrusive questions about finances for the proposal and wedding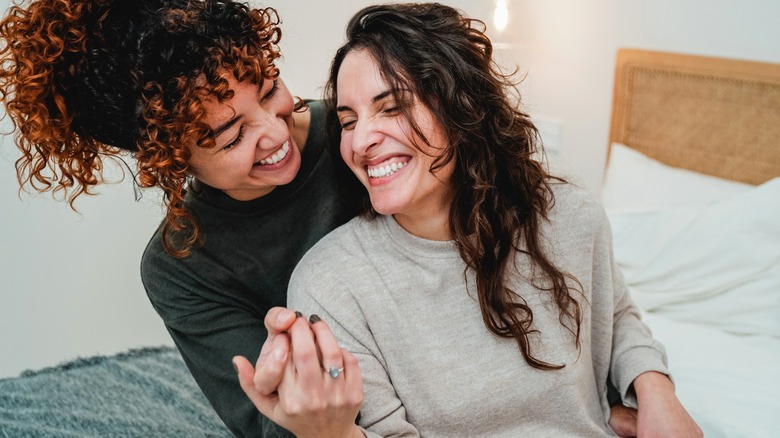 Vane Nunes/Shutterstock
The only proper reply to hearing of an engagement is "Congratulations!" If you don't know the details of the engagement, feel free to ask how it all happened because most people enjoy recounting special moments. However, be careful when asking questions because some may be intrusive, even if that's not your intent.
One of the worst things to ask is anything about money, as in how much the ring cost, how many carats it is, etc. (via The Knot). If the engagement ring is not a diamond, don't ask why they didn't choose a diamond. Not everyone wants a traditional stone and may have another type of ring that is more meaningful to them.
Another topic that tends to pop up is the wedding ceremony. Again, it's rude to ask how much the couple is planning to spend or if their parents are planning to pay for it. It's also not a time to passive-aggressively comment on finances, such as learning of the venue and saying, "Oh that's so expensive," or, even worse, "That place is cheap."
Keep in mind that the couple may have not figured out all their plans yet (via Bustle). Being bombarded with questions can be unsettling when all they want to do is celebrate their engagement.
No rude commentary on wedding plans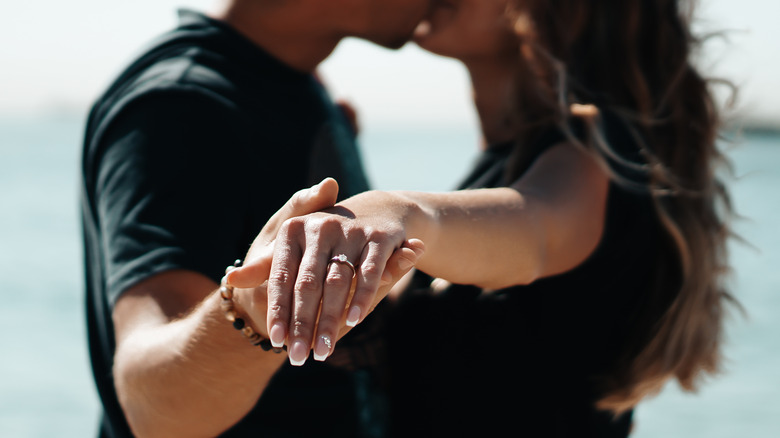 Nataly Gejdos/Shutterstock
Since the couple is newly engaged and plans are likely not ironed out yet, don't make presumptions about being in the wedding, and don't ask who will be in the wedding party. Whatever you do, don't assume you'll be the maid of honor or a bridesmaid (via Cosmopolitan). It puts the bride-to-be in a very awkward position. Even if you've been close friends for a while, not everyone plans to have — or can afford — a big wedding party.
If an acquaintance tells you they just got engaged, don't presume you'll even get an invite. Again, finances and preference play a big role in weddings. Also, it's not your business why how long it took to propose, how much time they've dated, or why they waited so long to get engaged (via Redbook).
In the end, it's always wise to keep your personal opinions to yourself. As a friend or family member, you want to support the couple and share in their happiness. So let them be happy and enjoy their milestone moment.