Alexandria Ocasio-Cortez's Recent Rally Moment Has Twitter Talking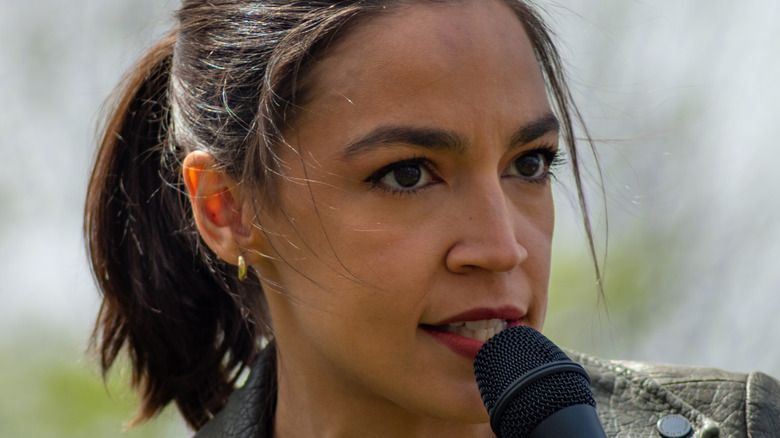 James Andrews1/Shutterstock
Representative Alexandria Ocasio-Cortez of New York is by no means a stranger to criticism from both the left and right sides of politics. In 2018, Ocasio-Cortez — popularly known as AOC — became the youngest woman ever elected to Congress at the age of 29. Not only has she had a stunning transformation since her term began, but she also hit the ground running by being an active proponent of key issues such as access to stronger public education, strengthening public housing, universal healthcare, and advocating for women's rights (via AOC's campaign website). 
AOC's accomplishments have been vast. She annually announces them in swift fashion on her social media platforms like Twitter. But some challenges have come with her fair share of wins. Not only has she been called out by public figures like Nancy Pelosi (via Politico) and Megyn Kelly (via The Hill), but a recent moment of civilian action AOC decided to take has everyone talking.
AOC was arrested at a protest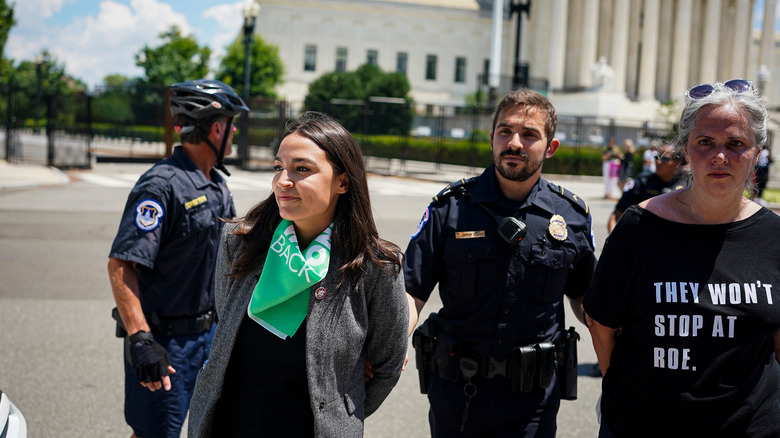 Bloomberg/Getty Images
Since the Supreme Court made the decision to overturn Roe v. Wade, citizens across the country have practiced their First Amendment right to protest, according to The New York Times. In a viral video in the wake of the court's ruling, Alexandria Ocasio-Cortez spoke at an abortion rally where she revealed that she was previously sexual assaulted. While taking a pregnancy test after the fact, she declared: "Thank God I have at least a choice" (via Twitter).
Now, AOC is making headlines for protesting at an abortion rights protest in Washington D.C. and being subsequently arrested alongside her fellow "Squad" members in Congress. As a photo of her with her hands behind her back circulated on social media, some criticized her for "lying" about the situation; others came to her defense.
Fox News host Tucker Carlson said AOC had on "imaginary shackles" (via Twitter), and Rep. Marjorie Taylor Greene also tweeted "AOC just faked being handcuffed to sell her lie."
While conservatives were quick to jump to conclusions based on AOC putting her hands behind her back while surrounded by law enforcement at the protest, others spoke up for her. One Twitter user wrote, "For everyone on the right and left who is saying @AOC and reps were taking handcuffs let me tell you something. It's actually a safe way to hold your body if police are touching you so they don't take an extra movement of your hands as something else." AOC seemingly agreed with the mentality in a tweet of her own.