If You've Never Read Anything By Fannie Flagg, Here's The Book You Should Start With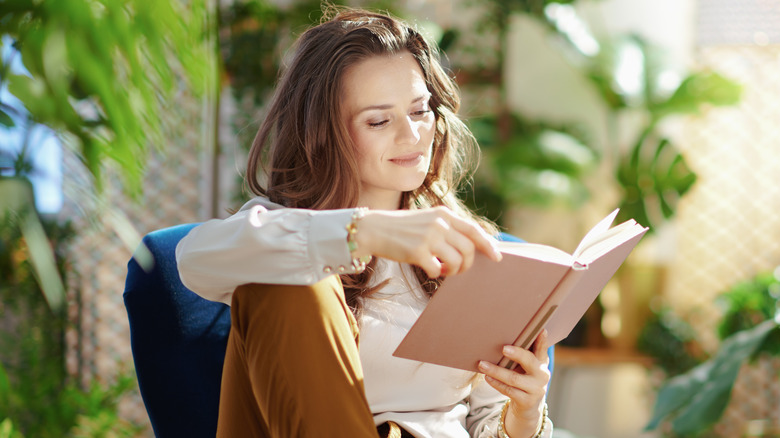 Alliance Images/Shutterstock
Book lovers around the globe are familiar with Fannie Flagg. The writer, whose birth name is Patricia Neal (via Famous People Today), is known for creating strong female characters. She's also a gay writer (via The WOW Report), and because of that, reading her books during Pride Month is one great way to celebrate. She started crafting stories in the fifth grade when she wrote, directed, and even starred in a play that she called "The Whoopee Girls," per Book Reporter. Since then, she's written stories that her fans have gone wild for. When Flagg was just 19 years old she wrote and appeared on "Candid Camera" and continued to make a name for herself as an actress and as a writer for television, movies, and theater.
When Flagg was 14, she began acting with a theater troupe for children and young adults in her home state of Alabama. In 1975, the writer appeared on the pilot for "The New Adventures of Wonder Woman." Today, Flagg still lives in Alabama and California. She's earned critical acclaim for her novels and has even won the Harper Lee Prize — making her a great choice for any book club read.
Fannie Flagg has published many books over the years
Fannie Flagg has many books that her fans have enjoyed over the years (via Thrift Books). Some of her most popular novels include bestsellers such as "I Still Dream About You," "The Wonder Boy Of Whistle Stop," "Welcome to the World, Baby Girl," "Can't Wait To Get To Heaven," "Standing In The Rainbow," "The Whole Town's Talking," "The All-Girls Filling Station's Last Reunion," and "A Red Bird Christmas, per Audible.
While Flagg offers a tempting portfolio for readers to choose from, those who have never read a book by the author may want to start with a very special novel, which also happens to be Flagg's most popular book. Flagg released "Fried Green Tomatoes At The Whistlestop Cafe" in 1987 with Random House Publishing, and fans went wild. The novel was so popular among readers that it stayed on The New York Times Bestseller List for 36 weeks, per Famous People Today.
For those who are new to Flagg's work, "Fried Green Tomatoes At The Whistlestop Cafe" is the perfect first read.
Fried Green Tomatoes was later turned into a beloved movie
If you're looking to dive into the works of Fannie Flagg, try picking up "Fried Green Tomatoes At The Whistlestop Cafe." The book is a great read and is guaranteed to move you to tears. It is set in two timelines as it follows the life of 1980s housewife Evelyn Couch, who befriends an elderly woman named Ninny Threadgoode during a visit to a nursing home. Through this friendship, Evelyn realizes that she's a deeply unhappy person; Ninny gives her the inspiration to change her life and become a better, happier version of herself, per Super Summary.
As Evelyn and Ninny grow closer, Ninny proceeds to tell her new friend about her former friends, Idgie Threadgoode and Ruth Jamison, who have an epic friendship and a love for one another that transcends the ages. During flashbacks, readers get to see the women's lives unfold as they deal with loss and racial issues, per Showtimes.
Following the release of the novel, it was later adapted into a film which starred Kathy Bates as Evelyn, Jessica Tandy as Ninny, Mary Stewart Masterson as Idgie, and Mary-Louise Parker as Ruth. Cicely Tyson rounded out the incredible cast (via Famous People Today). The film, simply titled "Fried Green Tomatoes," was nominated at the Academy Awards and received other accolades after earning more than $119 million across the globe.
So, if you're looking for a Fannie Flagg book to read, start with "Friend Green Tomatoes At The Whistlestop Cafe" and then settle in to watch the movie.