The Taylor Swift Song You Should Listen To If You're A Libra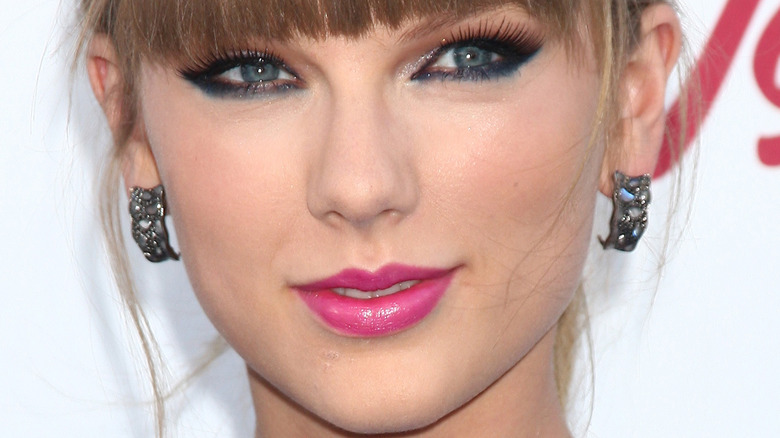 Kathy Hutchins/Shutterstock
If anyone has created a song for every feeling and occasion, it's Taylor Swift. The mega pop star quickly became a household name after releasing her debut album in 2006 at just 16 years old (per The Boot). Since then, Swift has gone on to win 11 Grammy awards (per Grammy) and produce, write, and release countless hits. Now 32 years old, the "All Too Well" singer has amassed an unmatched discography of relatable songs for every possible situation, emotion, or life event — even when it comes to zodiac signs.
Libras — born between September 23rd and October 22nd, according to Astrology.com — are a particularly unique air sign. Symbolized by the scales, they are known to value balance, harmony, and beauty. This may explain why Swift's music is a great fit for the sign; after all, her tunes are often full of beautiful lyrics and harmonious vocals. While many of the gifted songwriter's hits are suitable for this sign, read on to find out the Taylor Swift song you should put on repeat if you're a Libra.
Libras will have heart eyes for Taylor Swift's New Romantics
sarayut_sy/Shutterstock
If you're familiar with Taylor Swift's discography — or even if you've learned about her in the news — you probably know that she seems to be a massive fan of love. Having been in several public, high-profile relationships (remember when she dated Jake Gyllenhaal, anyone?), it's often alleged that many of Swift's songs are written about her exes (via Rolling Stone). For the flirty, loving Libras, this makes the "Blank Space" singer's music very enticing.
With love on the brain, Swift's "New Romantics" is the best option for Libras, according to The Daily Clog. As you can probably surmise from the title, the bop is all about romance and every lovely thing that comes along with it — making it just the right tune to balance the scales. As stated in The Daily Clog, "The song details a new generation of lovers: explosive, dreamy, independent and passionate. Being in a relationship with a Libra is like this song: a rollercoaster that you want to ride over and over again. They'll make sure you have the time of your life and cherish you forever."
Libras are known to be heart-centered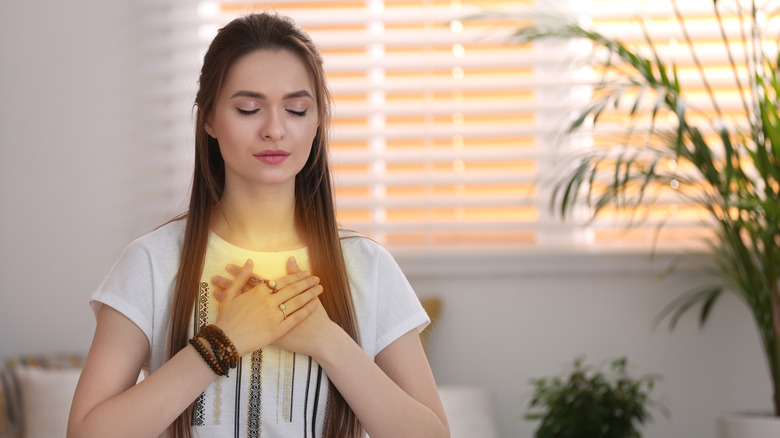 New Africa/Shutterstock
With their fixation on love and romance, Libras are incredibly familiar with matters of the heart. In fact, per Indastro, the chakra (an energy center in the body) that is most relevant to the sign is the heart chakra. Because of this, they gain and exude energy from their heart center. This makes them sensitive, passionate, and very in-tune with their and others emotions.
Listening to a song like Taylor Swift's "New Romantics" might put Libras into their most frequent mood — flirty and social (per Cosmopolitan). When they get into this headspace, these social butterflies easily make friends with anyone and often become the center of attention. Libras can charm even the most standoffish of people, and they value that harmony and diplomacy as a core value. While Swift herself is a Sagittarius, her art embodies well what the Libra signs are all about: love, love, love.