How Much Money Do Dog Groomers Make?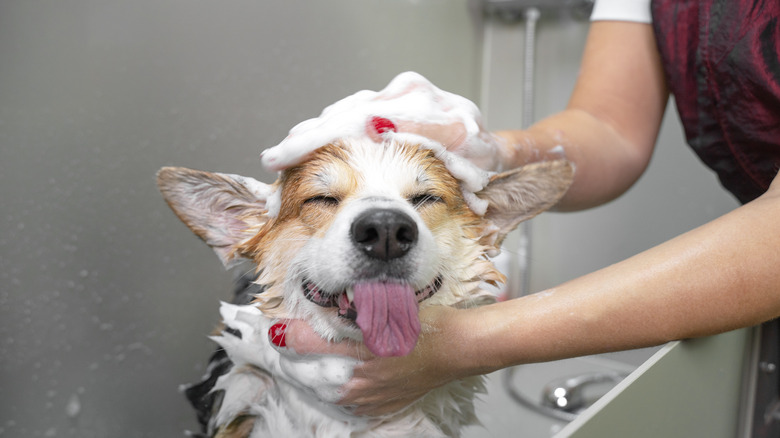 Masarik/Shutterstock
They say to always try and do something you love. So if your biggest love is dogs, why not try to make a career out of being around them? According to The Balance Careers, dog grooming is one of the most sought-after careers for people who have a passion for our furry friends. And while spending your days with cute pups may be enough to draw you in, there are a lot of other perks that come along with the job title.
Becoming a dog groomer comes with options. You can work for a large chain pet store in their grooming department, at an individually owned pet salon, or even at a dog rescue taking care of dogs in need of some extra TLC. After a few years of experience, you also have the opportunity to go out on your own and open your own grooming business. In fact, according to Wag n' Tails, mobile dog grooming has become super popular in the last few years. If you have what it takes, it can lead to a successful and flexible career. 
But just how much can you expect to make from dog grooming?
The money you can make as a dog groomer depends on many factors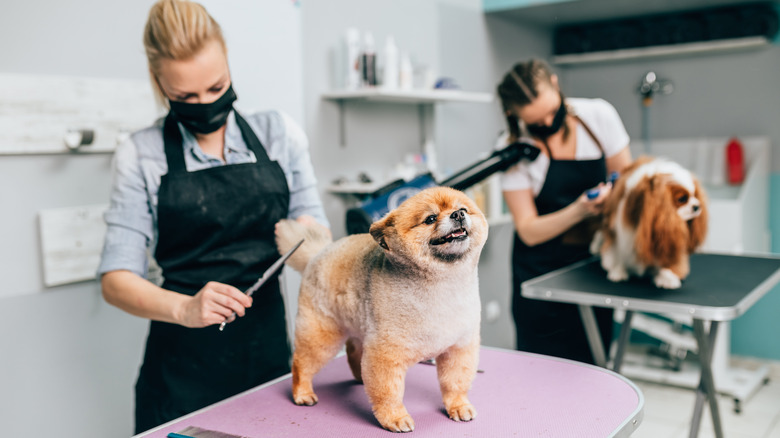 hedgehog94/Shutterstock
According to The Balance Careers, the median yearly salary for a dog groomer is about $23,760, with the top 10% in the field making about $37,250. While this may seem low to some, that number is just an estimate and does not account for tips and other forms of income groomers often receive. According to The Academy of Pet Careers, your pay as a dog groomer is determined by where you work, how your work chooses to pay you (hourly vs. salary, etc), your level of experience, and where you live. It will also depend on whether you work for a company or for yourself.
If you do work for a company, you can expect to work on commission, meaning the amount of money you make depends on how many dogs you service in a given day. An average dog groomer can expect to receive 50% of the cost of each grooming service. If you have your own business, that number will double as you will receive 100% of the service. But you'll need to factor in buying supplies and maintaining your grooming location.
You don't need a college degree to become a dog groomer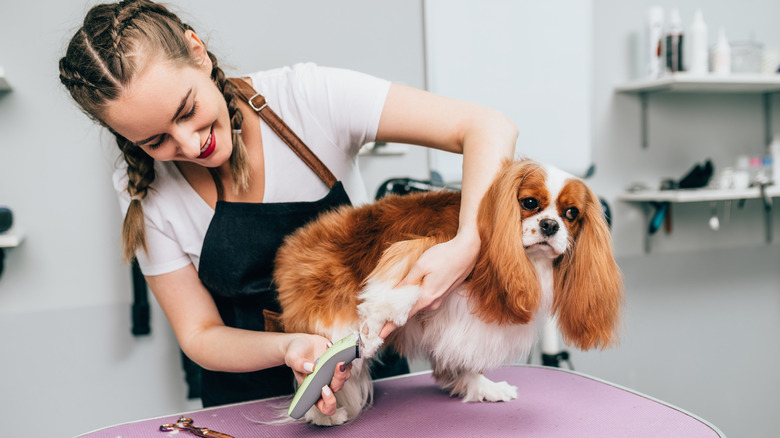 hedgehog94/Shutterstock
When it comes to being a dog groomer, the most important thing you can do is get hands-on experience. There is no college degree for dog grooming — in fact, it is a great career option for those who don't have a degree but do have a strong entrepreneurial spirit. Instead, those interested in either working for a salon or owning their own need to train. 
According to The Balance Careers, you can choose to become a grooming assistant to a groomer to learn all facets of the job or you can choose to enroll in a training program at places like the American Academy of Pet Grooming or the New York School of Dog Grooming. In addition to your training, dog groomers need to possess communication skills, a high stamina, and knowledge of not only dog breeds, but also their health concerns and behaviors.
Once you land a career as a dog groomer, you can expect to spend your day cleaning ears, cutting nails, brushing coats, and ensuring the dogs not only look great but have healthy skin as well, per Career Explorer. You should also be ready to deal with dogs who may be nervous about their grooming and have the skills to help calm them to ensure they get the groom they need.