This Is The Museum You Should Visit If You Want To See Starry Night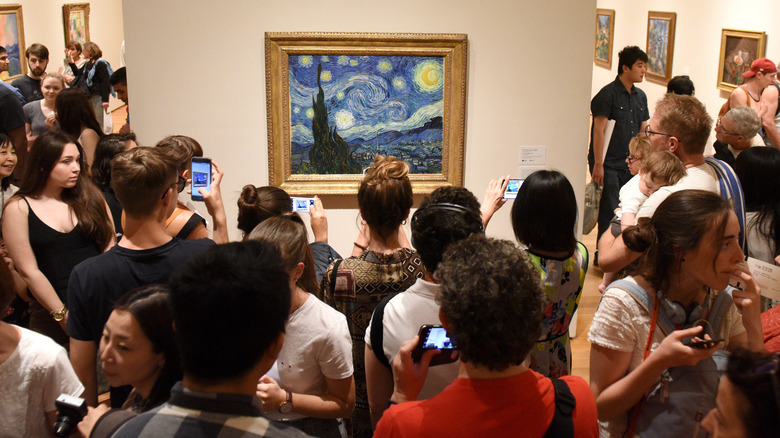 Bumble Dee/Shutterstock
"Starry Night" is considered one of the most famous paintings in the world and is one of Vincent Van Gogh's most adored pieces. His depiction of a swirling night sky over a landscape of trees and an illuminated village that seem to dance together in perfect harmony leaves viewers in awe.
According to Van Gogh's website, the painting is an interpretation of the artist's view outside the window of his room at the Saint-Paul-de-Mausole asylum in southern France where he was being treated for an ongoing mental illness. Although it is a beautiful painting of a village at night, it is said that Van Gogh actually worked on the piece during the day. He also couldn't see the village from his room, per Discover Walks. 
Initially, Van Gogh hated "Starry Night" and gave it away to his brother. Johanna Gezina van Gogh-Bonger, Van Gogh's sister in-law, became the owner of the painting along with many others after her husband's passing. She promoted Van Gogh's works in art galleries after his death and is responsible for much of his fame today (via Mental Floss). Thanks to van Gogh-Bonger, lovers of art everywhere can enjoy the vivid colors and textures of "Starry Night." 
But where in the world can we travel to see it in person?
Starry Night is the most famous piece on display at the Museum of Modern Art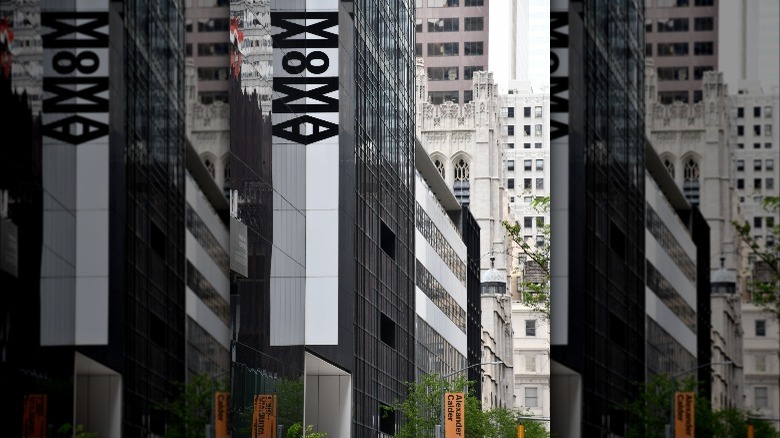 Ritu Manoj Jethani/Shutterstock
If seeing "Starry Night" in person is on your bucket list, pack your suitcase — make sure not to pack these items, though — and set your sights on the city that never sleeps. According to My Modern Met, the Museum of Modern Art in New York City has been home to the famous Vincent Van Gogh painting since 1941. It is widely regarded as the most famous painting at MoMA and over 3 million visitors stop by each year to admire its beauty (Via Arts and Culture).
If you're visiting MoMa for a "Starry Night" photo op, you might find yourself staying for the stunning selection of art from artists all over the world and throughout history. According to the MoMA exhibitions website, you can find works from the likes of Pablo Picasso, Roy Lichtenstein, and Salvador Dali displayed within the museum's walls. If you're into pop art, the famous "Campbell's Soup Cans" by Andy Warhol is on display across 32 canvases. 
The MoMa is one of many iconic museums in New York City, making it the perfect spot to head next time you're dreaming about vacation. 
Make the most out of a trip to New York City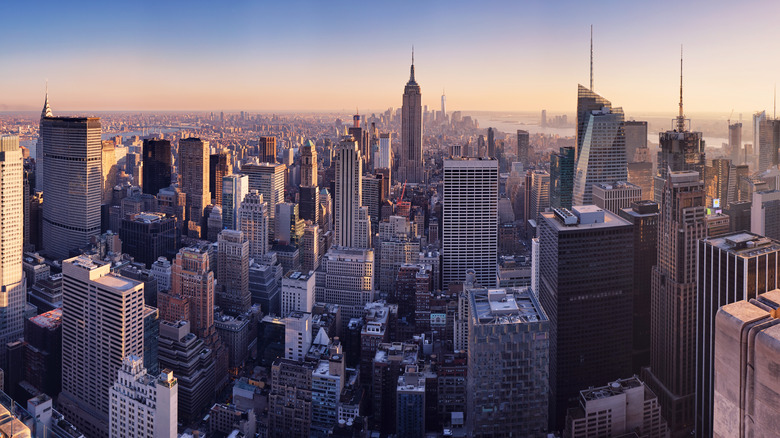 TTstudio/Shutterstock
As the great Frank Sinatra once sang in his love song to New York, "If I can make it there, I'll make it anywhere." New York City is home to some of the world's most iconic landmarks, including the Statue of Liberty, the Freedom Tower, the Empire State Building, and Grand Central Station. With over 800 languages spoken in the five boroughs alone, NYC is the place to experience a wide range of art, culture, and cuisines (Via World Atlas).
For breakfast, stop at a local bodega for a bacon, egg, and cheese — a BEC, as the locals say. Head down to the lower East Side for authentic dumplings in Chinatown just in time for lunch; then, try to snag a reservation at the iconic Carbone for an Instagram-worthy dinner. And what day in NYC would be complete without a late night $1 slice from the famous Joe's Pizza? Once you're full and happy, catch a Broadway show or take a walk along the Brooklyn Bridge at sunset. Spend an entire afternoon getting lost in Central Park, which stretches for 840 acres across Manhattan, per Britannica.
From shopping on Fifth Avenue to checking out the view at the top of Rockefeller Center, New York City is the perfect vacation spot for adventurous explorers that don't mind the challenge of navigating the subway system. Once you find yourself in the Big Apple, the opportunities to explore are endless.