How Ivana's Funeral Service Brought The Fractured Trump Family Together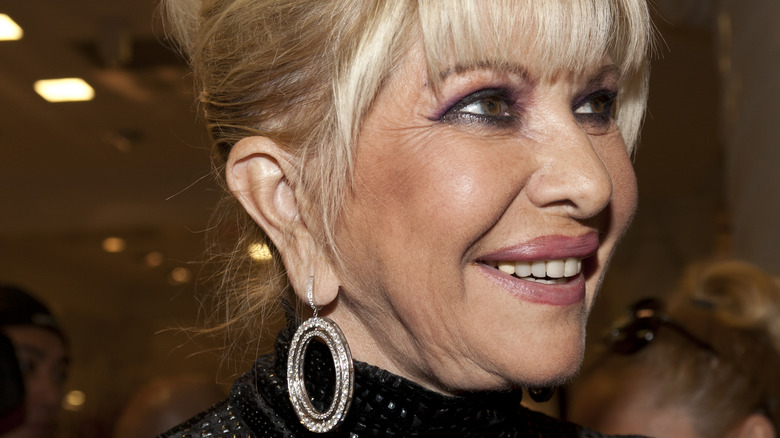 lev radin/Shutterstock
Ivana Trump was laid to rest in New York today, Wednesday, July 20, 2022. Although it wasn't certain heading into the week if former president Donald Trump, Ivana's first husband, would attend the church funeral, indeed he did show up with his wife and the former first lady Melania Trump, as well as their son, Barron in tow (via CBS News).
Soon after the former model and mother of the politician's three oldest children died last week, the controversial conservative took to his social media platform Truth Social to share the sad news with fans. He also opened up to the New York Post's Cindy Adams about his ex-wife, sharing that, "No matter how rough things were or how badly they looked she never fell down."
Just before arriving at St. Vincent Ferrer Roman Catholic Church in Manhattan, the likely 2024 candidate posted this message to his social media: "This will not be easy!!!"
As difficult as the day was, it seemed that the Trump family came together to say goodbye to one of its own without drama or fuss. Not only was Melania in attendance, as well as her son, but Ivana's three children, Ivanka, Eric and Donald Jr. showed up to pay their respects to a mom that by all of their accounts, was a strong and loving lady.
The entire Trump family was on hand to say goodbye to Ivana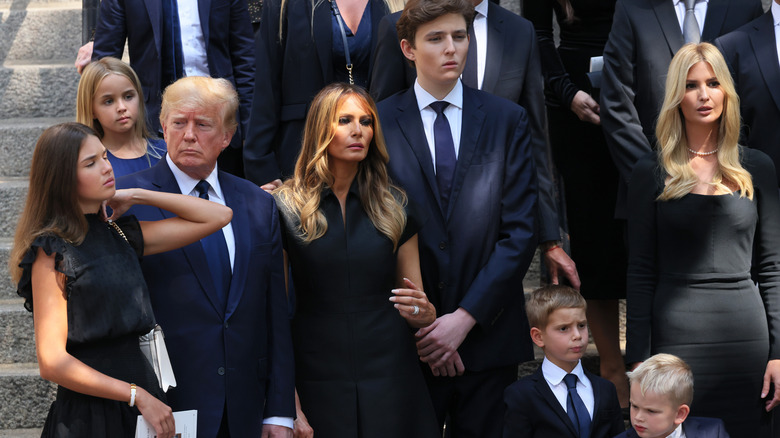 Michael M. Santiago/Getty Images
All of Donald Trump's children were on hand at the Wednesday funeral mass for Ivana, with The Hollywood Reporter noting that Tiffany Trump, the former president's daughter with his second wife, Marla Maples, also supported her family for the somber occasion.
As the New York Post reports, several family members delivered moving eulogies for Ivana, including her daughter Ivanka Trump, who said in part, "Growing up, my mother didn't tell me a woman could do anything she wanted to — she showed me."
Many of Ivana's ten grandchildren were also photographed at the church service, which was by invite only, according to the Post. One hundred people were reportedly on the guest list to pay their final respects to the 73-year-old, whom no one seems to have a negative thing to say about — especially not her ex-husband. 
Although, in the past, there was one exception to the lovefest that went on among the Trump family.
There may not have been much love lost between Ivana and Melania Trump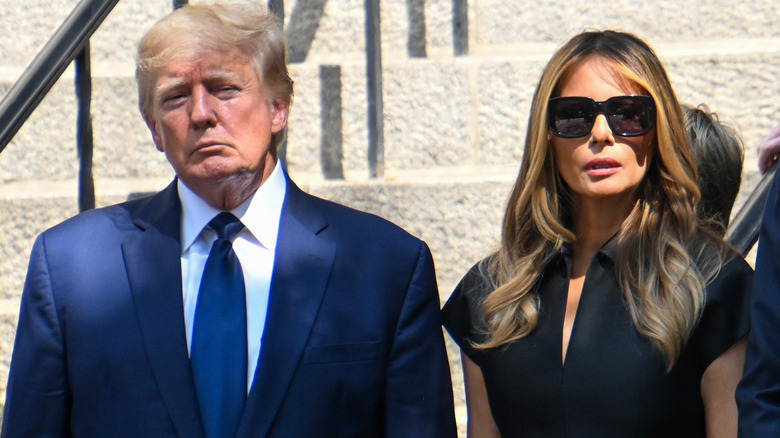 Alexi J. Rosenfeld/Getty Images
Although Donald and Ivana Trump divorced in 1992 after 14 years of marriage, it seems the former president has only wonderful words to share about his first wife. Not only did he declare on Truth Social that the funeral would celebrate Ivana's "wonderful and beautiful life," but maintained a good relationship with the mother of his three oldest children according to reports (via NPR).
That is, once they moved past the fact that he cheated on her with Marla Maples (via Business Insider).
But in the end, the former couple seemed to be on good terms, with star of "The Apprentice" Omarosa Manigault Newman telling People, "She is one of the very few people that Donald truly listened to." Ivana seconded that account, saying about her ex's time as president, "We speak before and after the appearances and he asks me what I thought."
There was tension between Melania and Ivana, however, with his first wife saying in 2017 about ringing the POTUS at the White House, "I [don't] really want to call him there, because Melania is there. And I don't want to cause any kind of jealousy or something like that, because I'm basically first Trump wife. Okay? I'm first lady" (via People).