New Book Provides Surprising Details About Meghan Markle's First Marriage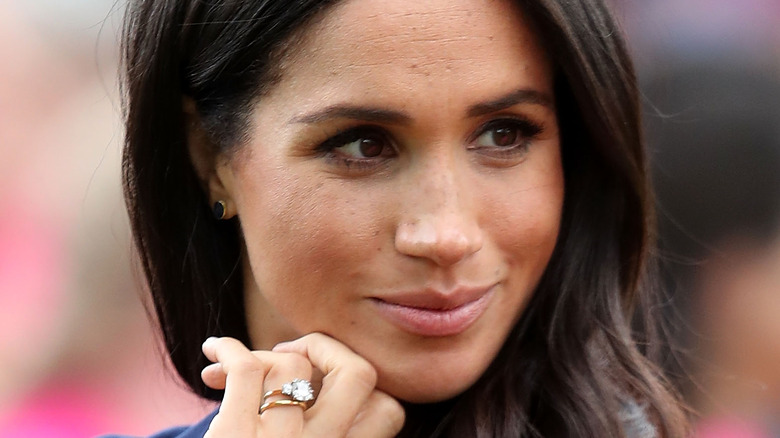 Chris Jackson/Getty Images
Meghan and Harry's biographer has a sinister plan with his new book. Essentially, Tom Bower, who's long been a vocal critic of the Duke and Duchess of Sussex, is looking to expose them for the charlatans he believes they are. Meghan and Harry are probably girding their loins in anticipation of what's to come from a man who's been described by the Daily Mail as "the undisputed Witchfinder General of contemporary biographers."
According to Newsweek, in interviews promoting the book's release, Bower teased that, in the process of researching "Revenge: Meghan, Harry and the war between the Windsors," he "found out things which are really quite extraordinary about her," referring of course to the duchess. The author added, "And I think that the public perception of her will be either confirmed or outraged or in any case, it'll be a great surprise."
Royal expert Christine Ross acknowledged to Marie Claire that the Sussexes likely aren't too happy about the book, since they've worked so hard to control the narrative ever since defecting from the royal family. She also noted, "Bower has spoken to some really interesting and unique sources for this book, giving us insights and access we haven't seen before." This latest revelation, about Meghan's first marriage, is especially fascinating.
The Duchess of Sussex wasn't too pushed about living with her husband
Amanda Edwards/Getty Images
Tom Bower isn't pulling any punches with his latest tell-all celebrity book. Among many other scandalous claims about the Duchess of Sussex, "Revenge" details how troubled Meghan Markle's first marriage to Trevor Engelson was, according to the Daily Mail. Although their first few years together were wonderful, with Meghan nicknaming her beau "Trevity-Trev-Trev," once her star began to rise after she was cast in hit legal drama "Suits," things gradually began to fall apart.
In particular, the duchess remained in Toronto even after filming wrapped on the show, telling friends she didn't want to be "possessed" by her then-husband, who was still based in Los Angeles at the time. Bower wrote, "To the producers' bemusement, Meghan was keen to set up her permanent home in Toronto rather than commute like all the other actors from Los Angeles." In fact, the duchess told producers she had no problem leaving the city or indeed her partner behind.
A friend described Engelson as "super-cheesy," leading Bower to contend that the show was Meghan's ticket out of the marriage — funnily enough, during a "Good Morning Britain" appearance, Bower admitted the former actor had warned her nearest and dearest to stay away from him. 
This new Meghan and Harry biography promises to expose their secrets like never before. Grazia Daily details how it expands, first and foremost, on just how strained the couple's relationship was with the royal family towards the end.
Tom Bower has promised to finally reveal the truth about Meghan and Harry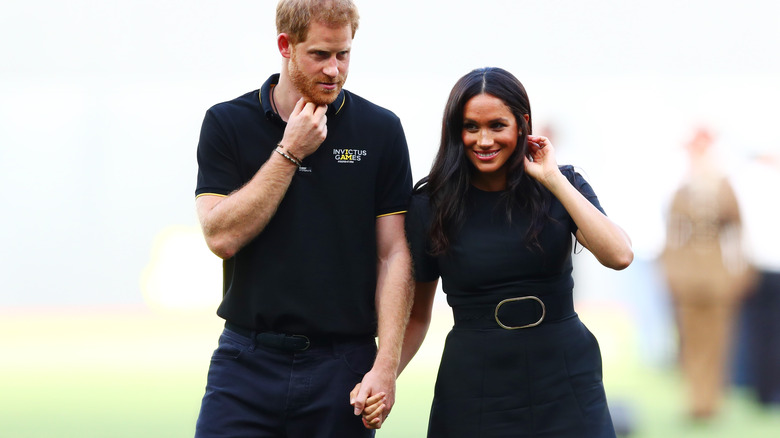 Dan Istitene/Getty Images
Aside from reiterating just how difficult the Sussexes' final few months as working royals were, Tom Bower's "Revenge" also seeks to expose how fame-hungry they are. The author claimed, during an interview with Piers Morgan on TalkTV, that everything the couple does is either for money or to push their brand, as The Sun reported. In fact, he asserted that Prince Harry only agreed to speak at the recent UN General Assembly to push the Sussexes' upcoming Netflix docuseries.
Per Newsweek, when Virgin Radio host Chris Evans quipped that the royal commentator better have great legal representation if he intends to get away with saying such inflammatory things, Bower responded, "I do have very good lawyers, and more importantly, I make sure what I write is the truth." Several excerpts from his book have been published across the pond, including one which revealed the Duke of Sussex had a violent reaction to a nosy paparazzi photographer, according to The Times of London (via Insider). 
As for how the publication of the book may affect Meghan and Harry's reputation, Bower remains nonplussed. In an appearance on "Piers Morgan Uncensored" (via Newsweek), he boasted, "This book may hasten the downward trend, over which I wouldn't be sad at all because they pose a real threat to the royal family." It remains to be seen how the duchess's first husband will react to the revelations about their relationship, however.