How Brad Cooper Ended Up With Michael Corinthos' Baby On General Hospital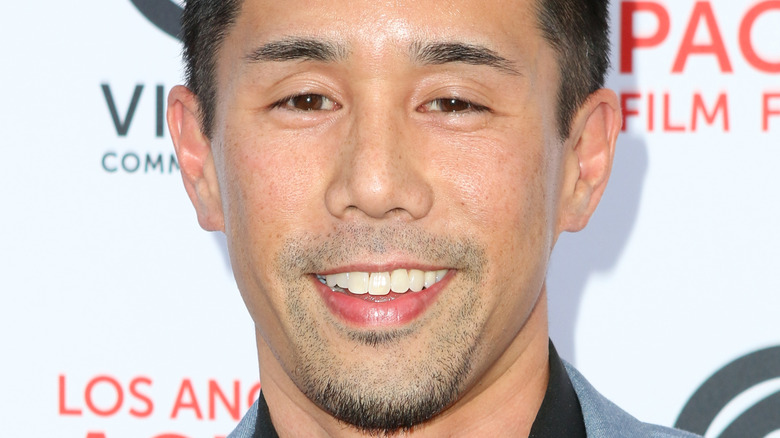 Tasia Wells/Getty Images
Actor Parry Shen joined the cast of "General Hospital" when he took on the role of the scheming lab technician Brad Cooper in 2013. He quickly became a villain that fans loved to hate as he got close with Dr. Britt Westbourne (Kelly Thiebaud) — whose nefarious ways earned her the nickname "The Britch" — and helped her plot against her enemies (via Soaps in Depth). Brad also found himself in a complicated love triangle between Felix DuBois (Marc Samuel) and Dr. Lucas Jones (then Ryan Carnes).
Brad and Lucas first bonded over being born into organized crime families and, after some initial bumps in the road, eventually found themselves in a happy relationship. Brad proposed to Lucas at the 2015 Nurse's Ball, and in June 2016 the pair exchanged vows. After a few years of enjoying newlywed life, they decided that they were ready to expand their family and looked into adoption (via Soap Central).
Their son was born in 2018 to Willow Tait (Katelyn MacMullen) who became pregnant by the cult leader Hank "Shiloh" Archer (Coby Ryan McLaughlin) and decided to give her baby up to protect him from his father. Unfortunately, Brad and Lucas' life as new parents went off the rails almost immediately after the little boy came into the world.
Nelle Benson hatched a baby swap plot
When it came time for the new parents to take their newborn home from the hospital, Dr. Lucas Jones was stuck in surgery. That forced Brad Cooper to undergo the task alone. Shortly after bringing baby Wiley home, Brad went to make him a bottle. When he returned to the crib, he discovered the baby had died. It was later revealed to be from Sudden Infant Death Syndrome (SIDS). Distraught, Brad immediately loaded Wiley back into his car and took off for the hospital, though he ended up pulling over when he was overcome with emotion. While on the side of the road, Nelle Benson (Chloe Lanier) emerged from the woods carrying a baby of her own.
Nelle was a notoriously sinister woman with a history of terrorizing the citizens of Port Charles. She had been heavily pregnant with Michael Corithos' (Chad Duell) son. When Brad came upon her, she was trying to flee town to keep her baby away from his father and ended up in a car accident, which prompted her to go into labor and give birth in the woods. Seeing a solution to both of their problems, Nelle convinced Brad to switch babies with her — he could take the healthy newborn home to raise as Wiley, and she would take the deceased baby to the hospital and tell Michael that their son was stillborn. Regrettably, Brad decided to go along with the twisted plan.
The devastating truth was eventually revealed
Nelle Benson's plan to switch the two infants worked, though the guilt of what he had done ate away at Brad Cooper. Things became especially difficult when his husband Dr. Lucas Jones asked his nephew Michael Corinthos to be their son's godfather (Soap Central). Brad knew that Michael was actually the biological father of the baby and was pained to see them together — even more so when the family grew closer to Willow Tate, who believed the baby was the son she had given away. Brad and Lucas raised Wiley for nearly a year before the truth about the baby swap came out and had devastating consequences for all involved.
Willow had to endure the grief that came along with finding out her baby had died a day after he was born, Michael was furious that he missed out on the first year of his son's life, and Lucas had to go through the pain of giving away the child he loved as his own to its rightful parent (via Soap Opera Digest). Lucas immediately filed for divorce, and Brad was soon arrested for his actions. After serving a few years in prison, he was released on parole in late 2021 thanks to strings pulled by his mob boss aunt, Selina Wu (Lydia Look). Since returning to society, Brad remains the town pariah, save for his enduring friendship with Britt Westbourne. He found employment running high-stakes poker games for his aunt (via SoapDirt). 
Though he seems to want to turn over a new leaf, It's likely that Brad will soon find himself embroiled in the illegal activities of the Wu crime family. It is his birthright, after all.