Joanna Gaines Has A Special Message For Drew Barrymore Amid Home Reno Frustration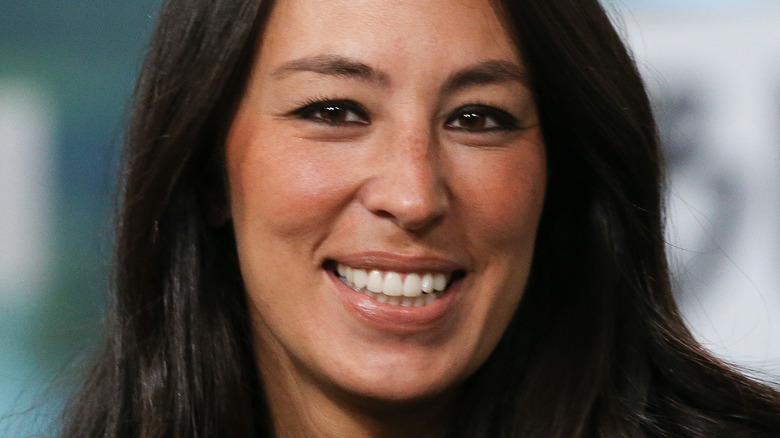 Rob Kim/Getty Images
Anyone that has taken on a home project knows that there are many phases to the process. It normally starts with excitement, moves to pure panic, and ends with acceptance, whether it looks great or not. Because that's just the way it goes — it needs to get worse before it can get better. And celebrities, well, they're just like the rest of us. When Drew Barrymore was having frustrations during a renovation (via Instagram), she did what any HGTV lover would do — ask Joanna Gaines for guidance. Naturally, Gaines came through with a special message that you might want to whisper to yourself when renovations get hard. 
In the hierarchy of home renos, Gaines is at the very top. She renovated over 200 homes, owns her own construction and real estate company, and a home furniture line (via Parade). Let's just say she's been around the block a few times when it comes to completely transforming a home. So it only makes sense that everyone from the newest DIYer to a celebrity with their own design team would run to Gaines when times get hard. 
You might not be high profile enough to actually get a response back from the Magnolia Farms owner, but the advice she gave Barrymore will definitely carry you through your next project. 
Joanna told Drew to 'keep pushing' through her renovation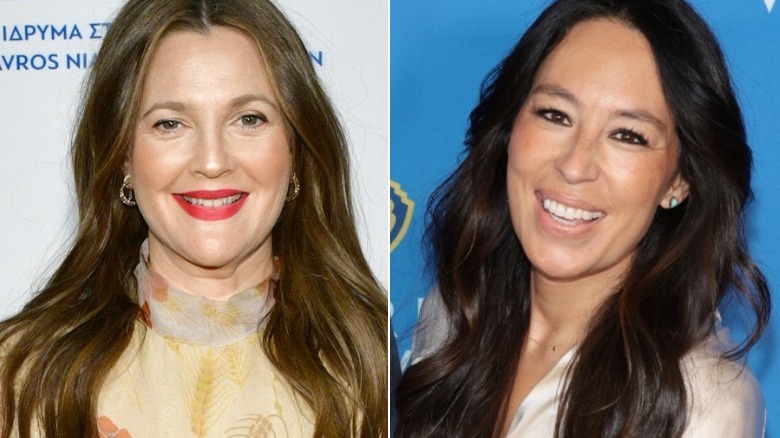 Eugene Gologursky & Dimitrios Kambouris/Getty
When she's not frolicking giddily in the rain (via Insider), Drew Barrymore is tackling pretty big projects around her home. The 47-year-old is completely gutting and renovating her home. Thanks to social media, people are getting a look into the process of Barrymore redoing her home. She's not just sharing the highlights, either.
"It's demo day! Chip, Joanna, it's demo day," Barrymore starts the Instagram video. Like anyone who's done a renovation, the talk show host's mood soon took a sharp turn, as she pans around the room to show a fully gutted space. She screams into the camera and asks, "Chip and Jo, is this the way you feel sometimes mid-project? Like, ah!" 
Gaines completely came to the rescue in the comment sections, telling Barrymore "I feel you, Drew!! Keep your vision in mind and keep pushing through the mess! It's going to be so beautiful and worth it!!" If that advice from the expert isn't enough to carry the star through her soon-to-be incredible home reno, then we don't know what is. 
Drew has been sharing all aspects of her home renovation
Jamie Mccarthy/Getty Images
It's no secret that Drew Barrymore has gotten real and frank with many phases of her life. From the joyful dancing in the rain videos to her talk show clips, the updates that she posts on Instagram are always entertaining and real. That's especially true when it comes to sharing the process of gutting her home. 
The 47-year-old has posted a string of renovation videos on Instagram. The first video shows her smiling and demolishing cabinets and tiles to the Home Depot theme song, while the next is her crying tears of joy from finding a window during her renovation. It's been quite the journey, to say the least. It's also much more personal than your typical design show, so people are loving it.
"This is the most pure and beautiful thing on the internet today," Hunter McGrady says in the comment section of one video. Another Instagram user writes, "We love a home makeover." With Joanna Gaines by her side, people are living for Barrymore's real-life renovation. Someone give this star an HGTV show!