Claims About Meghan Markle's Relationship With Golfer Rory McIlroy Are Raising Eyebrows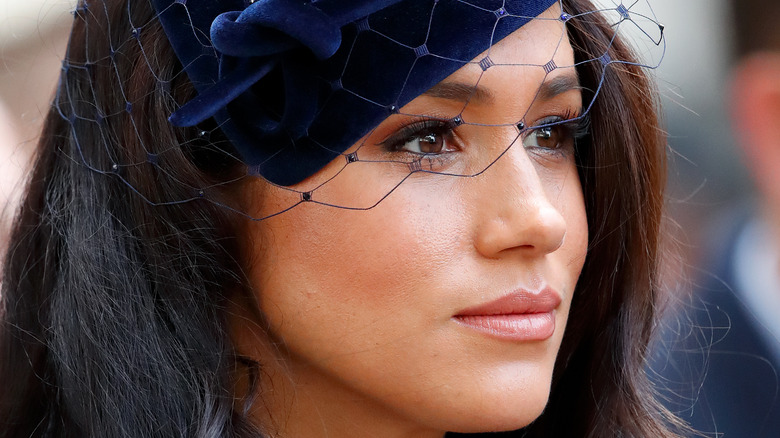 Max Mumby/indigo/Getty Images
The Duchess of Sussex's lifelong quest for fame is again in the spotlight following the release of Tom Bower's new book, "Revenge: Meghan, Harry and The War Between The Windsors." Express reports that, in an interview promoting its release, Bower claimed, "She said to her father 'I want to be famous, I want to walk down the red carpet' and marrying Harry she achieved exactly that ambition.'"
Bower was appearing on "Good Morning Britain" at the time, and he clarified that, despite being a lead on hit legal drama "Suits" long before she met the prince, "It's wrong to say she was a famous actress, she wasn't, she was a third rate actress, 'Suits' was only watched by a million people." He was fighting back against claims that Meghan was already well-known when she became a royal. 
Furthermore, Bower contended that the Sussexes are actually planning to return to the UK on a part-time basis when Harry's father, Prince Charles, ascends the throne. This is despite the fact that Meghan and Harry had to defect because, as Bower says, "She didn't understand she couldn't be number one, there's only one number in the monarchy and she didn't understand hierarchy." 
It's worth noting that the duchess' nearest and dearest weren't interested in speaking to Bower, by his own admission. Per Newsweek, although he gathered around 80 sources for the book, most of them were people who actively dislike her. 
Even so, Bower maintains he's only written the truth, including this tidbit about golfer Rory McIlroy.
Did Meghan Markle try to use pro golfer Rory McIlroy for fame?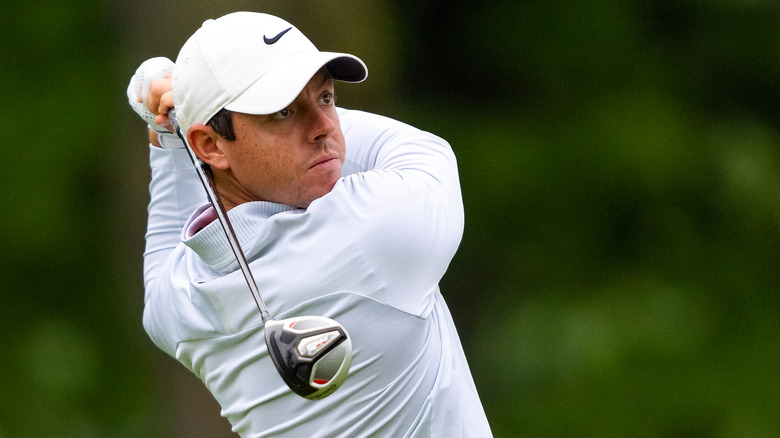 Gary Yee/Shutterstock
Meghan Markle's relationship with Prince Harry has long been fodder for the tabloids, particularly following accusations that she only hooked up with him to increase her fame. Now, biographer Tom Bower is sharing another story of how she seemingly tried to do the same thing with pro golfer Rory McIlroy. According to Page Six, "Revenge" posits that the duchess met with McIlroy in New York City after he nominated her for the Ice Bucket Challenge.
This was back in 2014, shortly after he'd won the Open Championship in the UK and — crucially — following his recent split from his fiancé. "I wasn't quite on my game," McIlroy admitted at the time. "I was enjoying myself." He subsequently met up with the Duchess of Sussex a handful of times. Meghan, meanwhile, wrote about their encounter on her lifestyle blog, gushing about how impressive a man McIlroy was. 
According to Bower, this was entirely strategic, since Meghan was very "keen to use their close relationship to promote herself." The author explained, "She encouraged the media to publish photographs of McIlroy and herself. As she would later admit, she 'occasionally set up a paparazzi photo or let info slip out to the press.'" There's even a suggestion that Meghan cheated on her boyfriend at the time with him. 
As Express notes, Bower's book "uncovers an astonishing story of love, betrayal, secrets, and revenge," so this is likely just the tip of the iceberg.
The Sussexes' relationship was called into question following this awkward moment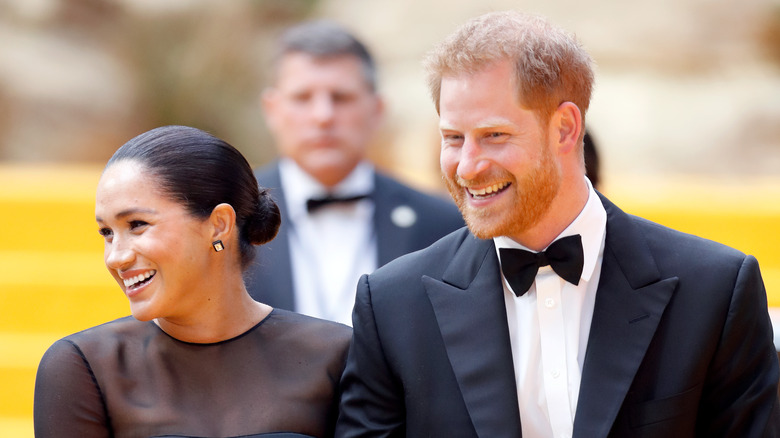 Max Mumby/indigo/Getty Images
The Rory McIlroy story isn't coming at the best time for the Sussexes. Earlier this week, an awkward clip of Meghan Markle and Prince Harry's PDA raised eyebrows. The short video, which circulated on Twitter, purported to show the duke shrugging off his wife's hand before Meghan clasped it tightly again, leading fans to question what was really going on. As one wrote, "Omg that's not a couple in love at all!! Look at her claw! He was very unhappy and uncomfortable with her."
Newsweek confirms that the couple was at the United Nations, where Harry gave a speech earlier this week in honor of Nelson Mandela Day, when the awkward moment was caught on camera and went viral. The prince's address notably included sweet references to both his late mother and his wife, whom Harry described as his "soulmate." However, Twitter users were fully convinced that he desperately wanted to get away from her after spying the moment Harry pulled his hand away.
Body language expert Judi James told The Irish Sun that Harry was simply nervous to be in such a high-stress environment and exhibited several signs of anxiety. Moreover, James argued, "A much calmer and more poised Meghan went into firm parental mode, using a correctional gesture to ensure reassurance after Harry appeared to dismiss or shrug off her hand clasp." 
The duchess was therefore trying to comfort her man, rather than forcing him back into line, as critics wagered.