Hannah Dodd Gives Viewers A Disclaimer For Lifetime's Flowers In The Attic - Exclusive Interview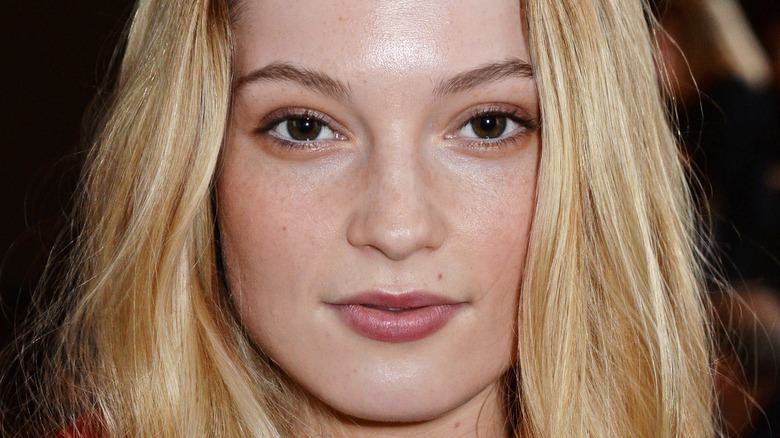 David M. Benett/Getty Images
Hannah Dodd is a fresh face in Hollywood who is set to appear in some of this year's biggest projects, including Season 3 of "Bridgerton," which is thankfully back in production according to the show's Instagram. Though Dodd didn't give anything away about what to expect from her character Fran, she did share some of her favorite moments from the sets of "Flowers in the Attic: The Origin" and Marvel's "Eternals" in her exclusive interview with The List. 
The exceptional cast of Lifetime's new four-episode adaptation of V.C. Andrews' "Flowers in the Attic" novels includes veteran actors Kelsey Grammer and Kate Mulgrew, and familiar faces like Harry Hamlin and "The Vampire Diaries" star Paul Wesley. The List also spoke with the series' powerful lead actress Jemima Rooper — on hearing this, Hannah Dodd confirmed, "Jemima is a delight. Jemima's fabulous." 
Dodd is more than fabulous in her own right, even if she still feels starstruck at table reads. In her interview with The List, the actress dished on filming during COVID, her career goals, and what fans can look forward to in the thrilling final episodes of "Flowers in the Attic: The Origin."
The actress comes to set prepared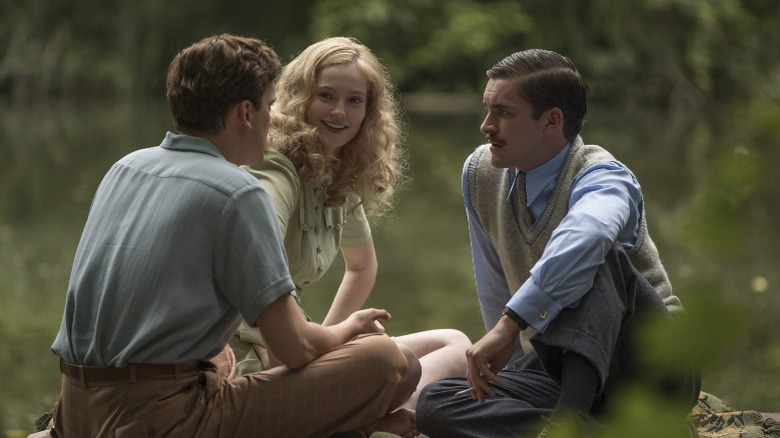 You come into "Flowers in the Attic" as Corrine in Episode 2. What was your preparation like before joining the series?
I didn't know too much about the "Flowers in the Attic" universe, so I had a lot to catch up on. Once I booked the part, we had four incredible scripts that I could get my teeth stuck into, but I also watched the movie. I read "Flowers in the Attic" and I read "Garden of Shadows" and from there, the research began into the time period and specifically where we were in the States in the time period and certain things that Corrine was going to go through. I wanted to understand from a historical point of view.
I did quite a lot of prep. I was very nervous and really overwhelmed with ... I didn't know when I was auditioning what a big role Corrine was. Once I learned, the panic set in and I was like, "I need to do everything there possibly is I can do." When we got to Romania, there wasn't the time. The schedule was so tight. In a way, it was nice. You had to focus on each day and calm down a little bit.
Oh my goodness. I can't even picture you being nervous.
It's frantic energy like this.
I didn't realize you shot in Romania. Had you ever been there before?
No, never, and it was really interesting because it was the height of the pandemic so it was a really amazing way to see the country. We were [also] there when everything started opening up as well, so it was nice. We got to experience both. It is such a beautiful country.
My next question, you basically already answered. I was going to ask if you got to read the script for Episode 1, or if your preparation helped you get a grip on the circumstances your character was born into, because it's really intense.
Really intense and really different ... well, not different times. There's a lot about, when we were filming it, it was like, "Wow, look how far we've come," and actually recent events, maybe not. Episode 1 really helped to understand all of the other characters as well and understand what they've been through. [I] really got my teeth stuck into [Episodes 2, 3, and 4]. It spans over so many years, so it's a really great way to get to know a character because you're with them for so long.
Coming in almost halfway through and being a character that people ... There's the weight of expectations. In the opening scene for her, I was quite nervous to film because people have been waiting for this moment. I feel like there's enough there and there's enough time to go with her on the story.
Shooting Flowers in the Attic was a special experience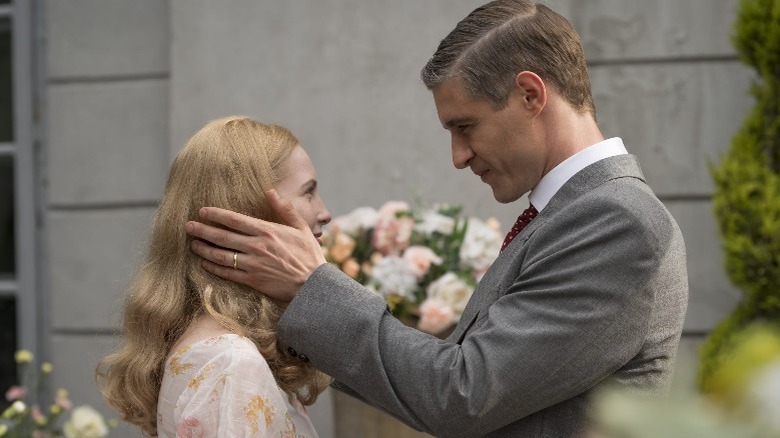 Were there any familiar faces in the cast that you were especially excited to work with?
The cast was incredible. I was definitely most excited to work with Kate out of everybody. Max Irons and Jemima Rooper, they're incredible. What was really nice is most of us lived together in a hotel for the three months that we were filming. Everybody got really close and because of COVID, people weren't able to fly back and forward because of quarantine. Everybody was stuck there together. Regardless of whether or not you were working, whether you were out, everybody was together all the time, so it's really nice.
That sounds like camp. 
It really was.
I want to talk about "Bridgerton." Very exciting news that you're going to be taking over the role of Francesca. Have you started shooting for season three, or have you heard anything about your character's involvement in the season's arc and beyond, because there are so many books?
Who knows? I have no idea what they have in store. I don't know what I'm allowed to say, really. I feel like they want everything to be really tight-lipped, but I'm super excited to be joining and particularly to be playing Fran. She's such a beautiful character. I'm really excited.
Did it feel daunting to step into that world as an actress, or do you feel like that provided you with an easier access point because you were already familiar?
I hadn't read the books. I watched and loved the show. It was quite intimidating when I've been watching these people for two years and the idea of having to step on set with them is really scary. I was so nervous, but meeting everybody, it feels so lovely. They are all so lovely. I'm so happy.
That's really exciting. Did you think about, "Okay, there is this one book later in the series that's more focused on Fran"? Is that something you look forward to? You don't have to say anything.
No, I don't know the plan going forward. As the book series go, I would love to be the person to bring that to life. It's one of my favorite books. I haven't read all of them yet. I'm up to book six, which is her book. I've [read] six out of the nine. I'm working my way through, doing my research. I absolutely adore the book, so I'm very excited. If that ever is an option, then [I would say yes].
She's worked with some major talent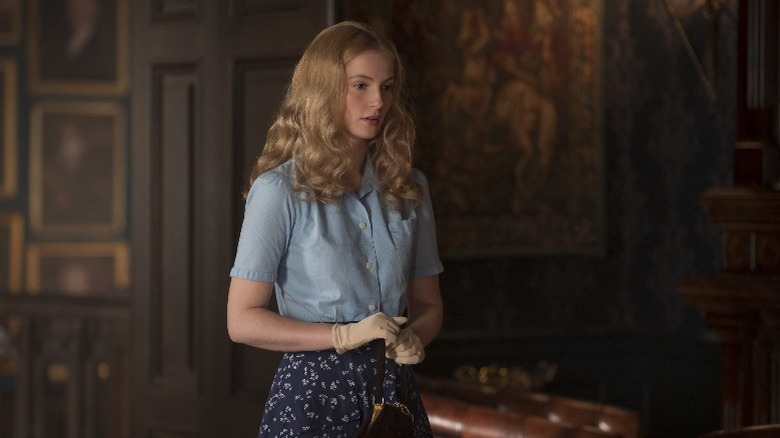 I also want to ask about "Enola Holmes 2." Is there anything specific we can look forward to when the film is released later this year? No spoilers.
No spoilers. I really hope everybody loves it. I've only seen bits and pieces. I actually haven't seen the whole thing yet. I'm really looking forward to watching it, too. There was a really special feeling on set and a lot of people were saying how much they were enjoying the story that we focus on this time. Fingers crossed [that] people love it, but I'm in the same boat. I can't wait to watch it.
In that movie, there's an all-star British cast with Helena Bonham Carter and Henry Cavill and Millie Bobby Brown. What was it like to collaborate on such a high intensity, action-packed film with all these pros?
Insane. I remember the table read day ... I'd been in rehearsals and stuff and I'd met a few people, but the table read was the first time and I could see all of our names and it was Helena Bonham Carter, Hannah Dodd. I was like, "I have to sit next to her? What?" It was insane. It was amazing. They are incredible to watch on set. There was a couple of days that I was like, "I don't understand why I'm here," and watching them do their thing. You're like, "Oh god, I need to be doing my..." I'm still pinching myself. Again, that's the reason that I'd love to see it all come together, because there's so many different parts.
I can't imagine what that room must have felt like.
Insane. Ridiculous.

Do you have any dream collaborators or directors that you would like to work with in the future? You've checked a couple off the list.
I know, right? I've been so lucky so far. So many. I would love to work on a musical film. That's always been my dream. I trained as a dancer and studied musical theater, so I would love to get the opportunity to do a golden age Hollywood, proper musical vibe. I don't want any of them remade because they're all perfect as they are.
I love working with a range of people and a range of different directors and a range of different projects, because it keeps it fresh and interesting. I'm still learning, so it's nice to work with different people and see how they work and be like, "Oh, I'll do this."
She learned a lot from her character Corrine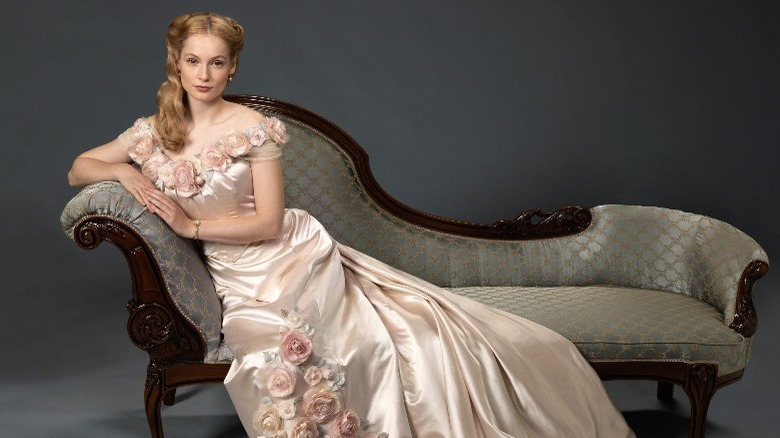 Did you go to drama school or have any formal training before you got into acting? What was that transition like between dancing and musical theater?
I trained at a professional dance school for four years. I went to a school called Evolution Foundation College and then a school called London Studio Centre. I got my degree, and it was a dance college that I studied musical theaters. We did a little bit of acting, but it was specifically for dancers. Then, I'd done a short film for Burberry and got an agent and ... There [were] a few things that had to happen for everything to come together, but my first job out of college was on a kids' show and playing a dancer, so they were looking for dancers.
Then we never talked about it. We carried on [with] the acting thing. I don't really know how it happened, but I really fell in love. I'd always done it in musicals, but there's something about being on a set, and that collaborative process and I love learning. There's a better way of phrasing that, but it's so fun to ... Every character teaches you something, whether it's an actual skill, like learning to horse ride, learning to do this, or that, or an accent, or a time period to study. I fell in love with all of that. Here we are.
A triple threat, no less. There's got to be some musical coming out soon. Maybe "La La Land 2," or some other original musical coming out.
I'm available. Send your contract over.
Bringing up what your characters have taught you, what have you learned from Corrine, if anything, or what have you learned from inhabiting her space and her story?
I feel like Corrine ... I've learned a lot about what not to do in life. Cut out everything you know about her and get down to just the younger Corrine. There's something quite amazing about the way that she bounces back. She goes through so much and she's got this ability to focus on the positive and focus on the good, until she goes too far with that and that becomes a scary ability, and she's switched up a side of her that is not right and not human. She carries on, which is something to take from her, but probably the only thing, full stop, don't anybody copy Corrine in any way.
Hannah Dodd is ready to learn from her next roles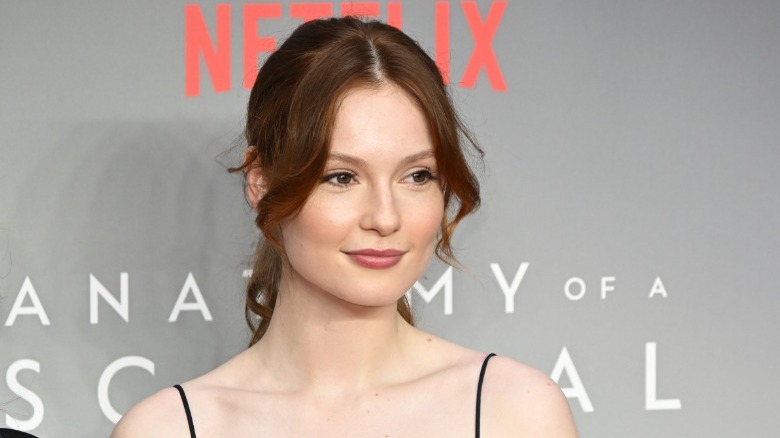 Jeff Spicer/Getty Images
Do you have any other characters that you've played that you feel particularly close to or you'd want to revisit at some point?
I played a character called Thea Raphael in "Find Me in Paris," which was the kid show that I started on, and we did three seasons of that. I feel like I spent the most time with her and loved her. I'm really grateful for that job because it was the job that set everything off. I spent the most time in her space and she's sassy and a high school know-it-all and it's really fun to click into that and have fun and then come home afterwards. Probably her, but all of the characters.
I also wanted to know what your experience was like on the set of "Eternals," a huge movie, blockbuster. Any memorable moments?
That's insane to even think about. It was so crazy. When I auditioned for it, I didn't know what I was auditioning for. They were like, "Can you look over there, but look worried and we can't tell you why." There was a lot of, "We can't tell you why, but can you do this and this?" Six months later, something insane, I found out that I'd booked it and what I'd booked. It was a really long time after.
I was able to go to the table read, which was the most bizarre experience in my whole entire life. I was sat there in this room with amazing people. So bizarre. It was really cool to be on that set and for myself, as well, to know, "Okay. Right. You can do this thing." It was really scary and really intimidating, but we got through that day. That's a good thing for me to know that I can hold my own. [I was] really grateful for that job.
You've appeared in a lot of TV shows and some film — do you want to do more film? Do you want to stay a little bit more in television or get something consistent going? What's your goal?
I would love to do film. There's something really lovely in [how] you finish the story after the film, which is lovely. I would love to go into film, but I'm still at that stage where I'm so grateful for any job. Any booking that I get, I'm like, "Thank you so much for having me." My goal is to keep working at this point, and to work, like I said, in a range of different roles and keep learning from different people and work on different sets because that's important, as well.
That sounds like a great goal. Do you have anything else that you'd think that viewers should know going into "Flowers in the Attic," besides the big old disclaimer, or anything you wish we'd covered or talked about more?
There's a lot more to come. There's only been two episodes that have come out so far. I feel like in Episode 3, things really kick off for a lot of the Foxworths. There's a few more twists and turns that will happen, and I hope people will enjoy.
Part 3 of "Flowers in the Attic: The Origin" premieres Saturday, July 23 at 8 p.m. ET on Lifetime. Parts 1 and 2 are available to watch on the Lifetime website.