Natasha Calis Is Born For Adventure In SkyMed - Exclusive Interview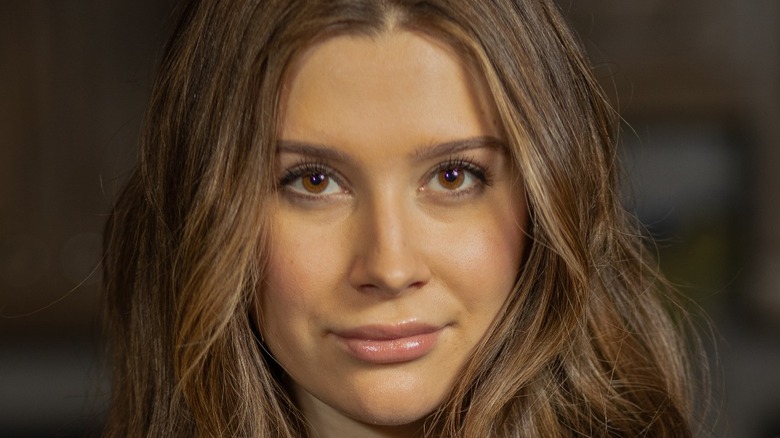 Holly Dunphy/Paramount+
Natasha Calis earned her first acting credits at the tender age of seven. Since then, she's appeared on both the large and small screen. She starred in "The Possession," a thriller that was number one several weeks in a row and holds the record for second-highest grossing Labor Day weekend ever. In television, she thrives in dramatic roles, moving from NBC series "Nurses" to the recently released "SkyMed" on Paramount+. In this new medical drama, Natasha portrays the "new girl" Haley Roberts, who serves as a flight nurse on a medical team in the remote areas of Manitoba. 
In an exclusive interview with The List, Natasha describes her new character, saying the adventure was part of her appeal. "I really loved her arc and what she was running from and the vulnerability, but I also loved her strength and her courage and wanting to prove herself, to herself and to the other people in SkyMed," she says. "She was a complex character, with a very fun environment."
The acting bug bit early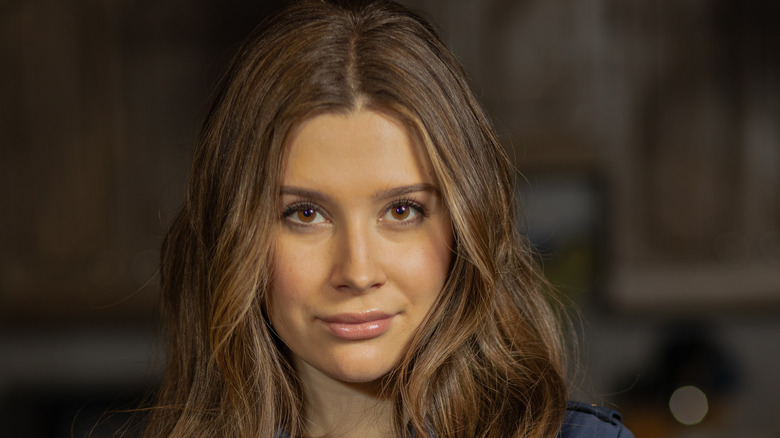 Holly Dunphy/Paramount+
You started acting when you were seven. How did you get your early start?
Honestly, I was born to do this, as cheesy as that sounds. I was so fascinated with movies at such an early age, four or five years old. I would obsessively watch movies over and over again and study them and then go to school in whatever character I had just studied and get everybody to call me that character's name.
I was always performing. I'd watch a movie and not be able to turn it off and walk away, or I'd turn it off, but I'd not be able to escape that world. I'd suddenly be in the world. My imagination was always really huge.
My parents saw this and encouraged it, but didn't want to put me into acting because they didn't want to ruin this thing that was naturally happening. They waited until I was old enough to actually ask them to put me into acting. I was seven! As soon as I said, "I want to do this," they agreed. They had no idea what they were doing, but it all worked out.
Nothing else in the world you'd ever like to do?
No, exactly. I don't take it for granted that I've been acting since the age of seven. I'm very appreciative, every single day, that I knew what I wanted to do from such a young age and was able to make a career out of it. I'm very lucky.
There's (medical) drama in her past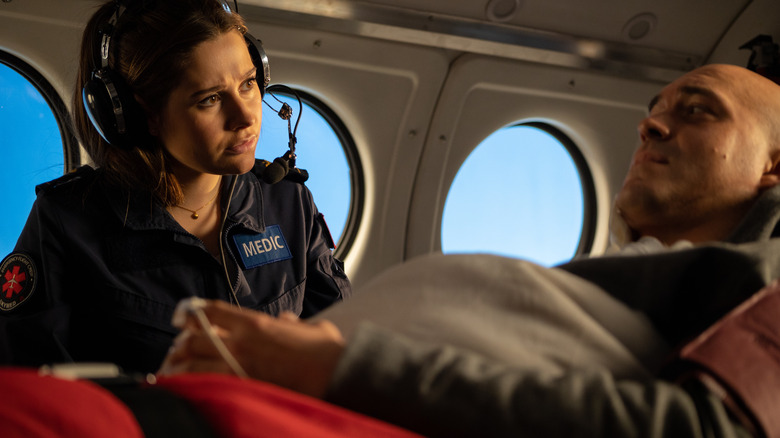 Holly Dunphy/Paramount+
Your last series was also a medical drama ("Nurses") by the same executive producer. The storylines are different, but have you had a different experience on set or was it similar?
I had the privilege of working with Vanessa Piazza and Julie Puckrin again from "Nurses." Vanessa was an executive producer on Season 1. They're two of my favorite people in the world. They're the best boss ladies, incredible humans. It was such an honor to be on another one of their shows.
As far as filming goes, "SkyMed" was a completely different vibe. "Nurses" was all shot in a studio, every single day. The amazing perk of that life was going to one studio every single day and knowing how long our days were going to be, etc. That was great.
Coming into "SkyMed," we were filming on location almost every single day, which had its challenges, but was also really fun and exciting. There was so much adventure! Sometimes, we'd be filming two hours away and our pickups would be at 3:50 in the morning so that we could make it two hours away to film the sunrise. It was challenging, but it was very fun and every day was different. It was quite spectacular.
I had a really good time being on a show like "SkyMed." We were doing rescues in the north in the unproductive elements, able to actually be outside in these crazy weather conditions, like minus 40 with snow. It really helped bring some grounded and real performances to the actors, as well.
On being Haley Roberts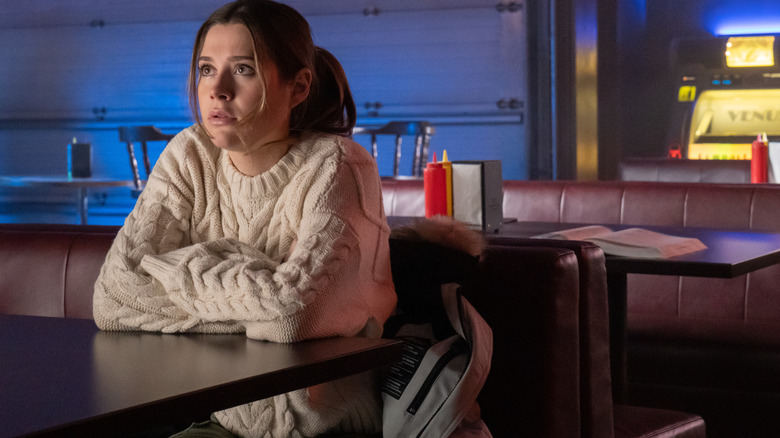 Heather Beckstead/Paramount+
What drew you to this role?
I really did like the adventure side of it. I knew it was going to be fun to film with airplanes. Medical jobs are really fun because it's life and death. The stakes are so high. 
You almost get to play two different characters. There is the nurse mode: I zipped up my flight suit and I was a professional and my job was to save people's lives, but there was also the human side: All of the medical team live together in the same crew house. Zipping off the flight suit and kicking it with the rest of the crew was also a fun aspect. I got to show a different side of the character. 
What was the biggest challenge of this role, for you?
Filming on locations that were sometimes two hours away with early pickup times and really long days in extreme weather conditions was very challenging, not only for myself, but for the rest of the cast and crew. We had to battle some tough things and some exceptionally long days. That was the most challenging thing as an actor filming it, but it was also fun. 
That also helped make it really special and brought out some intense and vulnerable performances. The most challenging part of playing Hayley was putting on a strong face when there's so much going on in her life. She had something to hide, but she had to put on a professional face and help people. Sometimes, those people that she was helping brought back memories of what she was trying to shove down. That was a really interesting and challenging thing to play.
Bonding with the cast of SkyMed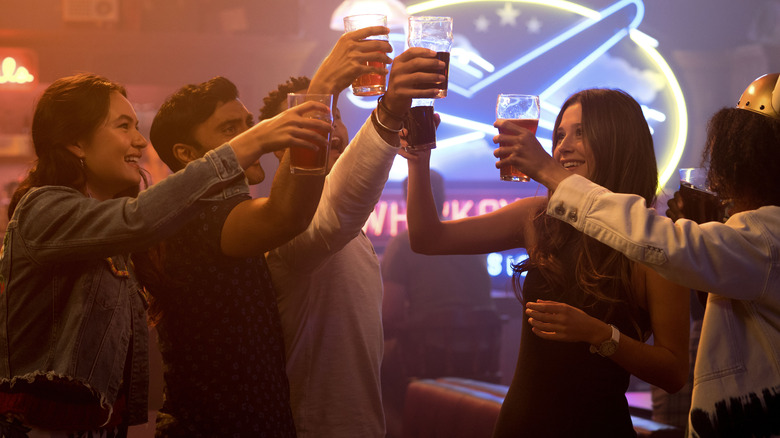 Pief Weyman/Paramount+
With an intense drama like "SkyMed," how do you protect yourself emotionally in this role?
Luckily, we were all so close on set. Everybody, cast and crew, became such a family. We were all away from home. We all really leaned on each other throughout filming. We were all living in the same apartment building, which was really fun. We joked that it was our college dorm room experience, because we would leave our doors unlocked. At the end of a hard day, somebody would be like, "Hey, can I come over, or can we have a movie night?" We'd all get together or we'd have game nights.
There was a beautiful gym in our building. We would all do a "SkyMed" spa gym session and let loose. The girls would do Zumba and the guys would do their strength training. We all leaned on each other and made sure we were having fun and staying healthy. We were also really communicative with each other. If somebody was having a bad day, we all knew about it and we all were there to support each other. It was a really special and unique filming experience, as far as the casting goes, because we were all part of each other's experience.
We filmed for about five months. It was a very long time, but it was so great because we all became close and, as much as we really missed home, we had each other to lean on. We were all going through the same thing. We became really close and half of us actually live in Vancouver and half of us live in Toronto, so, we still stay in touch and hang out all the time. It's very nice that we became so close.
Tell me about game nights with the cast.
I am very competitive, but I'm also a good sport (not with my boyfriend — when he beats me, I hate him so much and he knows it!) With everybody else, I'm not overly competitive. It's a healthy amount.
The cast played this game which everybody fell in love with. It's a makeshift game, [where] everyone writes words on a piece of paper. You fold up the paper and put it in the bowl. For the first round, you have to get people to guess the words by giving clues. In the second round, you guess the same words using charades. On the third round, you can only use a single word to get people to guess. 
That was our favorite game that we all got a kick out of and helped us relax.
Natasha off the set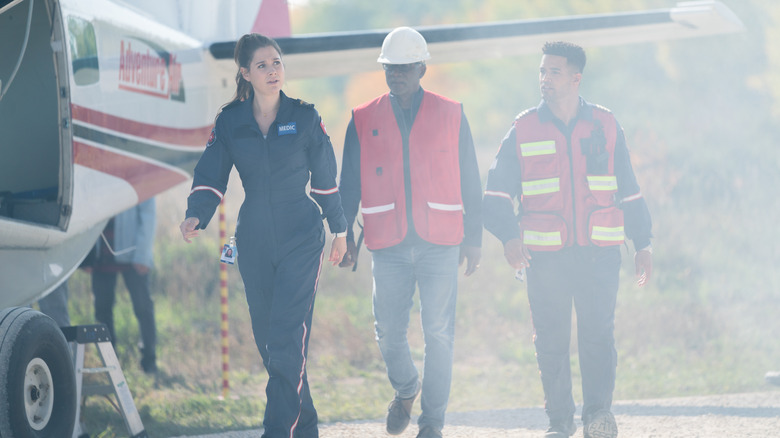 Shauna Townley/Paramount+
What are your hobbies when you're not on set?
I'm definitely very outdoorsy. I was born and raised in Vancouver. In my opinion, and it might be a little biased, but Vancouver is the most beautiful place in the world with the oceans and the mountains. My parents have a boat so I grew up going away on a boat all summer for months. We would spend time at Desolation Sound, where there's nothing around and it's just ocean, whales, nature, and hikes. 
I've been a soccer player my whole life. I honestly really enjoy running. I love putting in my AirPods, throwing on a good podcast or a good playlist, and going for a jog. That's my favorite thing. I really love yoga. Luckily, on set, there was a little yoga room that we'd all go into for yoga and dancing. 
I feel like dancing is so fun and such a good way to let loose and be free and not care what you look like. I'm not a great dancer. My mom would be very ashamed, because I did years of dancing and she's a dance teacher. The fact that I can't dance anymore is a little embarrassing, but I like dancing for the freedom of movement. 
I enjoy traveling and my favorite place I've ever visited would be Brazil. My family went and we were able to experience Brazil in a very authentic, beautiful way with some friends who live there and showed us around. They were the best tour guides ever and we got to stay at all of their places. I love it in Brazil and I would go back in a heartbeat.
What to expect from SkyMed and Natasha's future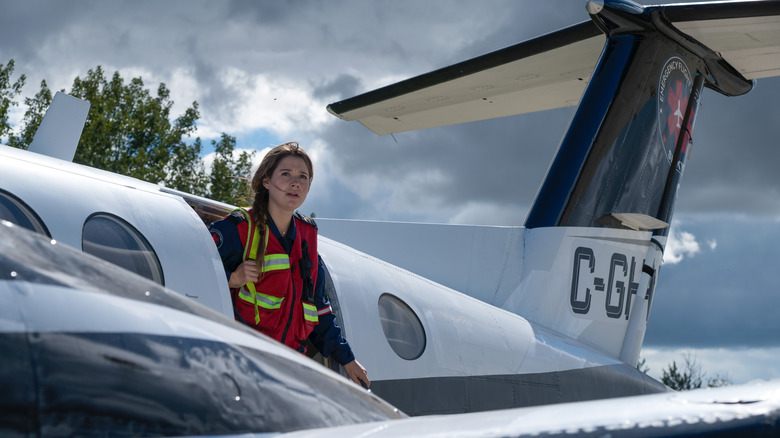 Pief Weyman/Paramount+
What can fans expect from the first season of SkyMed?
Fans can expect some love triangles, some hookups and breakups, and all the drama that comes along with young people living in a crew house together in the middle of nowhere. They can also expect some really beautiful character arcs from every single person. Julie Puckrin, our showrunner and creator, did an incredible job of making sure everybody had a really incredible arc to their character. 
As the season progresses, you can see these characters changing and shaping and leaning on each other. It's much like what we were all going through together as a cast. We all arrived on set one way and left changed for the better. We all took a lot away from the show. Audiences can expect a lot of drama in the crew house and really exciting storylines and points of action, as far as flying medevacs and flight nursing go.
While we wait with bated breath to hear if there will be a Season 2, what would you hope to see in a second season of "SkyMed?" 
I know it will be as amazing as Season 1 and fun to film all of our characters. I'm really excited to see where the characters go, because they did a really good job of leaving a good cliff hanger for every single person in the season finale. Each cast member is awaiting something by the Season 1 finale, so it'll be really fun to see the decisions made and how things pan out.

What do you want to do in the future for your career?
Season 2 of "SkyMed!"
I have dreams of going to New York and immersing myself in the theater scene there. That would be really cool and something I've never done, and it would be very challenging. Eventually, hopefully, we'll see.
What are your plans for your immediate future?
Time at home after being away for five months! I plan to enjoy a Vancouver summer, which is unbeatable. I'm enjoying spending time with friends and family right now, and we'll see what the future holds.
All episodes of SkyMed Season 1 are now available for streaming on Paramount+.
This interview has been edited for clarity.