Why You Should Avoid Pesto Sauce If You're Vegan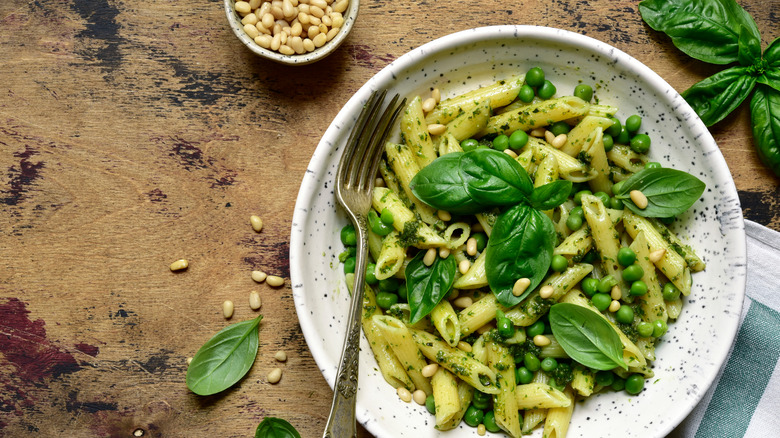 Liliya Kandrashevich/Shutterstock
Veganism has plenty of benefits, and it also has plenty of challenges. From improving your health to benefiting the environment to aiding in protecting animals, it's clear why so many people choose to go vegan. However, what stops some people from adopting a vegan lifestyle is the challenge of implementing heavy restrictions on your diet. It's easy to see how things like ice cream, pizza, and cheeseburgers don't fit into a diet free from animal products. For many, removing all obvious animal products from their diets or finding vegan alternatives to replace them is already a difficult task. Luckily, there are likely some foods in your diet that you never even knew were vegan. However, what most of us don't realize is just how many secretly non-vegan foods we eat on a regular basis.
There are plenty of tried-and-true vegan staples that are usually safe to eat. Most of us probably think that pasta out of a box is one of those safe foods for vegans. In reality, though, there are plenty of pasta recipes that aren't vegan, and that doesn't only include parmesan grated over the top. If your pasta sauce of choice is pesto, you're definitely not alone. Pesto is the second most popular pasta sauce in the world (via La Cucina Italiana). And beyond pasta sauce, there are many other common uses for this beloved basil-y green sauce. It would probably surprise most people to find out that many pesto sauces actually aren't acceptable for vegans to eat. So, why is it that vegans should avoid pesto?
Pesto's pesky secret ingredient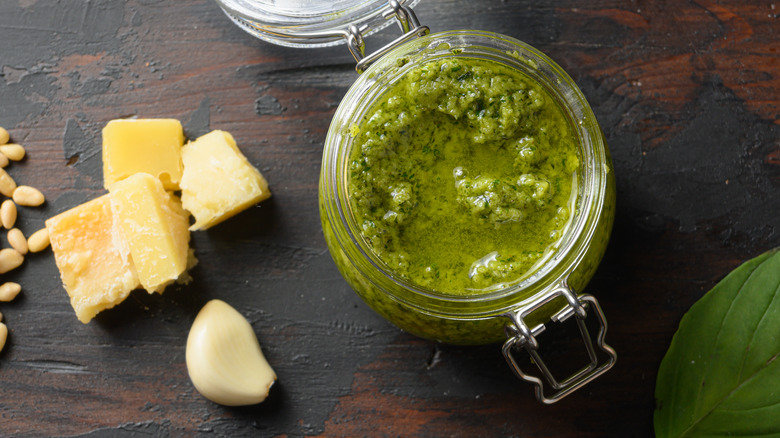 Chatham172/Shutterstock
Most pesto sauces have a secret ingredient that makes them a major no-no for folks who don't eat animal products. So, what's the non-vegan culprit? It's cheese. Parmesan cheese is a popular addition to the top of any pasta, but most of us don't expect it to be mixed into the sauce. It is, however, a staple ingredient in most pesto sauces (via La Cucina Italiana).
You may be wondering why this cheesy secret ingredient can't just be removed for folks who steer clear of dairy products. While most of us probably don't think we notice the Parmigiano-Reggiano or Pecorino cheese that's added to pesto sauce, it's actually part of what makes pesto what it is (via Healthline). Cheese adds to pesto's unique flavor. Additionally, in an otherwise uncooked sauce, cheese melts when it touches hot pasta to make the dish warm and rich. As surprising as it may be to discover that pesto isn't vegan, removing the ingredient in question is likely to totally change this beloved sauce.
Vegan pesto options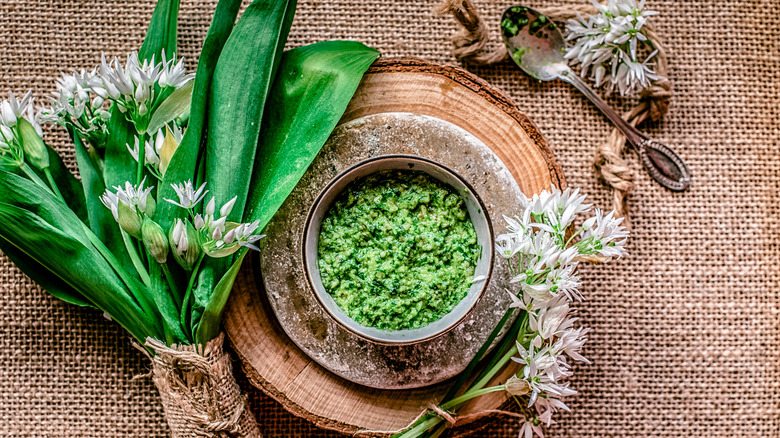 Gloria photo/Shutterstock
If you're a pesto-lover who doesn't do dairy, have no fear. You're far from out of options to satisfy your pesto cravings. There are plenty of pesto recipes that are perfect for a vegan chef to prepare. And in this case, you don't even have to lose the flavor that cheese brings to other kinds of pesto. Some recipes use nutritional yeast to duplicate the richness parmesan normally supplies (via Minimalist Baker).
If you're a vegan who doesn't consider yourself much of a chef, you've got options, too. From ​​Trader Joe's Vegan Kale, Cashew, and Basil Pesto to Seggiano Fresh Basil Pesto from Whole Foods, there are plenty of store-bought options that will make your vegan pesto pasta pop (via Living My Veg Life). There's even an option that's more on the surprisingly vegan side: The classic pasta sauce brand, Victoria, has a vegan arugula pesto alfredo sauce that could turn even the most loyal dairy lover vegan. You can grab it at Whole Foods and other supermarkets. The moral of this sauce-y story? There's always a vegan alternative (even for the things you always thought were vegan).