Here's How Ethan Hawke Really Feels About Daughter Maya's Risqué Music Video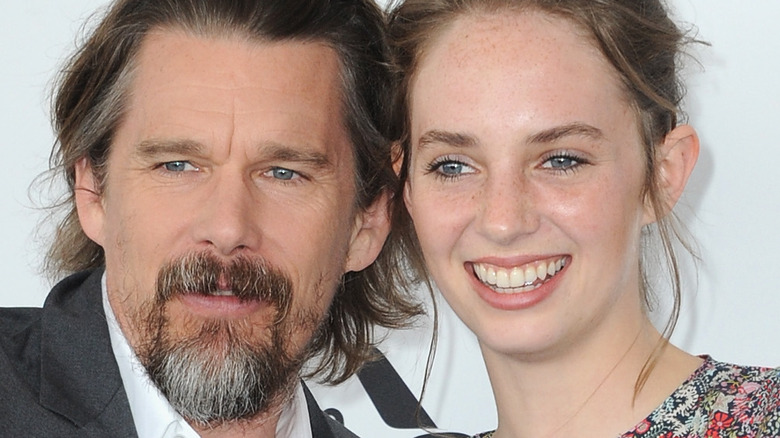 Albert L. Ortega/Getty Images
Thanks to her breakout role as Robin in "Stranger Things," Maya Hawke is becoming a household name. The daughter of actors Ethan Hawke and Uma Thurman (who she looks just like), Maya made her screen debut playing Jo March in the PBS miniseries "Little Women," according to IMDb, and has worked as a model, including being chosen as the face of British fashion brand AllSaints for their 2016/2017 collection and appearing in an ad for Calvin Klein underwear (via YouTube).
People might not realize, however, that Maya is also a talented musician who started singing when she was a child. "My dad and I have always sung together growing up," she told Refinery 29. "That is how I started singing — he would play guitar and we would sing together, so I am sure we will sing together someday in public. We sing together privately all the time. My mom [Uma Thurman] is a beautiful singer, but she doesn't sing that much."
Maya released her first album, "Blush," in 2020, describing the 12 tracks as "songs for listening to by yourself," per Harper's Bazaar. And her second album, "Moss," is scheduled to come out in the fall of 2022. Its first single, "Thérèse" has already been released — along with its racy music video. In fact, the video — directed by Brady Corbet — opens with a warning that it is rated X and features nudity and sexual content. So what does her famous father think of Maya's music video?
Ethan Hawke couldn't be prouder of his daughter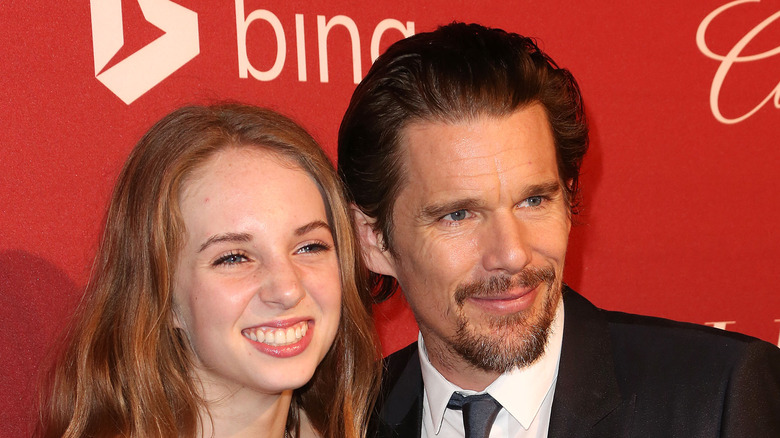 Frederick M. Brown/Getty Images
When it comes to Maya Hawke baring it all in her music video for her single "Thérèse," her father, Ethan Hawke, is nothing but supportive. While appearing on "The View," Joy Behar asked Ethan how he felt about the video and its content. "She's a full-grown woman. She can do as she pleases," Ethan explained. "She can tell her truth. She can sing her song."
He added that "the job of young people is to make their art and tell the truth of their life in the time period that they're growing up." As for the adults, "it's their job to listen and respond accordingly. I'm so proud of her." 
As for Maya, she told Dazed that the video is meant to show that being lonely feels horrible until the realization that it's not as bad as being around the wrong people, as well as the loss of freedom and self-expression that often happens to kids after they go through puberty and feel the need to fit in with everyone else. "I hope people like it or hate it, or whatever," Maya said of the video. "I hope it makes them feel something other than shame, self-hatred, and loneliness. I think we are all tired of feeling like that."