Here's The Museum You Should Visit If You Want To See Impression, Sunrise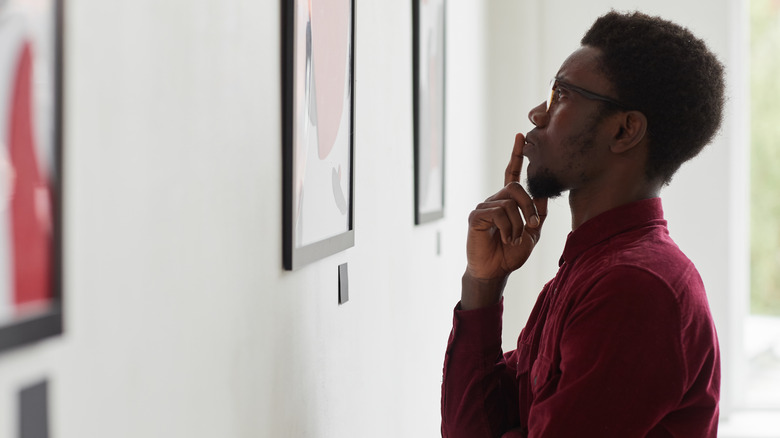 SeventyFour/Shutterstock
Calling all art fanatics! If you're a lover of all things art history, chances are, seeing some of the world's most famous art pieces in person would be a dream come true. Perhaps you're looking to travel to Florence, Italy to see Michelangelo's "David" up close. Or, maybe finding yourself face-to-face with the "Mona Lisa" is your personal art history fantasy. Whatever famous pieces are on your museum bucket list, you're most likely going to have to travel to see them.
It's safe to say that Claude Monet is one of the most famous painters of all time. Regardless of what you know about art, you've certainly heard of him, you can surely recognize many of his paintings, and you know that he changed French painting forever (via The Metropolitan Museum of Art). If you're a fan of Monet, you surely know of his painting, "Impression, Sunrise." If this painting is your all-time favorite, you're not alone. "Impression, Sunrise" is regarded as one of the most famous Impressionist paintings in history (via Claude Monet), so where should you travel if you want to see "Impression, Sunrise" in person?
'Impression, Sunrise'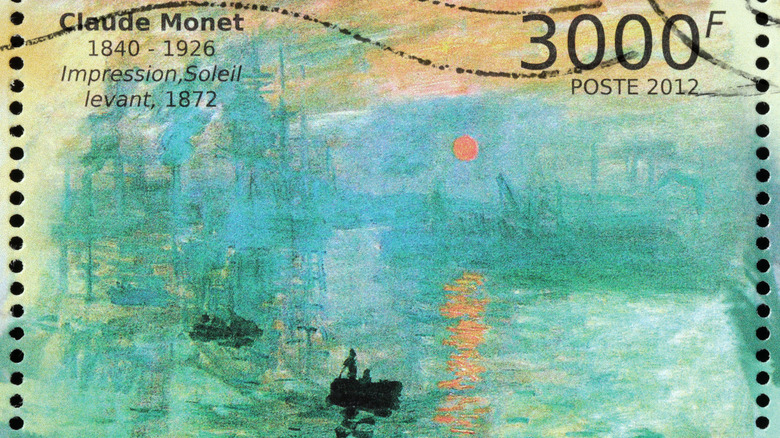 Sergey Goryachev/Shutterstock
As famous as Claude Monet is, "Impression, Sunrise" is one of his most famous works. The piece is set in the port of Le Havre (via Claude Monet). The contrast between the bold orange sunrise and the misty blue of the water and sky with dark boats in the foreground gives this painting a calm yet lively feeling that makes it memorable.
"Impression, Sunrise" was show in its first exhibit on April 15, 1874, and since then, countless art-lovers have flocked to see it. An art critic by the name of M. Louis Leroy attended that first exhibit and wrote an article about the painting that would go down in history. He coined the term "Impressionist" based on the use of the word "impression" in the piece's title. The group who adopted this style, of course, went on to use this term from that point on.
Monet was known for using many brushstrokes to make his paintings of water seem to come alive and have what felt like real movement (via The Metropolitan Museum of Art). "Impression, Sunrise" is a perfect example of this style.
Musée Marmottan Monet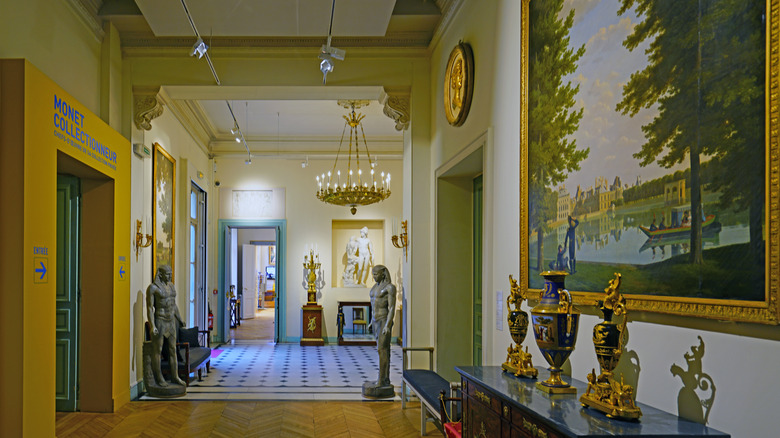 EQRoy/Shutterstock
Since "Impression, Sunrise" is a famous French painting of a famous French harbor, it's really no surprise that you'll have to travel to France to see this history-making piece of art in the flesh (via Claude Monet). Musée Marmottan Monet is located in Paris, France (via My Modern Met). Among this museum's many interesting exhibits, its permanent Claude Monet collection is the largest collection of Monet's works worldwide (via The Independent). 
From "Reflections on the Thames" and "The Japanese Bridge" to "The Train in the Snow" to name a few, there are plenty of famous Monet pieces keeping "Impression, Sunrise" company in this amazing collection (via Musée Marmottan Monet). If the biggest Monet collection in the world isn't enough to inspire you to book your Paris trip, keep in mind that Paris is also home to Musée D'Orsay, Musée de l'Orangerie, and Musée National Rodin — all of which house some of Monet's greatest works (via Time Out).