How Naomi Matsuda Dropped Hints That Li Was Indeed Still Alive On The Bold And The Beautiful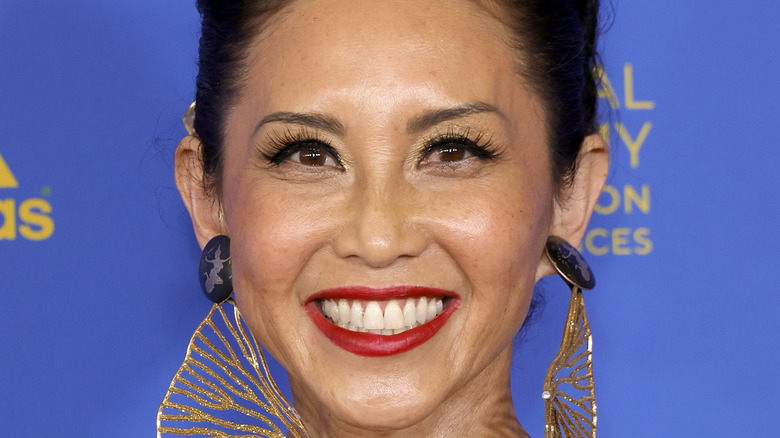 Frazer Harrison/Getty Images
"The Bold and the Beautiful" has been killing it in the ratings and viewership has been increasing dramatically in the last couple of years. Part of this is due to the reign of terror perpetrated by evil-doer Sheila Carter (Kimberlin Brown), per Soap Hub.
According to Soaps in Depth, Sheila's rampage through Los Angeles included switching alcoholic champagne with Brooke Logan's (Katherine Kelly Lang) non-alcoholic brand, thereby causing her to lose her marriage with Ridge Forrester (Thorsten Kaye) because she had a drunken tryst with Deacon Sharpe (Sean Kanan). Steffy Forrester (Jacqueline MacInnes Wood) learned the truth, so Sheila confronted and shot her. Sheila did not expect that her son, John "Finn" Finnegan (Tanner Novlan), would jump in the way, saving Steffy. Sheila shot Steffy anyway and left them both in an alley to appear as robbery victims. Li Finnegan (Naomi Matsuda), Finn's adopted mother, found the wounded Finn and hid him away, nursing him back to health thereby faking his death. Sheila got wind of this and confronted Li. As the encounter escalated, Li tried to escape in her car and Sheila pursued, knocking Li's car off of a cliff. 
Li's apparent demise in a fiery crash over a cliff had fans wildly speculating and hoping against hope that she would soon return (via The Sun). In either what could be described as a slip of the tongue or a surreptitious move by actor Naomi Matsuda, she may have given away a spoiler about Li's fate.
Naomi Matsuda may have let the cat out of the bag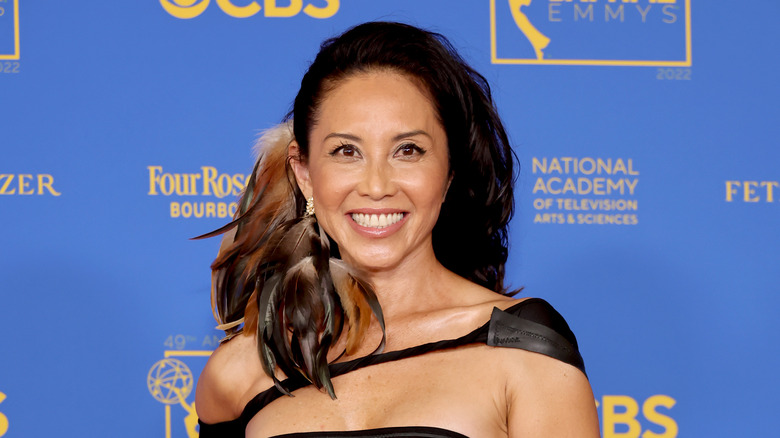 Amy Sussman/Getty Images
Soaps She Knows reported their suspicions that Naomi Matsuda's character was most likely not dead. They also cited the fact that when they interviewed Matsuda at the Daytime Emmys, she made a slip of the tongue by saying, "...grateful for the time that I have with them." Matsuda revised that by saying "had," but then slipped up again by saying that Ted King "plays" her husband, present tense.
The article went on to say that the show itself gave clues in the form of Sheila inquiring about whether or not Li's body was found and then speculating as to what may have happened to the body.
Soap Opera Spy corroborated the claim that Li might return from her watery grave by reporting that Matsuda was seen on-set, and in particular, in a photo taken as the cast celebrated actor Jim McCook's Emmy win. The implication was that Matsuda wasn't just there to celebrate, but was back to work as well. According to Soap Dirt, although a fiery plunge into the Pacific Ocean is almost a guarantee that the driver will not survive, if Li did indeed survive, it will be quite some time before she returns.
It's not certain how long Sheila will be able to get away with committing so many crimes, but one thing is for sure — fans are dying to find out whether or not Li will return from the dead (pun intended).