How Long Will Sheila Stick Around On The Bold And The Beautiful?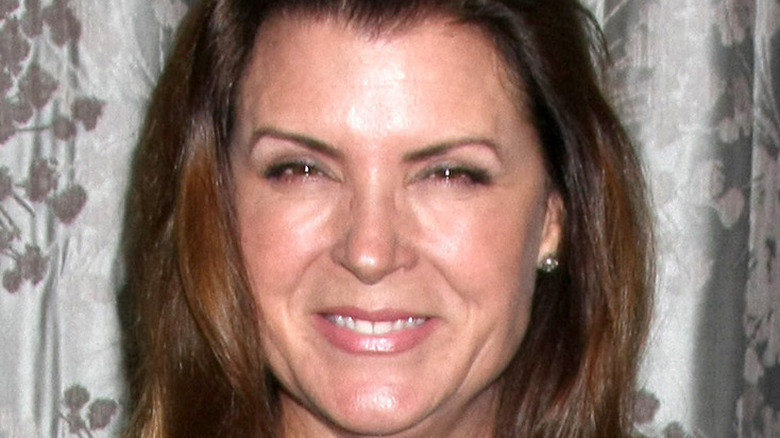 Kathy Hutchins/Shutterstock
When Sheila Carter — and actress Kimberlin Brown – made her latest return to "The Bold and the Beautiful" scene after coming and going from the show and its sister soap, "The Young and the Restless," for more than 30 years (via IMDb), she was there to claim yet another child she had given birth to off-screen. 
Sheila made her grand entrance at Steffy Forrester (Jacqueline MacInnes Wood) and John "Finn" Finnegan's (Tanner Novlan) wedding reception and announced that Finn was her son and she gave him up for adoption at birth.
Finn was shocked and wanted to get to know his biological mother, but Steffy didn't want this crazed woman who had done nothing but hurt her family for years anywhere around her husband or children (via Soaps In Depth).
It turned out that Steffy was right about Sheila because, as soon as Steffy learned Sheila played a dirty trick on Brooke Logan Forrester (Katherine Kelly Lang) on New Year's Eve, Sheila decided that shooting Steffy to keep her mouth shut would be the best bet. She didn't expect Finn to jump in front of the bullet.
With Sheila fearing more time behind bars, she shot Steffy as she tried to call for help for Finn. Steffy survived, Finn did not, and now Sheila has to cover her tracks (via Soap Hub). 
It would seem that Sheila's latest reign of terror would be enough to run her off the soap again, but is that going to happen this time?
Sheila feels the walls closing in
As of this writing, the police realize that Sheila is acting weird, but nobody else around Steffy has. In fact, Steffy's mother, Taylor Hayes (Krista Allen), feels Sheila is completely reformed and is just grieving her son's death after she tried to jump off the roof and then had to rescue Taylor (via Soaps.com). 
In fact, Sheila is lamenting the fact that she could go back to prison. With Steffy awake and starting to remember things, Sheila knows it's only a matter of time until she has to silence her.
The last time fans saw Sheila, in 2017, she even seemed reformed. And, as far as anyone knew, she was working as a server at everyone's favorite Italian restaurant, Il Giordino (via Daytime Confidential). 
That stint was a short one for actress Kimberlin Brown, as she dove into politics and ran for a House of Representatives seat on the Republican ticket in 2018, losing to the Democrat in her California district, according to Soaps.com.
But what about this latest stint? Will Sheila hang around and cause more trouble for a while, or will she soon be caught and carted back to prison? Brown has some insight into Sheila's immediate fate.
Kimberlin Brown thinks Sheila might be here for a while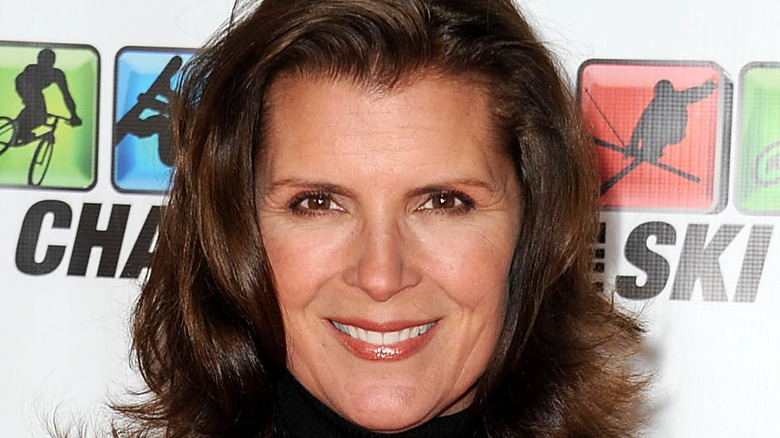 Allen Berezovsky/Getty Images
Sheila might have committed an absolutely heinous act when she shot and killed her own son and let him bleed to death rather than allowing Steffy to call for help (via Michael Fairman TV), but that doesn't mean this character is painted into a corner or headed out the door. In fact, the plan when Kimberlin Brown returned in 2021 was to keep her around for a while.
When Brown recently held an Instagram Live session, a fan asked if she would be leaving "The Bold and the Beautiful" again soon. "I certainly hope not," she answered (via Soaps.com). "I honestly don't know where the storyline is going, but it should be exciting!"
However, she also revealed that she doesn't expect to be going because this was intended to be an extended comeback. "[I] signed a long-term deal," she said. "But our contracts are written so that the show has an option on us — I believe — every three to six months."
If Brown were signed to a long-term deal, that means there may be a long-term story planned that can keep Sheila in the picture to wreak more havoc for anyone who gets in her way.