Why Christina Hall's Parents Initially Sided With Tarek El Moussa During Their Split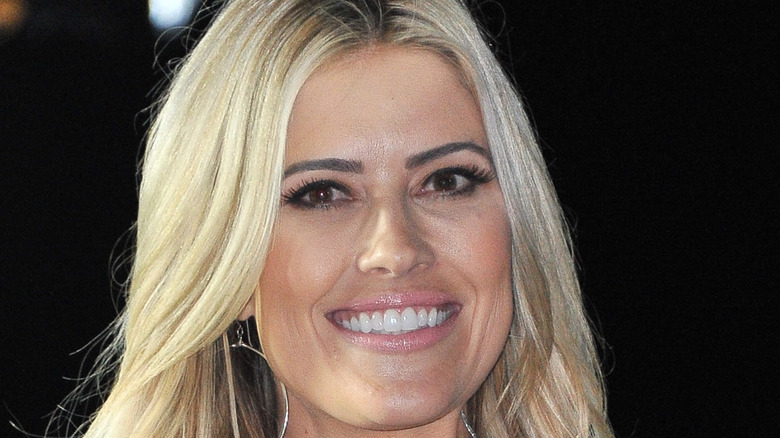 Allen Berezovsky/Getty Images
When they were together, Tarek El Moussa and Christina Hall seemed like the definition of couple goals. They married in 2009 and went on to have two children, daughter Taylor and son Brayden. They also built a successful business with one another that launched the HGTV hit show "Flip or Flop," and weathered Tarek's dual cancer diagnosis in 2013, per Us Weekly. But while the couple seemed solid in front of the cameras, they were struggling behind the scenes.
In May 2016, police were called to the El Moussa home amid reports of a "possibly suicidal male with a gun." Tarek denied he was planning to hurt himself, but agreed to hand over all of his firearms to law enforcement. Although they sought counseling to repair their relationship, Tarek and Christina ultimately decided to split. "We used to be so energetic," Tarek told People. "But with the businesses and the cameras and the cancers and the surgeries and my back, we started losing that energy. That's what led us to where we are."
Fans, of course, were shocked by the news that Tarek and Christina were ending their marriage. And Christina's parents also took the news hard, which put a strain on her relationship with them for a time.
Christina Hall's parents wanted her and Tarek El Moussa to reconcile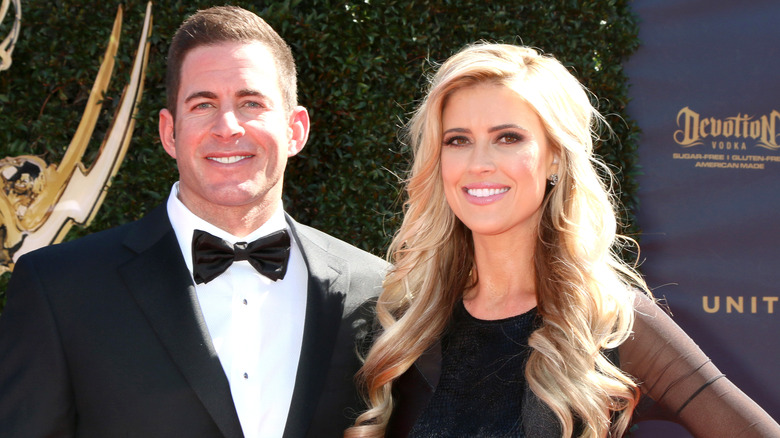 Kathy Hutchins/Shutterstock
While there were signs that the marriage between Christina Hall and Tarek El Moussa wasn't going to last, people were still shocked when the couple announced they were splitting up in 2016. Christina's parents took the news hard, and it caused some problems between them and their daughter at first. "I wasn't very vocal with them about some of the issues that Tarek and I were having," she told Good Housekeeping in 2017. "So all of the sudden it's like bam — I've moved out, I'm living at my nanny's house. It came as a shock to 99.9% of people, including my parents."
In fact, she explained that Tarek was talking to her parents more than she was — so they were only hearing his side of the split. Her mom and dad were also hoping that the couple would be able to work things out, especially since they had two children and built a successful career together. When they realized that wasn't going to happen, Christina's parents — who have been married for almost 50 years — were understandably disappointed. "But in the end, it's mine and Tarek's decision, and only ours," she explained.
Christina went on to marry Ant Anstead in 2018 and the two welcomed son Hudson one year later before splitting in 2020, per Us Weekly. 
Christina Hall is in a happier place
Despite two failed marriages, Christina Hall refused to give up on love. In April 2022, she and realtor Josh Hall tied the knot in a secret ceremony. Some criticized the fact that the nuptials came so close after her split from second husband Ant Anstead, but Christina's new husband defended her on social media. "This woman I get to call mine is nothing short of incredible. No one or no thing will keep her from achieving happiness/success," Hall wrote in a post to Instagram. "She doesn't need anyones validation and certainly doesn't let anyones disapproval affect what she does with HER life."
And her exes have moved on as well. Tarek El Moussa wed Heather Rae Young in October 2021 and the couple are expecting their first child together in early 2023, per People. And Ant has been dating actress Renée Zellweger since 2021, according to Us Weekly. Unfortunately, Christina and Ant haven't had the easiest time coparenting, with the "Wheelers Dealers" host filing for sole custody of their son, Hudson, in May 2022. 
"What Ant is doing deeply saddens me," Christina responded in a statement, per Us Weekly. "I have had my share of ups and downs but I am a good mom and I love my children with all my heart and I will always protect them."