What Are Meghan Markle's Favorite Restaurants?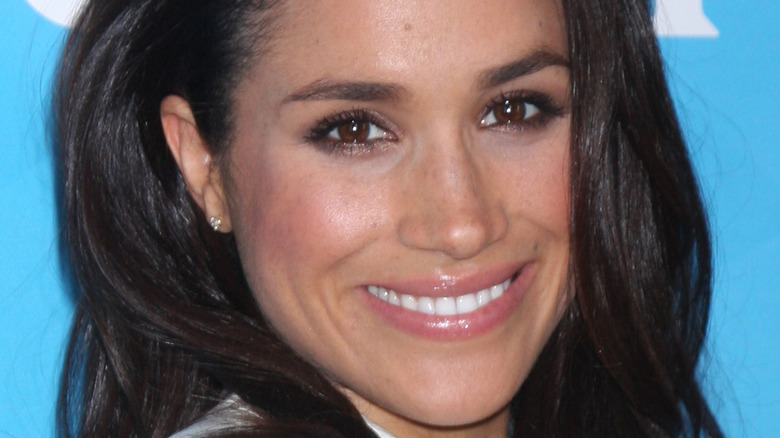 Kathy Hutchins/Shutterstock
Most of us grew up watching Disney princesses. Since Meghan Markle, Duchess of Sussex is pretty much the closest thing there is to a real-life Disney princess, it's really no wonder that she is also one of our favorite it girls. From Meghan Markle's fashion choices to her political views, the world is interested in all things Meghan. In fact, we're all so invested in the Duchess of Sussex's views that she's been named one of Time's 100 Most Influential People.
Prince Harry and Meghan have received a warm welcome since their move to the U.S., and as such, they're currently not the most popular pair in the eyes of Harry's home country (via New York Post). So, it's safe to say that, at least for now, the Duke and Duchess of Sussex are here to stay in their new home. Since Meghan Markle considers herself a foodie, It's hard not to wonder what Meghan's favorite food spots in the U.S. are and which ones she's been sure to show her famously British hubby since they arrived (via Town & Country). You might even be wondering what are Meghan Markle's favorite U.S. restaurants, and what would be the most important stops on a Duchess of Sussex-approved food tour?
Meghan's favorite West Coast restaurants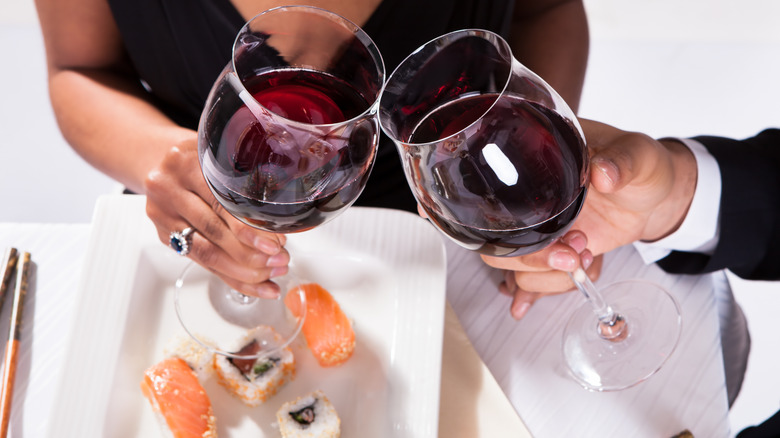 Andrey_Popov/Shutterstock
In July 2020, the royal couple moved into their new home in Montecito, California (via Harper's Bazaar). Shortly after their move to Meghan Markle's home state, she and Prince Harry, Duke of Sussex reportedly enjoyed a three-hour-long dinner at the Montecito restaurant, Lucky's Steakhouse (via People). Lucky's is, unsurprisingly, known for its steak. And since steak is perfectly paired with full-bodied red wines, we're guessing Meghan, Duchess of Sussex enjoyed a bottle of her all-time favorite wine, Tignanello (via Town & Country). If the Duke and Duchess' seal of approval isn't enough of a draw, this is also one of Meghan's pal, Oprah's, favorite restaurants as well (via Closer).
For a more casual dining experience, Harry and Meghan are regular patrons at Cecconi's, a West Hollywood pizza bar (via Hello!). When she's craving one of her favorite foods, she also heads to Los Angeles. As a huge sushi lover, Meghan frequents LA hotspots Sugarfish and Sushi Park to grab her favorite meal (via DuJour). Meghan even said that Sushi Park is her "favorite sushi spot in LA." She also loves Italian restaurant, Terroni, which, according to Vanity Fair, has two locations in Los Angeles as well as one in Toronto. When she's at Terroni, the duchess makes sure to order the hot chilies.
Meghan's favorite East Coast restaurants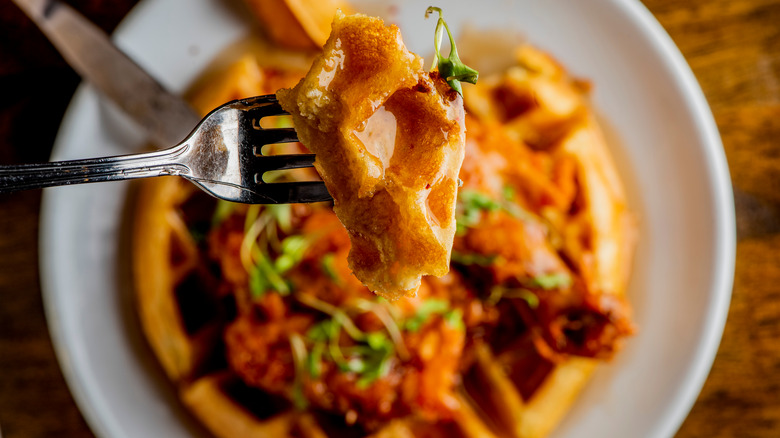 Marie Sonmez Photography/Shutterstock
Just because Meghan Markle is a full-fledged California girl doesn't mean that the famous family doesn't enjoy their fair share of bi-coastal living. When in NYC, Meghan and Prince Harry have plenty of favorite eateries to visit as well. Meghan took her hubby up to Melba's in Harlem where Harry tried his first-ever chicken and waffles (via Page Six). The pair also ordered yams, collard greens, catfish, and even an order of spring rolls. When Meghan was pregnant with her son, Archie, she and her BFF, Jessica Mulroney, went to Ladurée in SoHo where they drank tea and enjoyed some of the patisserie's famous baked goods (via Harper's Bazaar). Another of Meghan's SoHo favorites is The Crosby Bar (via People). This restaurant, where Meghan had lunch with none other than Gloria Steinem, has something in common with Meghan's husband — they're both fans of afternoon tea.
A recent fave of Ms. Markle is the popular Tribeca restaurant, Locanda Verde, which is owned by none other than Robert De Niro (via Express). The Duke and Duchess ate there in July 2022, and Meghan ordered Sardinian sheep's milk ricotta and some steak tartare (via Page Six). She followed it up with a dish called My Grandmother's Ravioli and, of course, paired it with some red wine. Those are the real makings of a meal fit for a princess.