How Did Tarek El Moussa And Christina Hall Meet?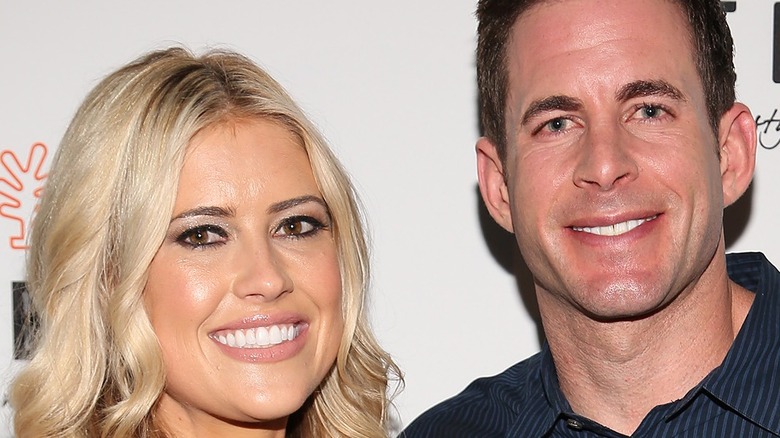 Alexander Tamargo/Getty Images
Fans took to Instagram to express their feelings when, after ten successful seasons on the air, "Flip or Flop" came to an end. As Entertainment Weekly reported at the time, stars and former spouses Tarek El Moussa and Christina Hall confirmed the news in separate, but similarly gushing, Instagram posts, with both acknowledging how sad they were to be saying goodbye to the show that made them famous.
Although it may have seemed abrupt to those watching at home, an insider revealed to People, "The writing has been on the wall for a while. It was not sudden." The main issue was the increasingly strained relationship between El Moussa and Hall, whom a separate source admitted couldn't handle being around each other anymore, besides co-parenting their two children of course. "Tarek and Christina are generally cordial" the insider noted. However, "The show was just too intimate of a setting at this point and it was time to close that chapter." 
Moreover, a source told ET they simply felt it was time to focus their energies elsewhere, reasoning, "They both have a lot going on in their own careers and personal lives, and the timing felt right." In the early days, though, El Moussa and Hall were each other's ride-or-dies, particularly given how they originally crossed paths.
The Flip or Flop stars met through real estate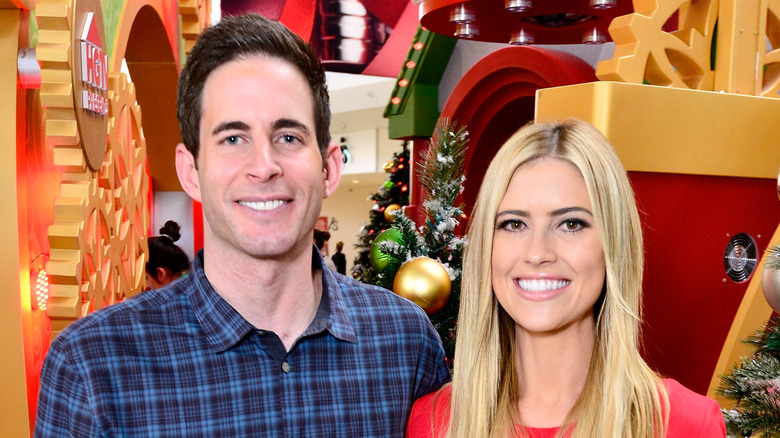 Jerod Harris/Getty Images
Christina Hall and Tarek El Moussa go way back. As Good Housekeeping notes in a profile of the "Christina on the Coast" star, they first met when they were working at Fortune 500 insurance firm Prudential, in California, back in 2005. Hall and El Moussa were trying to make it as real estate agents at the time. She was 22 years old, a recent graduate from San Diego State University, while he was a couple of years older and already gaining a reputation in real estate. In fact, El Moussa was initially Hall's mentor.
It took just over a year for them to get together, with Hall recalling, "The day Tarek and I officially started dating, which was October 9, 2006, we moved in together." They racked up a few more years at Prudential, honing their skills but always pushing for bigger things, with a dream board holding pride of place in their shared office. The lovable duo was discovered by chance when they were at a real estate convention.
A fellow agent shared that a production company was casting for a show about house flipping. After putting themselves on tape, it quickly got picked up by HGTV, and "Flip or Flop" was born (per Good Housekeeping). In an early clip, promoting the show (via YouTube), El Moussa shared that it worked so well because they're such a great couple. "We love what we do. We love each other," he enthused.
Flip or Flop survived their very public divorce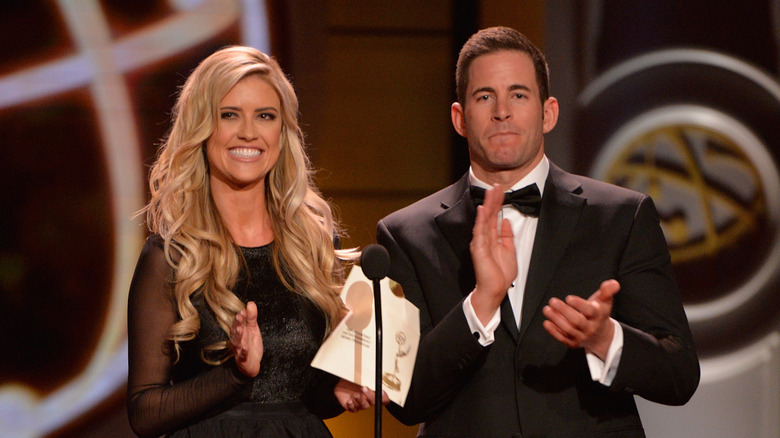 Michael Tullberg/Getty Images
There were several signs Christina and Tarek's marriage was never going to last but, for a little while at least, they were the definition of ex-goals. The former couple continued co-hosting their hit HGTV show long after splitting up, leading many to believe they'd genuinely become good friends. As it turned out, that wasn't really the case. In an interview with People, El Moussa admitted it all became too much for them. "We were so busy, we never slowed down to be present with each other and talk about things that were bothering us," he explained. 
The former couple tried marriage counseling but ultimately decided it would be better to separate, confirming they were calling it quits in 2016, per Us Weekly. At the time, it seemed like "Flip or Flop" might continue on as normal, at least for as long as the former spouses could stand to be around each other.
Funnily enough, even Christina Hall's parents initially sided with Tarek El Moussa during their split because they, much like the couple's millions of fans at home, wanted them to work things out. Sadly, it wasn't to be, but at least they can look back on their hit show with pride.