Love & Marriage: DC's Monique Samuels Talks Life On And Off Reality TV - Exclusive Interview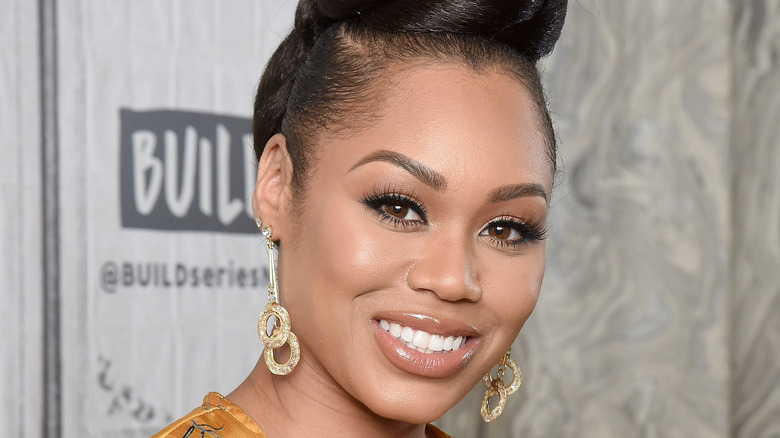 Gary Gershoff/Getty Images
Reality TV — it's a genre many people indulge in as a guilty pleasure. In fact, Nielsen reports that reality TV was one of the top most-watched genres as of 2021, during a year in which "Americans streamed almost 15 million years' worth of content." While it's debatable as to how "real" reality TV programming is, for many, it doesn't really matter — it serves as an escape from the real world, where so many activities are still limited or restricted due to the pandemic.
Many reality TV series such as Season 5 of "The Real Housewives of Potomac" were even filmed right before the pandemic (per Salon). When the season aired at the end of 2020, scenes of the cast's flashy vacation in Portugal took viewers back to a simpler time in which Americans could easily travel to Europe. 
This was not, however, a simpler time for "The Real Housewives of Potomac" star Monique Samuels, who was involved in a heated altercation with fellow castmate Candiace Dillard-Bassett (per Bustle). Samuels drew the line and left the show when she saw rumors surrounding her family get dragged into the conversation. But after a two-year hiatus, Samuels is back gracing our reality TV screens on OWN's "Love & Marriage: DC." We sat down with Samuels for an exclusive interview to speak about her return to reality TV and how it's different this time around.
The story you miss from reality TV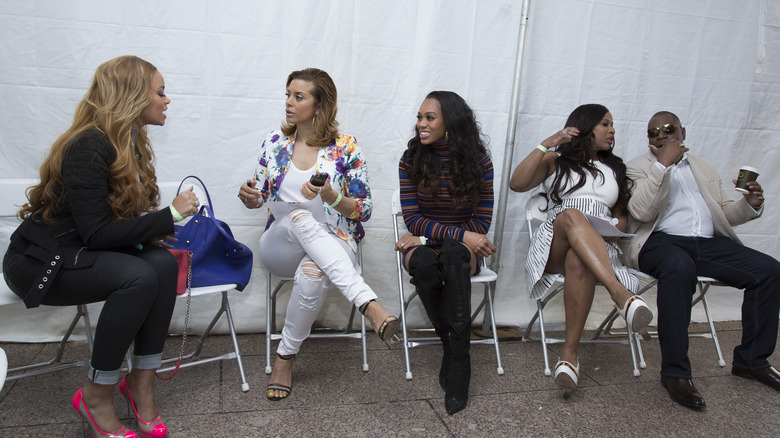 Brian Stukes/Getty Images
You're coming back from a two-year hiatus in reality TV. How would you describe your past journey with "The Real Housewives"?
Oh, wow. It's good moments, [for] probably my first season when it was very pure and I was so naive, not understanding what I was walking into. Then it grew more toxic every year.
I read a little bit about your time there through a Page Six interview, and you described your experience as "reality TV PTSD." Can you elaborate more on that feeling?
Yes. There is a sense of misconception when it comes to reality TV. People think that everything that they see on the show is exactly what happened, how it happened, as it happened. But what people don't understand is that in reality, you're filming your real life during the filming phase. The next phase, when they're editing and they're creating a story based on what you filmed, there's a whole different crew that actually puts those pieces together. You have one set of individuals that capture your reality. Then you have another set of individuals that piece together a story of your reality. The traumatic part of it all is once it's shown on TV.
You know exactly what happened in all of those scenes, but then you're being forced to accept and identify with a narrative that may not necessarily be who you are or true to what even happened in those moments. The PTSD of it all comes from the manipulation and how things play out and then having to then do interviews and accept the narrative that was shown on TV that you know is not true. It can be very toxic. It can be very challenging because you know who you are, and it's a constant reminder every day — "I know who I am, I know who I am" — while everybody else sits back and watches TV and judges you based on the story that was pieced together [from] your actual reality.
It can be very traumatic if you're also coupling that with behind-the-scenes issues, network issues, production issues, cast member issues. To think about even coming back into a situation like that ... It can be a little scary.
I'm sure fans get heated, too, with social media, and you get to see some of their reactions.
Yes, absolutely.
Love & Marriage: DC will show a more complete picture of Monique Samuels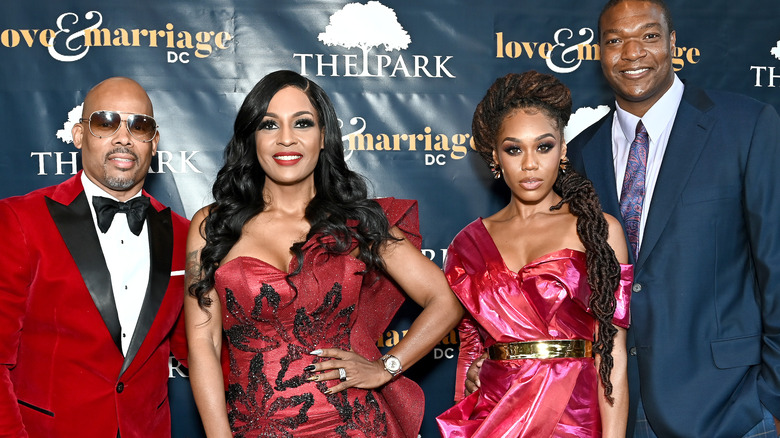 Shannon Finney/Getty Images
There's only so much viewers get to see of you on TV with this edited storyline and the narrative. What's one major thing you think viewers didn't get to see of you during your time with "The Real Housewives"?
I didn't think that they were able to see the business side of me. They saw glimpses of everything. They saw a glimpse of me being a mom, a glimpse of me handling business, a glimpse of me as a wife and as a friend, but they didn't really get the full picture. Honestly, now I can say that I don't think that people will ever get a full picture by looking at a reality TV show, because when it comes down to it, it's based on entertainment. While I was on reality TV the first time, I was put into positions that I would not necessarily put myself into in real life. That was one of the major things that was a stain.
Now you're starring in "Love & Marriage: DC." How is this experience different from what you described with "The Real Housewives"?
What I love about "Love & Marriage: DC" is that it's talking not just about an individual group of women — it's actually about marriages. What I love about this show is the fact that there are three couples who are real couples. They are people who I would actually hang out with, and we have pretty solid marriages that we can all learn from. Every part of the filming process for this show was a situation that I, in reality, would actually participate in. That's what I loved.
The whole filming process was very genuine. It was just "be me" — show up and be myself and be open and vulnerable. I love the fact that we were real about [how] we didn't come into this situation knowing a lot about each other. We have very social friendships. One of the ladies that is a part of the show, she's a friend of the show. I met her probably 15 [or] 16 years ago while my husband was still playing in the NFL because her husband, at the time, was his teammate. We go back a long, long time ago, so our friendship is one that is very social.
We never hung out with each other. We never "kiki" on the phone or anything like that, so there was growth. There was room for me getting to know her in front of an audience at the same time that the audience can get to know her and get to know me and the other ladies who also were very social. That's what was my favorite part — you're getting to know us as we're getting to know each other.
Monique says Washington, D.C., is a fun place for couples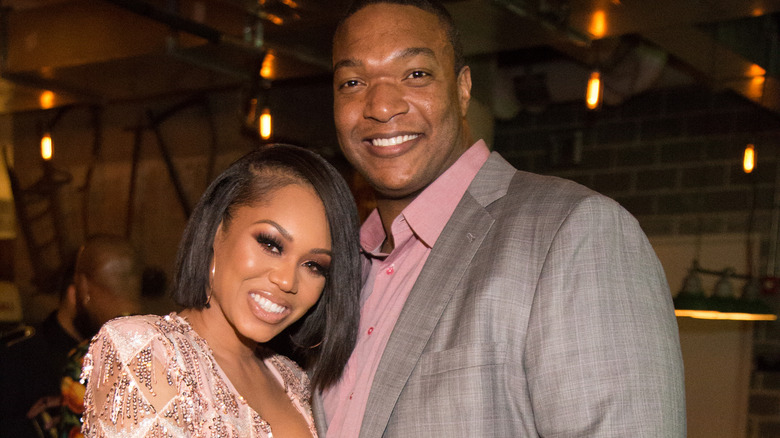 Brian Stukes/Getty Images
Are there any challenges in being a power couple in D.C.?
I wouldn't say that there are any challenges. You just live your life. There's so much that you can do in this area. When it comes to being able to date and get out and do something fun, you'll never fall short in D.C. You have everything you can think of. From country living to city living, to museums and monuments, to amazing outside theaters and shops and everything that you can think of, all the events that happen here in the sporting world, in the theater world ... There's so much to do here. You could never be bored.
We see a clip in the trailer of you and your husband, former NFL player Chris Samuels, sharing a very vulnerable moment. What was the journey like filming with your husband?
It was very different because my husband is not as comfortable in front of cameras as I am. He was always short of words and it was a lot of me doing the talking. One thing that I know about reality TV is no one's going to sit there and watch you just sit there.
Nobody wants to see that, so I will keep a scene going. I will keep talking. I will keep pouring out. He is quite the opposite. He's very reserved. He's an overall private person. This time around, I don't even know if he fully understood and appreciated what he was getting himself into because it was in ... When we were on Bravo, all of that was more so on me. He was able to pop in on different scenes as needed, versus this show, he's an actual cast member.
It's not an option. It's like, "You are a part of this filming process and you have to take an active role in it." It was definitely different because in my mind, I'm thinking we're going to have the same conversations that we have behind closed doors in front of the cameras and be open and vulnerable, but his level of openness wasn't the same as mine. We didn't get to hear a lot about what he thought and his take on certain things.
How Monique empowers other mothers through her online platform called Not For Lazy Moms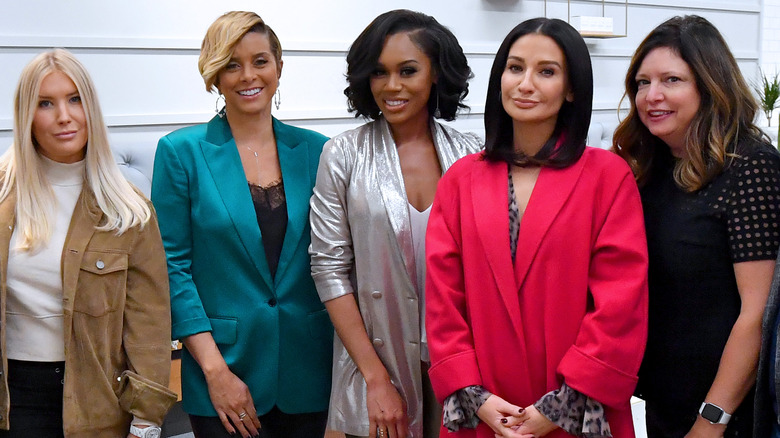 Larry French/Getty Images
Can you delve deeper a little bit into the experience of filming with other couples? Did you learn anything from them? Did they learn anything from you?
Yeah. Carlos King, the creator of the "Love & Marriage" franchise, actually allowed me to build the cast for the show. The couples that I chose were couples that I had social relationships with. I met Erana [Tyler] on Instagram, talking to her and DMs.
I met Ashley [Silva] when I was still on ["The Real Housewives of Potomac"] and I was filming my last season there. I actually met her at an event there, and she and I remained in contact ever since then. I was a part of her podcast — she has a podcast called "Fun Time Moms." We collaborated with my podcast, the "Not For Lazy Moms" podcast. From that, we always stayed in touch on a social level.
They came to be [on "Love & Marriage: DC"] because I felt like they would make great TV, because I felt as though they had solid marriages. They seemed very open to the process. The show is a hit because of them.
You spoke about your online community, "Not For Lazy Moms." From your experience, how can having an online community help moms?
Oh, man — let me tell you, the reason why I started "Not For Lazy Moms" is because I was the number one babysitter. I watched all my cousins, my little brother. I was that girl that always had a baby in her hand. I really thought that when I became a mom, I knew everything. I thought that I would be fully prepared for motherhood. Once I gave birth to my first son, I realized how unprepared I was. I said, "I cannot be the only one." 
Having this community has been a safe space for moms to share their struggles, share their tips, share their secrets. How do you get by? How do you get through? How do you get out of the house and have both shoes matching? How are you able to keep yourself together and balance it all?
The reason why I created the "Not For Lazy Moms" community was so that we, as women, can share some of our secrets to help the next woman who thinks that she has it all together, and then has a baby, and realizes that she doesn't. It's like, "Why do I have to go through all of this if someone can lend some advice to me so that I can make it through and be confident in my mothering or parenthood journey?"
Not For Lazy Moms provides tips on everything from traveling to potty-training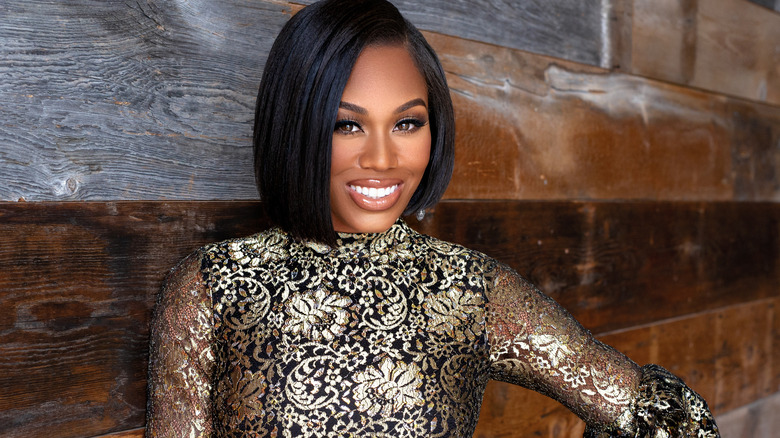 Drew Xeron
What sort of content does the platform cover?
We cover everything — natural remedies and alternatives for you and your whole family. We cover maintaining mommy. Then we have lifestyle tips, such as potty training. I started potty training all of my children as soon as they were able to sit up. My son and my daughter were both six months old. My youngest son, Chase, was four and a half months old when we started the potty training process. [We're] giving those different tips of things that people don't realize is possible. 
Then we have lifestyle tips for traveling — traveling with a child for the first time, traveling with multiple children. I do it all the time, so I share my life experience, and we have other contributors who also share from their life experiences as well.
The traveling one is a very important topic.
Oh, yes. I have a really long article, and I did a video of how we travel, how we'll wake up our kids at 3:00 in the morning and surprise them with the trip, and I'm documenting the whole thing. We have all kinds of videos on the website, "how-to" videos and everything. It's been a really fun community.
How did you come up with the title for the platform?
"Not For Lazy Moms" was a play on words. One day, my six-month-old daughter had a double ear infection ... my older son was a toddler. My mom came into town to visit, and I was all over the place doing natural remedies for my daughter and also caring for my son. She was like, "Wow, this is not for the lazy." I was like, "That's it. Not for lazy moms."
It's a play on words because being a mom is the exact opposite of lazy. This community is for you if you are a mother. [If] you have a child, this community is for you because it is not a job for the lazy. It doesn't matter if you are that super mom or if you're that mom that does just enough. Either way, it takes so much from you to put in the work to raise children. It was a play on words that my mom inspired and that I turned into "not for lazy moms." In other words, it's for you.
Monique turned her passion for self-care into a thriving business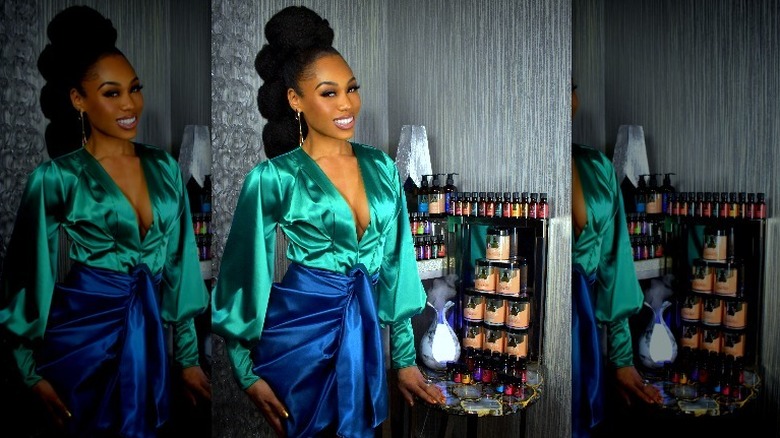 Billy Maloy
You also own an essential oil line called Mila Eve Essentials. What led you to start your own brand of essential oils?
I was kind of bullied into starting it by my fans and followers on Instagram. When I was on ["The Real Housewives of Potomac"], they always saw me with essential oils, and people would message me and they would say, "Listen, I want to try essential oils, but I want to try your essential oils." I'm like, "Oh, well, I don't have my own." They're like, "Well, let me know when you have your own." This kept happening so much that I was like, "You know what?"
During the quarantine, I said, "I have the time. Let me go ahead and look into this. Let me see if I can find an amazing source for getting 100% pure therapeutic essential oils." And that is exactly what I did. During quarantine, I started the process in March of 2020, and I was able to launch the entire company by December 15, 2020. That was our soft launch. Within four days, we were sold out of darn near the entire store.
By the time we actually launched, which was January 1, 2021, I couldn't believe it. I was having sales every day from the time we launched the website. Even into today, it's like business — it's been mind-blowing. It was one of those situations where I did it because I saw that there was a need and a lot of my followers who loved listening to me talk about essential oils. They were like, "No, you've got to start your own company. We want your oils." I was like, "All right, let me look into it." I had the time to do it.
I looked through your website, and I saw the Namaste oil. That looked exciting.
I have it right here. It smells amazing. It has rose in it. I'm actually wearing that today. It's so funny — I just did an intuitive healing session with my intuitive healer. Her name is Terry Christine; she was on the show on "Love & Marriage: DC" as well. But she's adjusting my energy and she's like, "What is that you have on? It smells so good." I'm like, "Oh, I'm wearing Namaste."
Balance is key in managing a well-rounded life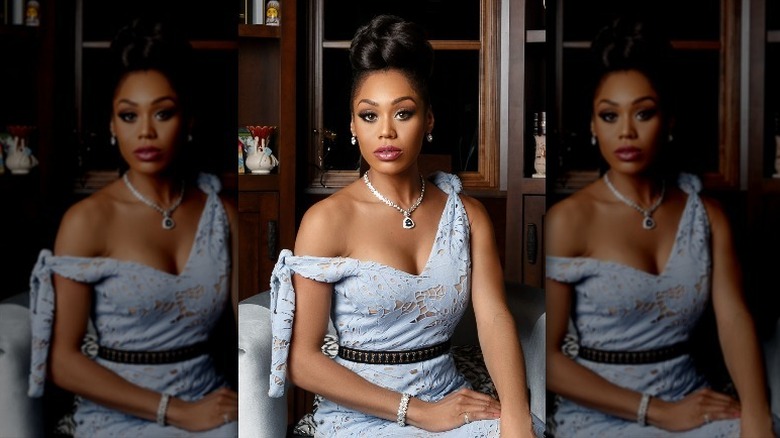 Drew Xeron
How are you able to balance having your own business, managing a blog, being a mother and wife, along with being a reality TV star?
I really had to prioritize. I had to slow down and step back and see what all could I handle legitimately. What do I need help with? Then [I have] a plan for my husband and I so that we can have some more teamwork when it comes to the children.
I also homeschool our children. Every day is a pretty full day. We allot Monday through Friday to get everything done. Saturdays and Sundays are chill days. I rarely have anything planned on Saturdays and Sundays. If you invite me to go somewhere on the weekend, I'm more likely going to tell you no, because that's when it's straight up family time and I'm getting rest and relaxing with my children. We have our movie day. We like to sit in the house on the couch, or we get in the pool. 
It's [about] prioritizing: What is most important that needs to be done right now? I typically plan out my life by quarters. For each company, I'll have what my target list is for the quarter. I do it by quarters every year, and I check off things as they go. I learned that time doesn't exist; I can do what I want when I want, how I want to do it. If I don't meet a goal that quarter, I simply move it to the next quarter. 
Then I do my best at checking off what comes first and what takes most priority. I learned how to take the pressure off myself by realizing that I do not have to control everything. That was a huge life lesson that took me years to learn, and it works for me. Now I don't sweat the small stuff.
That's a great tip. I'm going to have to try that quarterly tip.
Oh, it works. It's nice too, because as you start checking those boxes, you can look back and see all that you actually accomplished. Then that gives you even more of a push to keep going, because you don't feel like you wasted time and you got nothing done. You actually see, "Whoa, okay. Out of the 20 things that I had, I checked off 12 of them. I did do something. I may not have gotten those eight done, but I did do a lot. I did the majority of what I needed to do."
Lists are the ultimate tool in managing time for Monique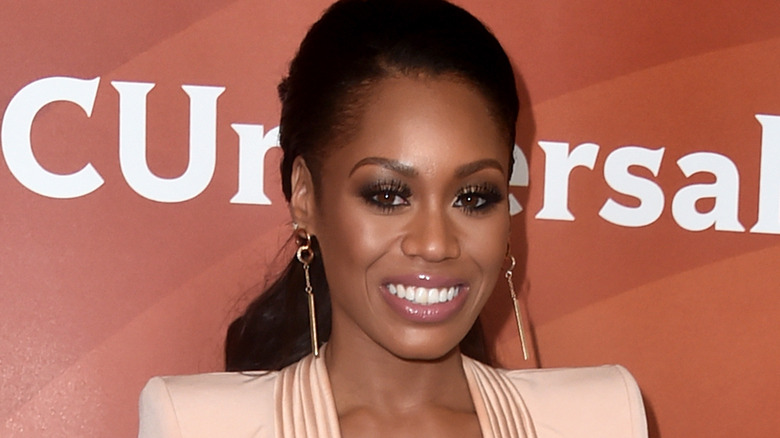 Alberto E. Rodriguez/Getty Images
What's the most important advice you would give to moms who do want it all?
I would tell them to always know what matters most and then make a list — I'm big on lists — of what's most important. You can't have it all. You can't do it all. Don't be afraid to ask for help. That was one of my biggest lessons that I had to learn outside of not controlling everything: knowing that it's okay to ask for help. Sometimes, we feel like because we saw our parents do it, or our grandparents do it, and they seem like they did not have help — although a lot of them did — we get overwhelmed and we say, "Well, our mom did it so I should be able to do it too. I shouldn't have an excuse." 
Then we put so much pressure on ourselves. The biggest way to do it all is by removing the pressure from yourself and realizing that you can do small doses of everything that you want to do. You can be a full self-care woman, a great wife, and an amazing mom all at the same time. It's looking at what priority is most important and then not being afraid to ask for help. If you need help, part those lips and ask. Having solid people around you will help you to push forward.
The season finale of "Love & Marriage: DC" airs Saturday, July 30, at 8:00 p.m. ET on OWN. Episodes are also available to watch on the OWN website.
This interview was edited for clarity.