General Hospital's Brook Kerr Speaks Out On Portia's Fears Of A Biased Jury In Trina's Trial
Amy Sussman/Getty Images
A hot storyline on "General Hospital" in recent months has focused around a secret sex tape of Josslyn Jacks (Eden McCoy) and Cameron Webber (William Lipton). The non-consensual video was filmed by twisted Port Charles newcomer Esme Prince (Avery Pohl) and then sent to the entirety of the local university, from where it went viral. Esme then went on to frame Joss' best friend, Trina Robinson (Tabyana Ali), for the crime.
Though everyone knows that Trina is innocent and many people have been working tirelessly to clear her name, the young woman is still facing a criminal trial that may lead to her incarceration. Her mother, Portia Robinson (Brook Kerr), recently shared her overwhelming concern with her boyfriend's Aunt Stella (Vernee Watson-Johnson) in an emotional scene that sent fans wild (via Soaps). The self-proclaimed Mama Bear was brought to tears speaking about her fear that Trina wouldn't be treated fairly in the criminal justice system because of the color of her skin, worrying that she had sheltered her daughter too much by trying to provide her with a privileged life — and her fury at the girl who had created the entire situation in the first place.
Though there are many people of color on daytime television, it's not often that soap operas make the decision to directly address issues of race that are occuring the real world. Often they have their characters live in a fictional bubble that exists outside of the uncomfortable realities of our society and opt to let their show's be a form of escapism for viewers. However, "General Hospital" took the opportunity to address real issues of racism through this interaction between Portia Robinson and Aunt Stella.
Kerr is proud that General Hospital is addressing racial bias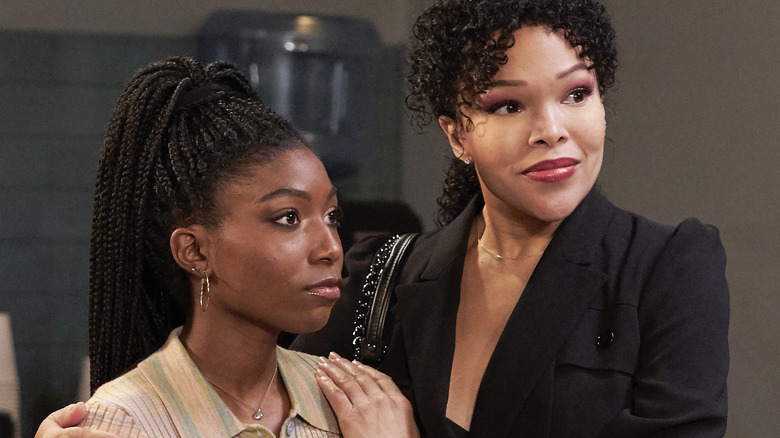 ABC/Craig Sjodin
Brook Kerr recently spoke to Soap Opera Digest regarding the decision "General Hospital" made to address racial bias so directly. She said, "I was extremely enthralled, proud, all the things! ... That is a layer that's there, regardless of whether they write it or not, and to be able to go ahead and express it, it just makes a more full experience [around]."
During the episode that aired on July 15, Kerr delivered a very convincing and emotional performance as Portia expressed some of her fears to Stella, saying in part, "Trina was framed as the criminal. To face the criminal justice system. In the midst of everything that's been going on in this world, in this country, everywhere ... People can pretend that it's not real, but that's exactly what they're doing, they're pretending."
In addition to giving voice to Portia's extremely valid concerns, "GH" also made sure to introduce some optimism as well. Stella attempted to comfort Portia by saying, "I've lived in this world long enough to know how elusive justice can be for people who look like Trina. And I know it's been two steps forward and one step back. But I still choose to have hope. Because not to is to fall into despair, and I don't want to live there. It's still a fight, but I have seen some forward motion. And I have to believe that today, in 2022, that arc will bend the right way toward our girl."
The trial is still underway, so only time will tell if Portia's fears will come true in Trina's case or if Stella's belief in human goodness will prevail.