The Resort's Nina Bloomgarden Shares Stories About Her Time On Set - Exclusive Interview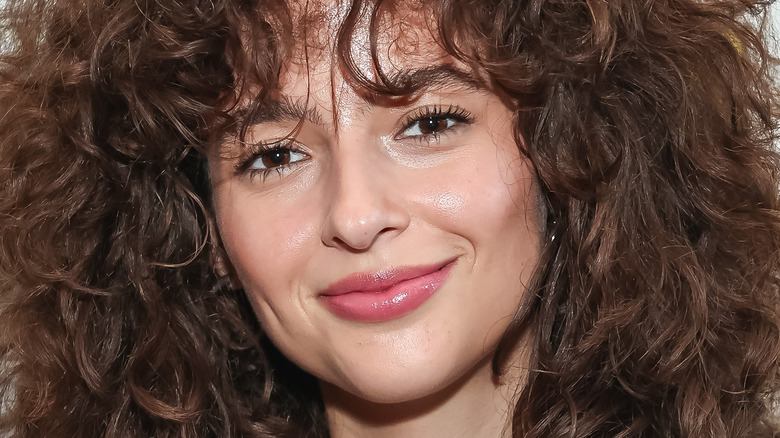 Emma Mcintyre/Getty Images
Fans who loved the 2020 movie "Palm Springs" will eat up Nina Bloomgarden's new Peacock show, "The Resort." With the film's writer, Andy Siara, helming the show and Cristin Milioti again taking on a starring role, fans will want to check in and never check out. "The Resort" is a gripping blend of vacation time-bending shenanigans set to the tune of past and present storylines that collide — highlighting the differences between the carefree joys of adolescence and rekindling that joy when the weight of age and routine set in.
Bloomgarden plays the spunky teen Violet, who seeks out adventure during her stay at a resort while her father (Nick Offerman) desperately tries to reconnect with his daughter. The actress made her Hollywood debut in 2014 with the film "Early Light," moving on to roles in films like "Fatherhood," "Good Girl Jane," and the upcoming movie "Jane."
During an exclusive interview with The List, Bloomgarden gave us a behind-the-scenes look at "The Resort," recalling her fun and informative memories with her on-screen dad, Nick Offerman, what it was like taking a time capsule back to 2007, and what it was like working with Skyler Gisondo.
Nick Offerman takes his on-screen parenthood seriously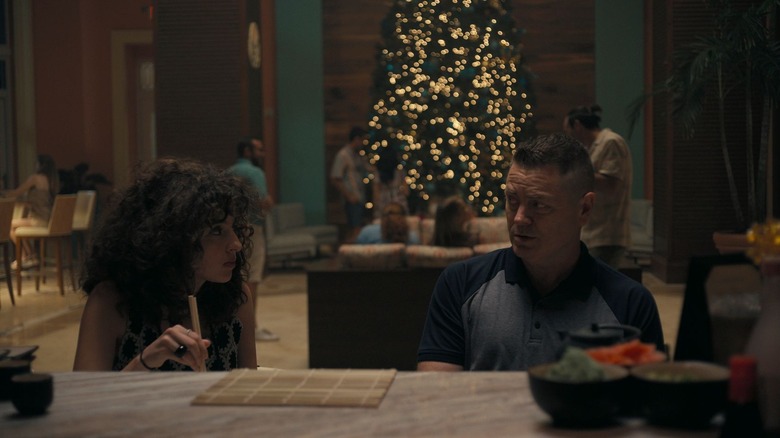 Peacock
You play Nick Offerman's daughter in the series. What are some highlights of working with him? Do you have any fun stories from set?
Yes — Nick is full of stories, and every day was a new eye into his life. He's lived so many lives. He's so gracious and kind and knew everybody's name right off the bat. It was incredible working with him. Then, on top of that, [I] got so much good life advice and so much good acting advice from him. 
In terms of funny, there's a scene in the show where we're using chopsticks, and Nick's teaching me how to use chopsticks. That was actually him genuinely teaching me. We didn't know the cameras were rolling. He used to live in Japan. He lived in Japan for a year. I was doing it wrong, and he really taught me my lesson. Now I know how to use chopsticks. But [there are] so many stories, some of which are his that I don't want to [reveal].
Can you remember any of the advice he gave you?
Just being around him was a lesson — how he holds himself and how humble he is.
He has a lot of hobbies. You mentioned chopsticks. Did he teach you anything else — woodworking or anything like that?
Me and my friend are trying to build a dollhouse this summer, and I messaged him being like, "Hey, I'm going to probably need a lot of pointers because we want a big old dollhouse." Hopefully, I'll go to his wood shop at some point and take a gander. But [there are] so many things — he did Kabuki theater. That's what took him to Japan. He's written books. [He's done] everything.
Let's do the time warp again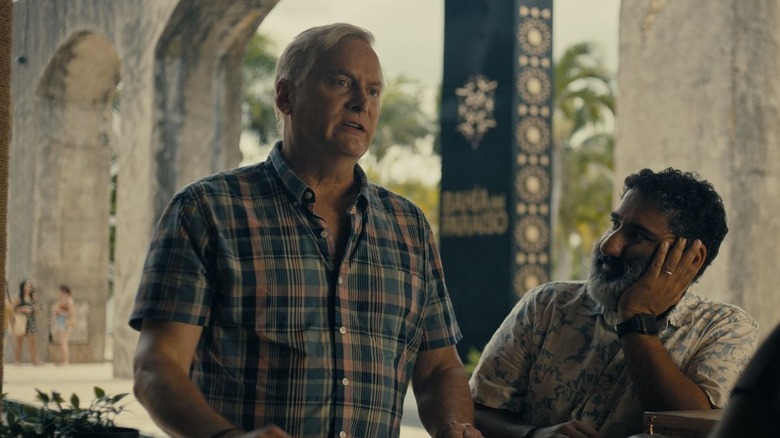 Peacock
It's almost like "The Resort" is two shows in one. Are there any actors or storylines from the present-day part of the series that you would love to engage with?
The cast was so great. Me and Skyler [Gisondo] were with each other 99% of the time, and then as a cast, we got together more outside. But [I'd choose] the Teds [played by Michael Hitchcock and Parvesh Cheena]. I would have loved to talk with them or to have been at the resort with them — or even more in Luis [Gerardo Méndez] and Gabby's [Gabriela Cartol] timeline as Luna. It would have been fun to interact with them more. But we'll see.
Your character's stories take place 15 years in the past. Was it weird or fun at all, getting a blast from the past with the tech, the Razr phones, and the skateboards — stuff like that?
Totally. [It was] totally weird. Texting — I remember it being so much easier, and I was so much quicker 15 years ago, and now it's really annoying and difficult. When I was in the scene, trying to hit all the numbers, I wasn't quick at all. I'm sure they superimposed something else instead of me doing it because I was doing it terribly.
We had to look up a lot of references to make sure that we weren't hitting the 2008-2009 world, and we were hitting 2007 and before. But ... we didn't let it affect our performance too much. The way we speak now started back then with the iPhone and with text talk and everything, so that fit in nicely, and we were able to speak freely without thinking too much about slang and stuff.
A cast to die for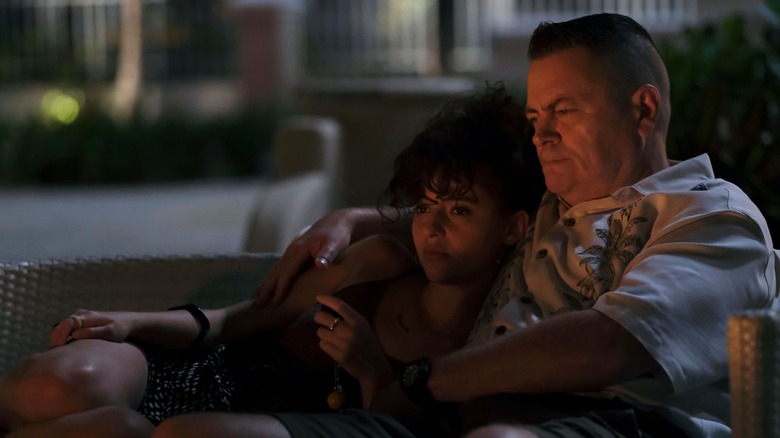 Peacock
What was it like working with Skyler Gisondo? Do you have any fun moments from set with him?
Oh, my God. Skyler is so fun to work with. Our first day that we were working together was the first day that we met, and it was the scene where we're in the hotel room, and I'm gluing his head back together. That scene, already, for those characters — because they're meeting for the first time — is really uncomfortable and awkward. Then for us, me and Skyler, although we had great chemistry pretty much right off the bat, it was still like, "Is this okay? Are you good?"
I remember while he was lying in my lap, my stomach was growling so much because it wasn't lunch yet. I was like, "Everyone can hear this, and Skyler probably thinks ..." I don't know. [There were] little things like that. But before each scene, we'd discuss what we wanted to add or what we wanted to throw in. If he had a funny idea, I would add to it, and then we'd create a scene before, and then Andy [Siara] would be happy to have it. It was great.
What initially drew you to your role, and what were the most exciting and challenging aspects of filming?
Well, first of all, the team is incredible. You have Andy Siara from "Palm Springs," Ben Sinclair [from] "High Maintenance," and then Sam Esmail [from] "Mr. Robot." Putting all of those together is mind-blowing. Then, on top of that, I really connected with Violet. We were dealing with similar things, dealing with similar losses, so I feel like she came into my life at the perfect time.
The first three episodes of "The Resort" air on Peacock on July 28, with subsequent episodes releasing Thursdays.
This interview was edited for clarity.