Only True Whoopi Goldberg Fans Will Understand Her Message To Mike Pence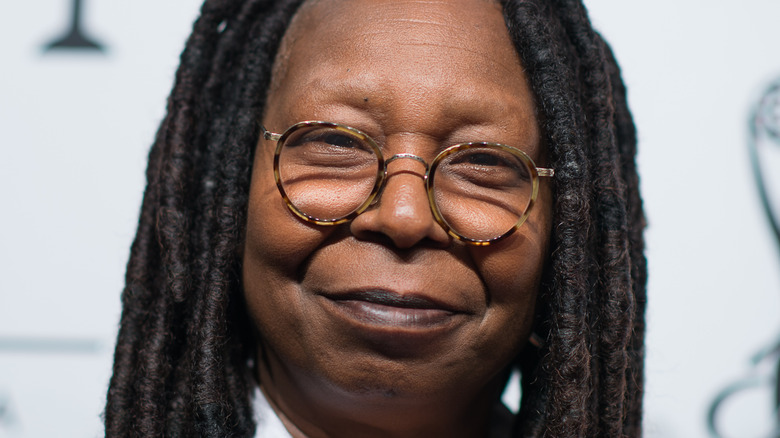 Dave Kotinsky/Getty Images
Is it possible that Mike Pence's big announcement about his upcoming book was timed to pull focus from the January 6 Congressional hearings? If so, it hasn't worked yet. The former vice president has yet to testify about the events of that day, despite being a major figure in it. 
In spite of the objections of then-president Donald Trump — and the supporters who stormed the Capitol — Pence certified the electoral college vote that put Joe Biden in office, via The Washington Post. "The View" recently ran a segment on the risk Pence was taking, and it featured a moment familiar to movie viewers.
As Decider reported, the women of "The View" watched a clip of Pence's former aide Marc Short speaking to ABC News about the events of January 6. Short, who had just testified before the grand jury investigating the insurrection, admitted that the attack "did present liability and danger" to the members of Congress. He added that his greater concern was over the protesters' calls to "hang Mike Pence" if he permitted the certification of the election results to go through. "Candidly... if the mob had gotten closer to the vice president, I do think there would have been a massacre in the Capitol that day," Short said.
That prompted an unusual response from Whoopi Goldberg: Doing a take to the camera, she said, "Mike, you was in danger, man." This might not have meant much to some viewers, but for Whoopi fans, it was a sly in-joke.
Whoopi Goldberg referenced one of her famous movies
Lest we forget, Whoopi Goldberg was an Oscar-winning actress long before she joined the "View" panel. As the phony psychic medium Oda Mae Brown in 1990's "Ghost," Goldberg is shocked to find herself contacted by an actual spirit. Sam Wheat, played by Patrick Swayze, is a ghost who refuses to cross into the afterlife until he brings his killer to justice (via IMDb). In one of the film's best moments (next to the iconic pottery scene), Sam uses Oda Mae as a go-between to speak to his girlfriend, Molly (Demi Moore). In the scene (via Youtube), Sam orders Oda Mae to deliver the message "word for word," but she thinks the warning is too blunt. "You can't just blurt it out like that!" Goldberg's character protests. "I'll just tell her in my own way." Giving Molly a serious look, Oda Mae says, "Molly, you in danger, girl."
"The View"'s audience quickly picked up on Goldberg's reference, as did the rest of the panel. Per Decider, the actress then added that her in-joke "was for Joy [Behar]," apparently a fan of the movie. In an interview with Variety, the Academy Award-winner previously revealed that she was responsible for the famous line in question.