Mike Pence's Big Announcement Has Twitter In A Tizzy
Gino Santa Maria/Shutterstock
Mike Pence, the vice president under former president Donald Trump, has lived a fairly quiet life after he left the White House in 2021. He and his wife, Karen Pence, are settling into life in Virginia, and the politician is working with the Heritage Foundation, a conservative think tank looking to shape the future of the Republican Party (via the Indy Star).
The former governor of Indiana tweeted about his new role, writing, "I look forward to rolling up my sleeves and working with the all-star team at Heritage as we continue to make the case for a strong national defense, free markets and traditional values to policy makers across the Nation & to every American who cherishes our Heritage of Freedom."
Pence recently spoke at an event 24 hours before Trump would be holding a speech in the same area of Washington, D.C., CNN reported. Aside from working with the Heritage Foundation and speaking at events, Pence announced a new project he has been working on and Twitter has a lot to say about it.
Mike Pence's latest project has Twitter talking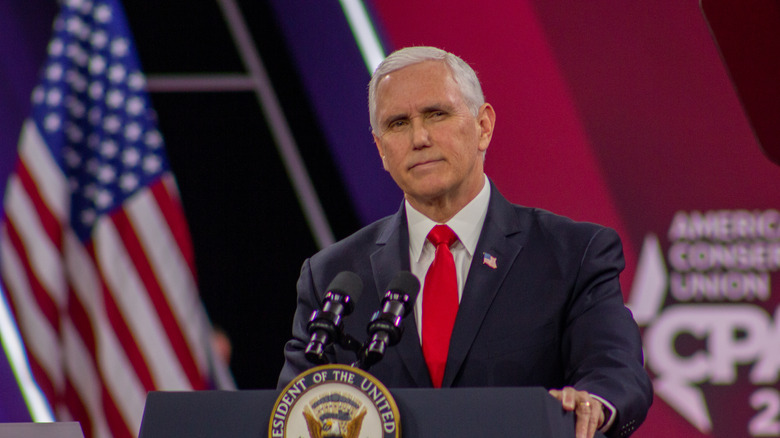 Valerio Pucci/Shutterstock
Former vice president Mike Pence has settled into a more low-key life outside of the White House, though his time there ended on a scary note. The January 6 riots at the Capitol were led in search of Pence and according to a new report, the rioters were within a minute of seeing the man they held responsible for certifying Joe Biden's electoral victory (via CNBC).
Though the riots could have had a terrifying effect on Pence, he has not taken the stand during the ongoing Congressional hearings. His Secret Service did take the stand, however, and claimed they called to say goodbye to their loved ones that day (per Vanity Fair). Instead of working with the special committee, Pence has recently announced that he has written a new book called "So Help Me God." He detailed the release on his Twitter account.
"Excited to announce that "So Help Me God" will be available on November 15!" Pence wrote. "It is my story of faith and public service for the country I love so much!"
Twitter didn't share his excitement, however. One user shot back, "Testify, Mike. You got your 7-figure book deal. You owe the nation," while another added, "Nah I'd rather buy this book on 11.15.2022. But thanks for letting us know," with a photo attached of Michelle Obama's upcoming book set to hit shelves on the same day.
Many are hoping that Pence will break his silence and speak up against Trump during the hearings — only time will tell.